2008 CONSENSUS SOFTWARE AWARDS – WINNERS ANNOUNCED
The Awards identify the most innovative software in Australia and New Zealand. The Major Sponsor was IBM. They were endorsed and supported by Austrade, NZ Trade & Enterprise, Australian Computer Society and New Zealand Computer Society. Program Partners are Clifton's, Bayard Lawyers, TiE and the Alinement Network.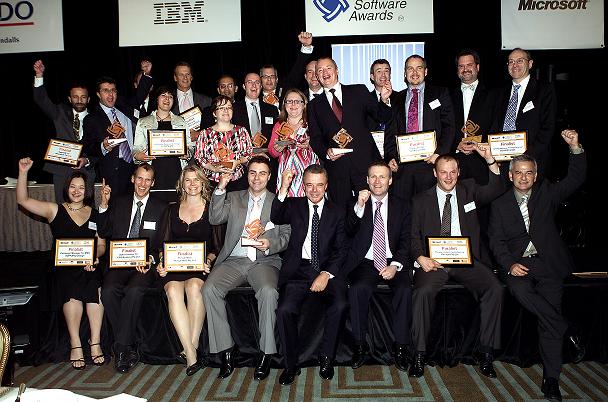 2008 Winners and Finalists celebrate with The Hon. Brendan (front centre)
THE WINNERS AND JUDGES CITATIONS OF THE 2008 CONSENSUS SOFTWARE AWARDS ARE:
CarbonView    www.carbon-view.com
from Supply Chain Consulting
CarbonView is a smartly packaged solution for enterprise carbon accounting that appears extremely well positioned in to appropriately support global concerns for carbon footprint control. Its market timing is excellent given that legislation and international agreements are likely to be adopted world wide. This tool is not only comprehensive, but clever and attractive, and may well underpin adoption of global accounting standards in both enterprises and regulators for a critically important environmental need. 
Koukia    www.koukia.com.au
from Koukia Pty Ltd
The Koukia General Insurance system offers an integrated suite of business applications built on a flexible service-oriented architecture. Most leading insurance companies are transitioning their IT systems to be more services-centric in order to accelerate new product launches, improve customer service and to better integrate technology across insurer's front and back office functions. The Koukia system is one step ahead, and proves yet again that Australian IT innovation can take centre-stage in a competitive global market.
Mint Portable Payment System    www.mintpayments.com
from Mint Wireless
The judging panel was impressed by the Mint system in that it makes innovative use of mobile technologies to enable portable payment and invoicing. While keeping the product simple and user friendly, the centralised database and associated accounting features make Mint a highly attractive product as well as a company.
Payment and billing systems are one of the top most applications of mobility in business, and Mint is a flag bearer in this space. Combining the technological innovativeness from the mobile space together with business innovativeness of the billing and invoicing space reflects on the acumen of Mint leadership – and results in a richly deserved award.
Mozone    www.leopardlabs.com.au
from Leopard Labs
Leopard Labs is building a safer mobile world through the Mozone product set. Mozone implements policy control across the internet, SMS, and mobile peripherals including cameras and Bluetooth. This provides companies with the ability to manage employee mobile costs and device usage. Leopard is also targeting an evolving market to provide parental controls for internet usage and premium SMS access.
Multi-function portable devices and new applications such as payment gateways and SMS payments are a growing market. The Leopard Mozone can safely help drive the service take up rates.
Leopard has a patent on policy architecture for mobile devices. This makes it very easy for corporations and parents to establish appropriate use policy. A Consensus Software award is presented to Leopard Labs for their market foresight, innovation, and ease of use of the Mozone product.
PocketPhrase    www.sdm.com.au
from Strategic Data Management
PocketPhrase has the potential to enable people on the autism spectrum to more fully participate in society, by providing a uniquely flexible set of digital communication aids. With its attractive flash cards, story boards, schedule supports, problem solving tools and even mood monitoring, PocketPhrase may well revolutionise support for autistic children, their carers, families, and clinicians.
PocketPhrase also effectively comprises the full framework required for a modern clinical support tool by not just offering the user device application, but a teacher/carer system, appropriate logging, as well as an Internet based community forum to properly enable self help and ongoing support. This is one of the most exciting medical assist devices ever seen by the judges.
TechnologyOne Student Management    www.www.technologyonecorp.com
from Technology One
TechnologyOne Student Management has carved out an impressive Australian customer base in the competitive tertiary student management sector by taking a strongly market-focused approach to product development and management.
Competing against major international players in any sector is never easy but TechnologyOne have managed to do so by establishing and maintaining a sharp customer and market focus. Having now established a benchmark customer in the UK, and having a strong base to fund further expansion, they are well-poised for future growth.
TwoSecure    www.fronde.com
from Fronde Anywhere
Two Secure is an exciting new product with the potential to replace the myriad of token generating devices popular in the operation of many popular Internet and private enterprise remote access applications. Based on any java enabled modern mobile phone, it has the opportunity to enable "one stop" access without replacing any of the security systems already in place.
Instead of carrying several tokens to access Internet banking, or enterprise VPNs, this solution could effectively support effective token generation on an individual's familiar mobile phone.
Xchangexec    www.taskretailtechnology.com
from Task Retail Technology
Xchangexec is a unique integrated software solution providing flexible real-time access to point of sale data. It has a proven performance in the Australian marketplace with a solid customer list and an impressive sales pipeline. The potential for Xchangexec's international expansion is stunning!
x-id3 Integrated Drug & Device Development Platform    www.xbiosystems.com
from Xbio Systems
Xbio has recently developed and released brand new application software for Life Sciences organisations to more effectively plan, design, monitor and control the entire end to end drug development life cycle and they are very well positioned to quickly maximise their market share of this multi-billion dollar market.
The x-id3 system itself provides very functional, well integrated modules, sharing a common database that will facilitate highly productive management and administration of the whole clinical product lifecycle from pre-clinical trials to regulatory submissions and final rollout to the global market.
Underlying this flexible functionality is a highly configurable, scaleable and efficient IT platform including data, process and technology administration, open standards, industry compliance and alternative delivery models such as SaaS or integrated into existing infrastructure either insourced or outsourced.
BACKGROUND
All Consensus Award programs are based on an open nomination process. Nominations are welcomed from individuals and organizations with experience of the product or service concerned. Before nominating a product please consider the aims of the program and the judging criteria against which the product will be measured. Self nominations welcome.
THE AIMS OF THE AWARDS
The Awards exist to reward excellence in Australian and New Zealand software design and to grow and strengthen software development in Australasia. Award recognition can be vital in building the credibility and exposure necessary for locally developed products to break into new markets. The Consensus Software Awards have been developed to provide this credibility by using an open and transparent judging process based on the Consensus Model.
JUDGING CRITERIA
To achieve a Consensus Software Award, the product must be Australian or New Zealand designed and developed and be judged by the invited panel of judges to be Innovative, deliver performance benefits to the user, and have further potential for product or market development. Entrants are invited to present the evidence to the judging panel first through a written and then by direct presentation. Since each product is assessed directly against the judging criteria there are no categories and the judges may recommend as many or few Awards as they deem to be worthy each year.