CONSENSUS GREENTECH AWARDS
2019 AWARDS – PRESENTATIONS
The Consensus GreenTech Awards will be run twice in 2020, in the first 6 months of the year and also the second 6 months. See the timetable below for the 1st Set and if you would like further details, please send us an email.
See below the Winners of the 2019 Consensus GreenTech Awards.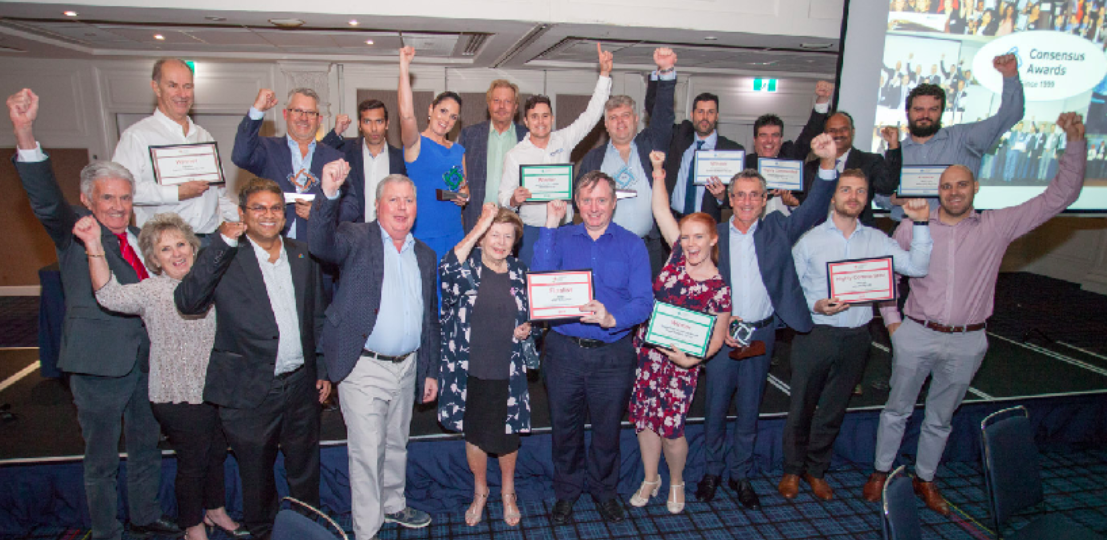 The 2019 Consensus Awards Winners with (back centre) Richard White, Founder & CEO, WiseTech Global and (front 4th from left) Julian (Jolly) Day Founder & CEO of Consensus.
The Consensus Awards were co-presented on 12th December by Richard White, Founder & CEO, WiseTech Global (Winner in 2004) and Julian Day, Founder & CEO, Consensus. Thanks to Phil Redding for MC'ing the event.
2019 WINNERS & HIGHLY COMMENDED
Our thanks go to the Australian Graduate School of Management at University of New South Wales for hosting the judging, and to the Judges that participated in the final evaluation:
| | |
| --- | --- |
| John Katsiris (Chair) | Ray David |
| Marion de Courcay | Richard Hayes |
| Louise Meyrick | Edward Mandla |
| Preetie Shehkkar | Rainer Tietz |
| Andrew Zell | Steven Dujin |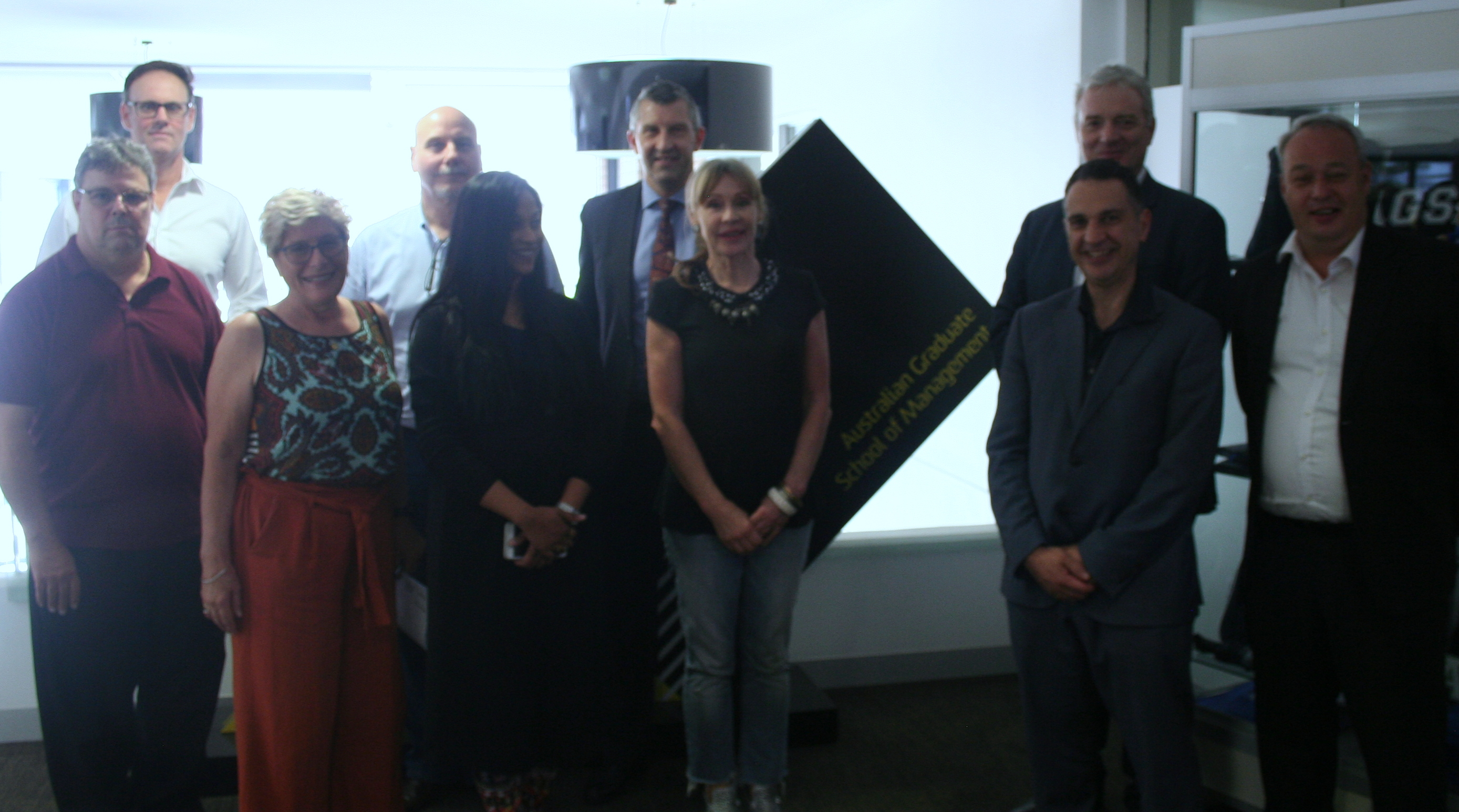 Judges of the 2019 Consensus GreenTech Awards at the Australian Graduate School of Management.
2020 TIMETABLE – 1ST SET
Event
Date

Nominations Open

Late January 2020

Nominations Close

End April 2020

Final judging




Venue: UBSS, 233 Castlereagh Street, Sydney

Mid May 2020

Announcements and Presentations in Sydney




Venue: TBC

Mid June 2020

Post Awards Media

End June 2020
2 WINNERS: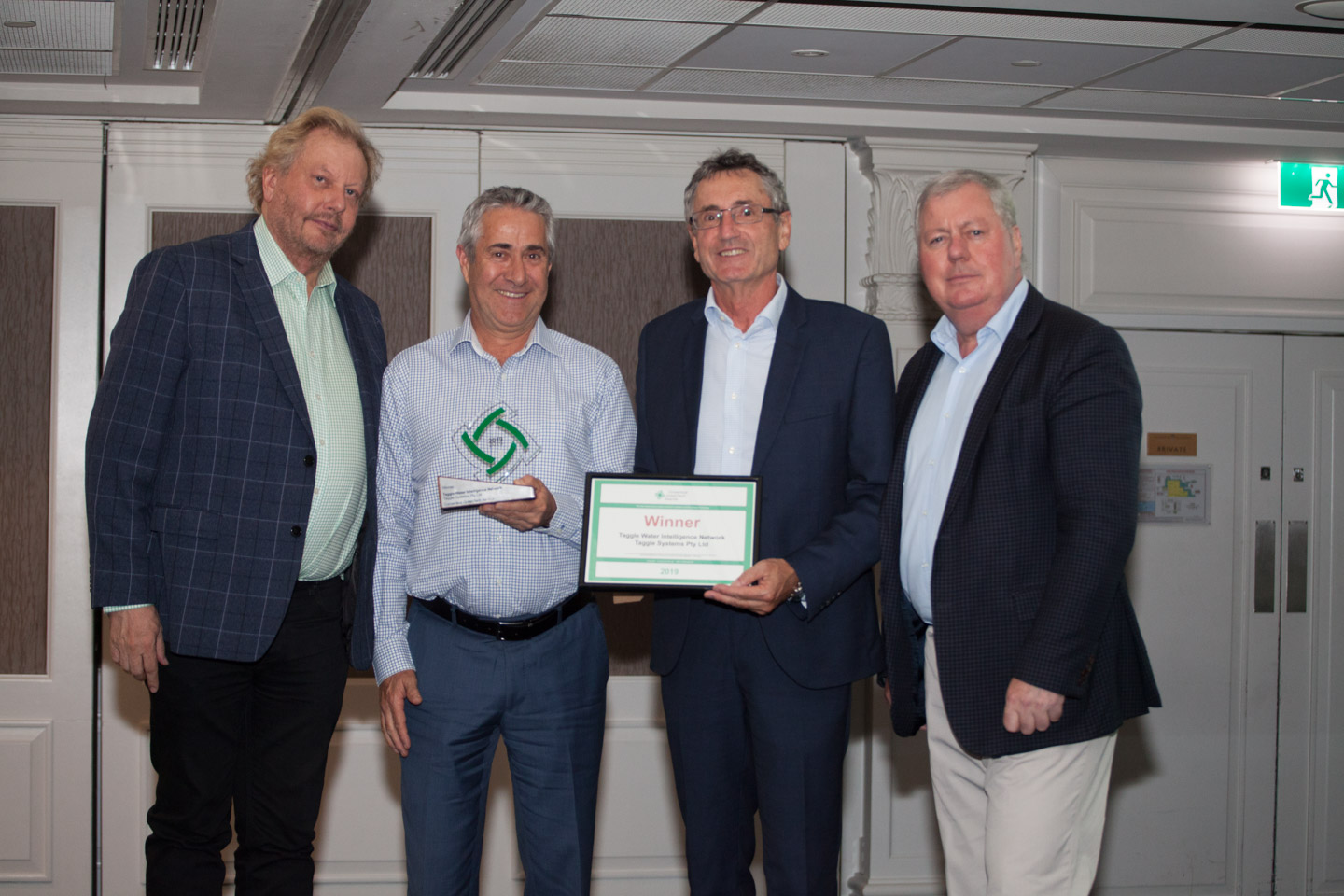 Taggle presented with their Award by (left) Richard White and (right) Julian Day.
Taggle Water Intelligence Network    www.taggle.com.au
from Taggle Systems Pty Ltd
Taggle's Water Intelligence Network provides an end to end solution that allows water utilities and councils to manage their water network, manage demand, reduce water consumption, save money, identify leaks, educate consumers about their water use, change consumer behaviour and reduce power use and greenhouse gases.
Currently, 38 councils and utilities around Australia are Taggle customers. There are more than 160,000 Smart Water meters transmitting readings on an hourly basis via Taggle's network – over 5 million water meter reads per day, approaching 2 billion per annum.
The solution has many other uses – by irrigators in the Burdekin to reduce run-off and save water; by researchers in the Great Barrier Reef to monitor water quality; by multiple councils to prevent sewer overflows into the environment; by high rise buildings to monitor water use, and much more.
Judges' Citation: "The judges felt the solution met the awards criteria of Innovation, Performance, and Potential.
Taggle has some outstanding unique features and demonstrated success in achieving eco-friendly solutions across a wide variety of industry and market participants. Taggle's partnership with a global brand (Honeywell) positions Taggle well for future growth and distribution.
Taggle has the ability through its IOT connectivity, their early detection sensors and systems to plan and provide positive solutions on a large scale to ensure efficient and successful Water Management. Their solutions are applicable and proven across various organisations including local councils, water utilities and commercial organisations where more efficient water management is a critical aspect. The Mackay Council use case is a prime example of how well Taggle could both save substantial amounts of funding and improve water usage and management performance across the local area, delivering a substantial multi-million-dollar win-win for all stakeholders.
In summary, we feel Taggle is a worthy winner of this award and a prime example of innovative business solutions delivering practical benefits to communities around Australia and potentially the world. We wish the company further success for the future."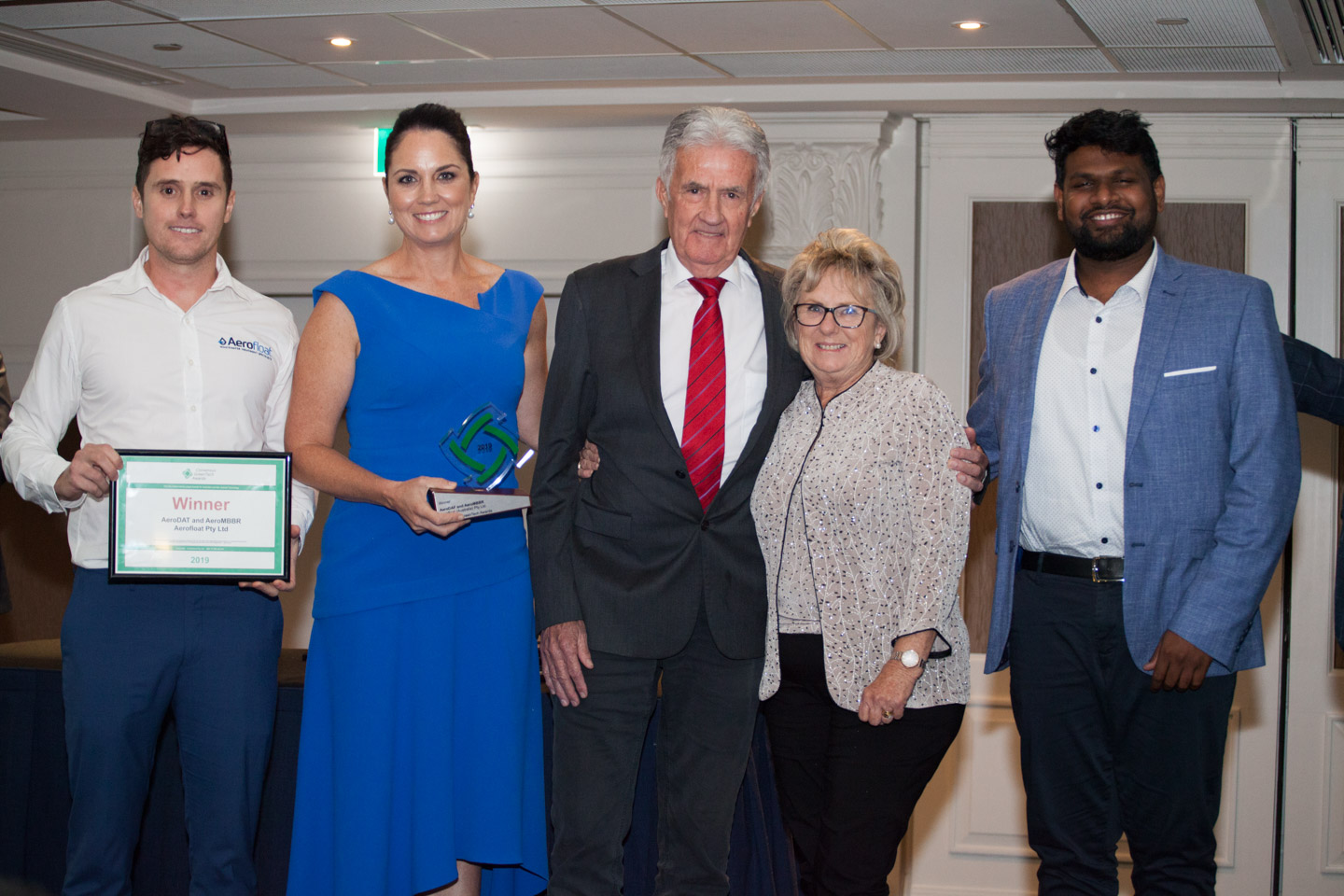 The Aerofloat team celebrate their win!
AeroDAF and AeroMBBR    www.aerofloat.com.au
from Aerofloat Pty Ltd
Aerofloat has developed a process to manage and treat process wastewater from plastics recycling industries. The process includes several products including the patented AeroDAF (Dissolved Air Flotation) and AeroMBBR (Moving Bed Biofilm Reactor).
Plastic waste is a major global issue with plastics recycling an emerging industry to combat this environmental challenge. It is estimated that only a fraction of the world's plastics is captured for reuse, despite there being many uses for recycled plastic material.
The process for recycling plastic is extremely water intensive with the first step being to wash the used plastics. The clever Aerofloat design enables plastics recycling companies to clean this wash water to a standard suitable for reuse for continuous wash loops.
Judges' Citation: "Aerofloat is an Australian family owned business, that understands the challenges associated with wastewater treatment systems. Aerofloat designs, manufactures and installs custom designed scalable solutions to address a range of wastewater treatment requirements.
Aeroflot's new technologies and products provide cost effective solutions that address especially important environmental problems such as plastic recycling and ink waste. Their patented solutions AeroDAF and AeroMBBR provide an innovative approach to Waste Management and Recycling for a range of industries including the food and beverage (dairies, breweries, abattoirs, confectionery, small goods.
Aerofloat sets new industry benchmarks, providing exceptional customer and product support that adhere to standard codes and compliance. They are in a primed position to take advantage of the governments funding for CRC-P projects focused on plastics recycling and reduce plastic waste.
Judges agreed that Aerofloat checked all the boxes to be worthy for a Consensus GreenTech Award".
2016 AWARDS PRESENTATIONS: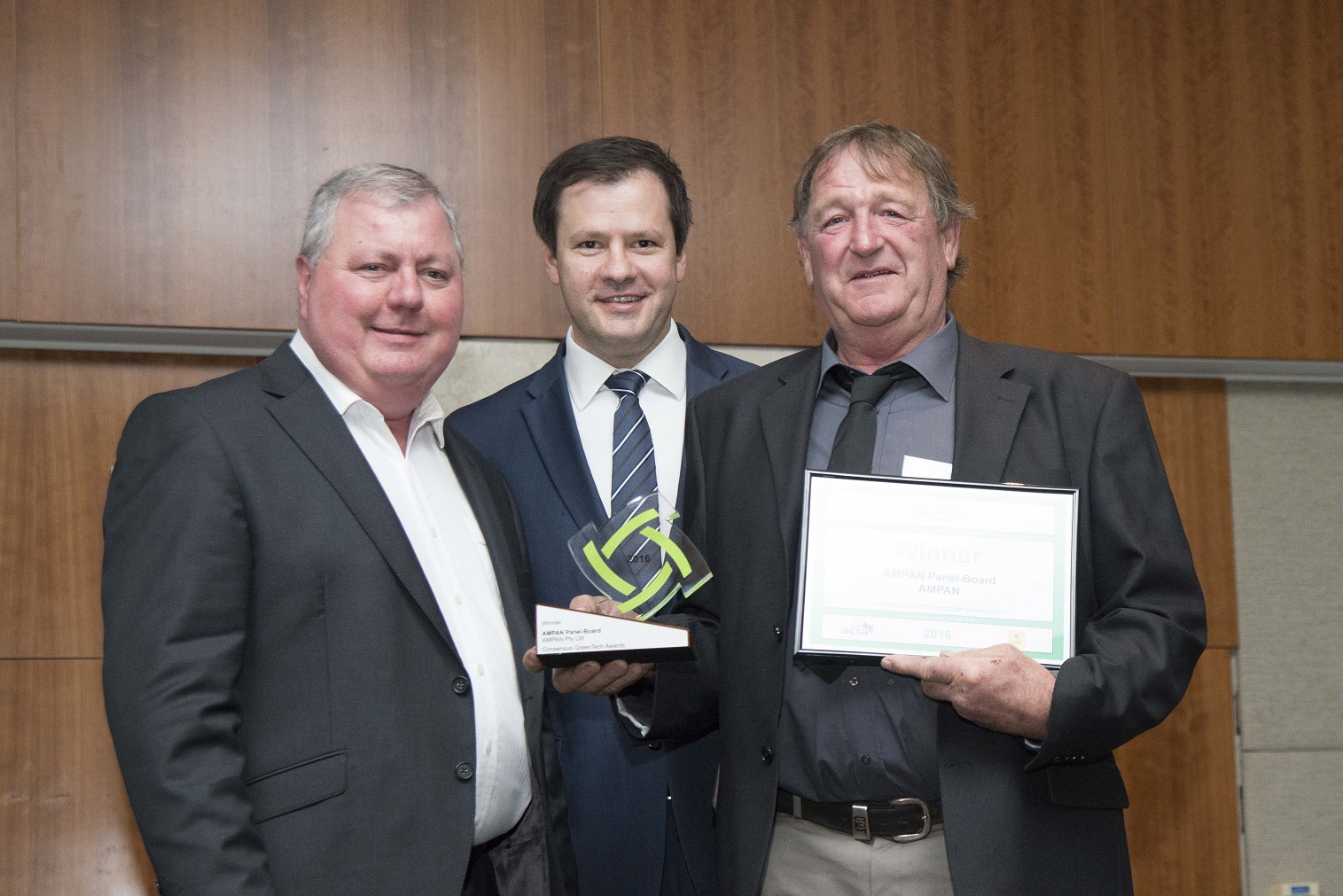 The 2016 Consensus Awards were presented by The Hon. Ed Husic MP, Member for Chifley, Shadow Spokesperson for Digital Innovation and Startups on the evening of Tuesday 14th June at the Sheraton on the Park Hotel in Sydney.
If you would like to receive an Entry Form for the next set of Awards or receive any further information, please send us an email.
2019 TIMETABLE
Event
Date

Nominations Open

Mid June 2019

Nominations Close

End October 2019

Final judging




Venue: TBC

November 2019

Announcements and Presentations in Sydney




Venue: TBC

Early December 2019

Post Awards Media

December 2019
Our thanks go to the School of Computer Science and Engineering, the University of NSW for hosting the judging, and to the Judges that participated in the final evaluation of the 2016 Consensus GreenTech Awards:
– Janine Cahill (Chair)
– Richard Hayes
– Kim Lyle
– Robert Iacopetta
– Rahul Mohod
– Paul Steele
– Selena Griffith
2016 WINNER:
AMPAN Panel Board    www.ampan.com.au
from AMPAN
The business is focussed on developing technology for converting agricultural waste from rice growing, into environmentally friendly particle board for the building industry.
AMPAN panel has a wide range of residential and commercial applications in building and construction including, wall panels, ceiling tiles, door panel inserts, partitions, shelving, bench tops, and a variety of furniture items. Particle board provides a low-maintenance, easy to install and cost effective alternative to other building materials. The composite board produced by AMPAN acts as a substitute for traditional particle board and medium density fibre (MDF).
None of the panel produced from natural forests and plantation timber have the characteristics of AMPAN.
Eliminate the need for growers to burn Rice Stubble. Elevate the economic return per hectare. AMPAN can tolerate the most aggressive weather conditions.
Judges' Citation: "  We strongly admire the professional and extensive product development utilising CSIRO and other external professionals. The thoroughness and complete hands-on researching of the market potential and John Gorman's enthusiasm is outstanding.

The product meets the innovation requirements. The whole of product usage will solve pollution and removes waste products from the farms.  It may allow for carbon neutral building and furniture. The panels have higher performance regarding water and pest resistance. All the while offering lower manufacturing costs.
The potential for the Product is extensive. The Product will create a viable cost effective superior building material with many uses both in Advanced Economies and Developing Economies." 

2014 WINNERS ANNOUNCED
The 2013/2014 Consensus GreenTech Awards were judged on 21st March 2014 and were presented by Senator Simon Birmingham, Parliamentary Secretary to the Minister of the Environment on Thursday 5th June. The Awards were hosted by Insurance Australia Group (IAG). Senator Brinmingham is also The Hon Malcolm Turnbull's representative in the Senate.
The Awards identify the most innovative GreenTech solutions in Australia and New Zealand. They are endorsed and supported by Australian Consensus Technology Association, New Zealand Trade & Enterprise, Wholesale Investor and Northern Sydney Institute part of TAFE.
Ken Richards (left) receives his Consensus Award from Senator Birmingham
Page down for the Citations of the Winner and Highly Commended. If you would like to receive an Entry Form for the next set of Awards or receive any further information, please send us an email.
Click here for the results of the 2009 Consensus GreenTech Awards
Click here for the results of the 2010 Consensus GreenTech Awards
WINNER
THE GLYEROL PRETREATMENT PROCESS FROM LEAF ENERGY LIMITED WWW.LEAFENERGY.COM.AU
DECSRIPTION: Much work has been done, worldwide, on converting abundant waste biomass to usable bio-materials in the shape of fuels, plastic, chemicals and much more, however one key bottleneck remains, the initial conversion of that biomass to sugars – the pretreatment. The solution to this bottleneck presents an opportunity to unlock the lower energy, lower cost, lower emission production of biofuels, biomaterials and green chemicals.
Leaf Energy is positioned to capitalise on this shift to the green economy by commercialising a pre-treatment technology that enables waste plant matter to be converted efficiently and economically to higher value biofuels, biomaterials and green chemicals – The Glycerol Pretreatment Process.
JUDGES' CITATION: "Leaf Energy Ltd demonstrated innovation and entrepreneurship through the use of industrial ecology principles. The process involves the reuse of waste agricultural products to create feed stock for other industries. The patented innovation includes lower energy usage, a lower operating and capital costs.
The Panel was particularly impressed by the vision and potential especially for a small organisation. We congratulate Ken and his team on their award."
HIGHLY COMMENDED
ECOCOOLER FROM VAHID VAKILOROAYA WWW.UTS.EDU.AU
DECSRIPTION: Work has been undertaken at the University of Technology, Sydney (UTS), to design and develop the performance of a solar-powered single-effect hot water absorption air conditioning system. In this system, evacuated solar collectors are combined with a single-effect hot water absorption chiller.
In our solar-powered air-conditioner, electricity usage is decreased around 98% while the greenhouse gas emission is reduced about 81% and thus we named the system as the EcoCooler. This system does not use any hot water storage tank and auxiliary heat exchanger. This is due to a novel and innovative design in which grooved pipes have been used for system manufacturing. This project has been supported partially by The NSW Government through its Environmental Trust.
JUDGES' CITATION: "EcoCooler combines vacuum solar collectors with a lithium bromide based absorption air conditioning system. Substituting solar energy for the traditional AC power source results in substantially lower operating costs and a smaller carbon footprint. The innovation of the solar vacuum tube collectors, with internal and external grooved tubes, greatly increases the heat transfer capability and eliminates the need for a water tank storage and associated heat exchanger.
While the technology demonstrates promise, a well considered "go to market" plan needs to be prepared that clearly identifies the priority target markets. Commercial production planning will confirm the true financial benefits, given the relatively high initial capital cost for users. Also, the final commercial design will balance issues such as roof space requirements for solar energy production and other critical operational issues.
The Panel feels that with further commercialisation work and a better market focus, the product may be able to demonstrate a viable market in Australia and overseas."