WINNER ANNOUNCED
The 2023 Consensus GreenTech Awards were presented on 24th May by Hon. Ed Husic, Minister for Industry & Science.
WINNER
Stormwater Filtration Device (SFD) from ARI Water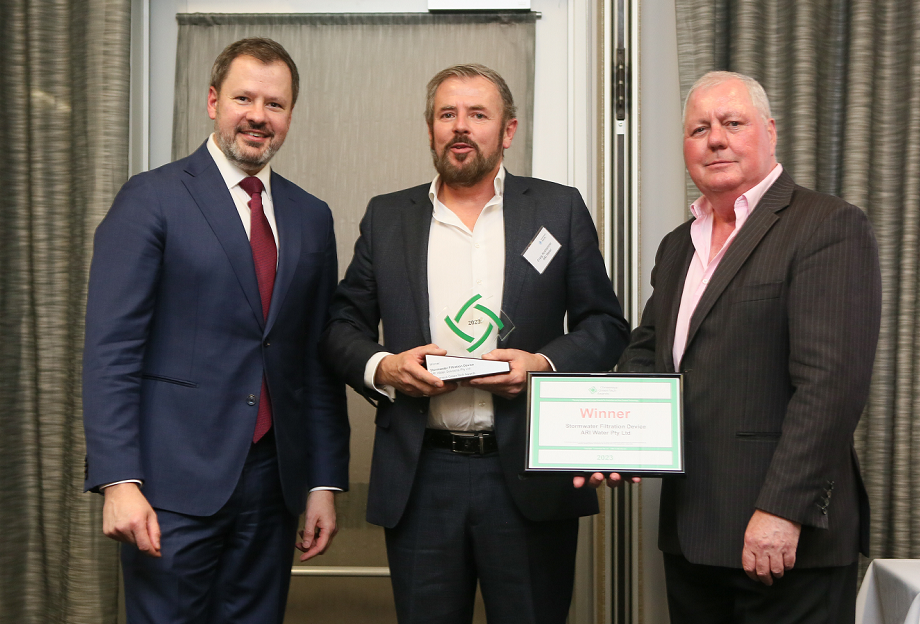 Craig Rothleitner, founder of ARI Water receives his Consensus GreenTech Award from (left) Hon. Ed Husic and (right) Julian Day, founder of Consensus.
Description
ARI Water Solutions Pty Ltd has invented and developed a high flow to fine particle filtration technology based on the ARI Material (ARIM). ARIM can process in excess of 3000 litres per minute (3080), per square metre, filtering out particulates greater than 63µm. The proprietary Stormwater Filtration Device (SFD) cleverly incorporates ARIM to offer the first 'at source' treatment to address stormwater contamination with the product proven both scientifically and in field to the highest standards.
The SFD is a drop in lift out device that can be installed into existing stormwater drains without requiring drilling or amending of in-situ infrastructure (in most cases). The SFD will capture approximately 95% of the physical waste whilst filtering the water to 63µm – or 1/8th the size of a grain of sand – at flow rates that exceed the drain requirements.
Changing or servicing the filter 'inserts' is quick and easy – the frequency being dependant on contaminant loading and rainfall. The SFD filter insert can be reverse flushed and reused in most applications. The service model is critical to the success of the technology has been field tested to demonstrate that more than 100 drains can be serviced in a 24-hour period.
Judges' Citation
INNOVATION
ARI Water Solutions has designed and manufactured unique technology that captures the vegetative / toxic waste and filters the water that currently enters municipal drains.
The SFD is made to suit the drain where it captures approximately 95% of the physical waste whilst filtering the water to 63µm (1/8th the size of a grain of sand).
The ARI Pillow consists of specific material that also captures hydrocarbons and heavy metals prior to entering the system.
PERFORMANCE
Over 90% of vehicle, truck and mechanical wash bays are directly connected to Stormwater drains. Examples of various trials that are now working in the field include:
Waste capture from construction companies, a major pollution source nationally and global.
SFD captures waste prior to system contamination various major companies
Industrial scale wash bays where post cyclone filtration discharges into sewer systems is too high, is captured prior to discharge various major companies
POTENTIAL
Commercial partnerships with major waste management companies with active interest from Cleanaway and other national waste companies.
Partnerships strengthened by 'waste to energy' income streams now possible with the waste collected.
GENERAL
The products designed and manufactured are in use and performing well with profitability. It is reasonable to assume that partnerships with global waste management companies will lead to uptake globally. There is active interest in the mining industry, manufacturing plant decommissioning (radioactive scale capture) and sub-sea industry (radioactive scale capture).
On the basis of the above it is also reasonable to assume that Utilities, waste management companies and the mining industry will enter into commercial arrangements with ARI Water Solutions.
We thank Dentons Lawyers for hosting the judging and the following judges for their time to judge the Awards.