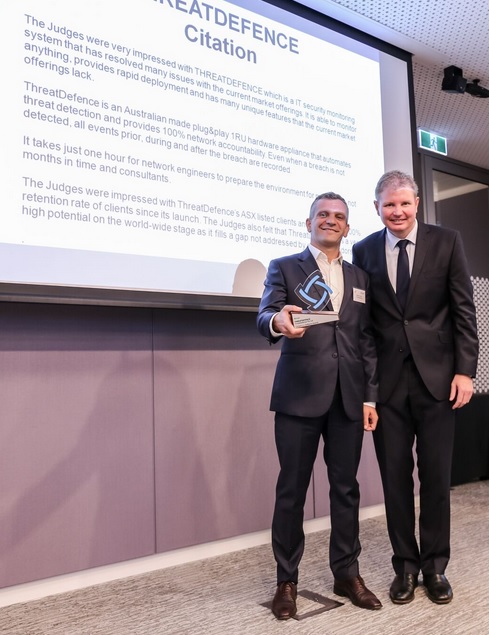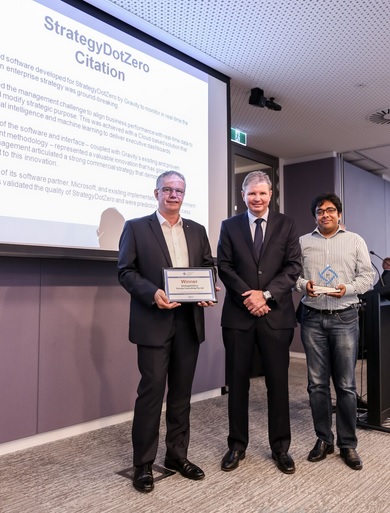 Winners of the 2017 Consensus Software Awards with The Hon. Craig Laundy, Assistant Minister for Industry, Innovation & Science. (Left) Zlatko Hristov CEO ThreatDefence Pty Ltd and (right) Stephen Hayes Managing Partner and Kailash Krishnamurthi CEO of Gravity Consulting Pty Ltd
The Awards were presented on Monday 18th December at the prestigious offices of PricewaterhouseCoopers, International Towers, Barangaroo. There were two Winners plus two Highly-Commended. Page down to see the Judges Citations.
Our thanks go to The Business School, University of NSW for hosting the judging, and to the Judges that participated in the final evaluation:
– Paul Cheever (Chair)
– Nicholas Beames
– John Dean
– Edward Mandla
– Mark Hollands
– Paul Trunoff
– Chris van Brugge
– Ali Shariat
– Peter Oliver
– Joseph Najem
2017 WINNERS:
THREATDEFENCE    www.threatdefence.com
from ThreatDefence Pty Ltd
The Judges were very impressed with THREATDEFENCE which is a IT security monitoring system that has resolved many issues with the current market offerings. It is able to monitor anything, provides rapid deployment and has many unique features that the current market offerings lack.
ThreatDefence is an Australian made plug&play 1RU hardware appliance that automates threat detection and provides 100% network accountability. Even when a breach is not detected, all events prior, during and after the breach are recorded.
It provides a single page view of entire organization, checking HR systems, inspecting all internet traversing IP addresses and correlate with Intel and signatures, monitoring control effectiveness on firewalls, routers, switches, Windows, Linux etc. This provides comprehensive assurance on existing control effectiveness by looking at the "wire", not policy.
This is all provided in one browser page, with intuitive drill-through visualisations, big data storage and search, top cyber-hunting and sensoring tools, plus an arsenal of tools from regulatory compliance to honeypots.
It takes just one hour for network engineers to prepare the environment for monitoring, not months in time and consultants. The Judges were impressed with ThreatDefence's ASX listed clients and the fact that 100% retention rate of clients since its launch. The Judges also felt that ThreatDefence has a very high potential on the world-wide stage as it fills a gap not addressed by existing vendors.
StrategyDotZero    www.gravityconsulting.com.au
from Gravity Consulting Pty Ltd
Judges said software developed for StrategyDotZero by Gravity to monitor in real-time the impact of an enterprise strategy was ground-breaking.
It addressed the management challenge to align business performance with real-time data to assess and modify strategic purpose. This was achieved with a Cloud-based solution that used artificial intelligence and machine learning to deliver executive dashboards.
The quality of the software and interface – coupled with Gravity's existing and proven management methodology – represented a valuable innovation that has global potential.
Gravity management articulated a strong commercial strategy that demonstrated total commitment to this innovation. The support of its software partner, Microsoft, and existing implementations within government departments validated the quality of StrategyDotZero and were predictors of future success.
2017 HIGHLY-COMMENDED:
C-Sight    www.paxrepublic.com
from Pax Republic Pty Ltd
The judges are impressed by PAX Republic's innovative combination of Natural Language Processing (NLP) and Artificial Intelligence (AI) supported analysis and report generation capabilities in their C-Sight software product. It was designed to provide a tool by which senior management are able canvas staff opinions and knowledge in a safe, supportive environment without fear of retribution. It was built using a range of proven technology and software products, and has been used in a number of pilot projects including one involving 650 participants.
The software provides an AI-NLP/human moderated platform to allow large on-line conversations within an organization of hundreds and potentially thousands of participants, giving each person an equal voice as well as a providing anonymity which encourages honest and free expression of their thoughts.
The electronic analysis of the raw data which could take a human several weeks can be done in hours with increased accuracy. The benefits to management are a more accurate and timely report at reduced cost due to reduced man-hours requirement.
The Judges felt that the current marketing planning for C-Sight was too highly focused around risk mitigation aimed at company failures or misconduct associated with poor internal culture or governance processes. The software would be useful for monitoring work place attitudes for a much wider range of situations (i.e. persistent high staff turnover, poor customer relations feedback, etc.).
PAX Republic made it clear they are still in the early stage of creating their marketing strategy so the Judges were keen to see how it might develop in the future, especially as they continue to run the software with larger participant pools.
Device Management System    www.wearifyme.com
from Wearify Pty Ltd
Wearify is operating in the "Smart Wearables" sector which to date has developed primarily around activity-tracking functionality. At the same time, contactless identification through chip-based cards has expanded across multiple applications from payments, to transport, to facilities access, to general identification. More recently, mobile -based digital identification systems have been introduced such as Apple Pay or Optus Pay (the latter built by Wearify).
The Wearify device is sufficiently miniaturised to be incorporated into existing wrist-based wearables (watches, fitness bands) or to take the form of a wristwatch strap or a clip-on. The device is self-powered, with a long battery life, and functions in connection with a dedicated app on the user's smartphone. Most importantly, it has the capacity to support multiple identification authorities eliminating the need for users to carry the multiple cards (debit/credit, Opal/Myki, Medicare/health, loyalty, membership, building access, etc) that are required for digital convenience today.
The judges considered the Wearify vision and its assembly of technologies is innovative and addresses a potentially large global market opportunity. However, the judges also observed that Wearify will be seeking in practice to establish itself as the Global Standard for these protocols. In light of this, it will face acceptance-hurdles and significant vested interests and competitors.
The judges found themselves uncertain as to how Wearify planned to achieve this and how they would establish the relationships to facilitate this achievement. This market acceptance is made more challenging by the limited level of contactless infrastructure in many parts of the world, in contrast to Australia which has among the highest level of such infrastructure in place.
The Judges' decision was to award Wearify a Highly Commended Award. Wearify is to be encouraged to come back when it has more perspective on its market entry challenges.