CONSENSUS EDTECH AWARDS
WORLD'S MOST SUCCESSFUL AWARDS
2019 AWARDS – PRESENTATIONS
The Consensus EdTech Awards will be run twice in 2020, in the first 6 months of the year and also the second 6 months. See the timetable below for the 1st Set and if you would like further details, please send us an email.
See below the Highly Commended technology of the 2019 Consensus EdTech Awards.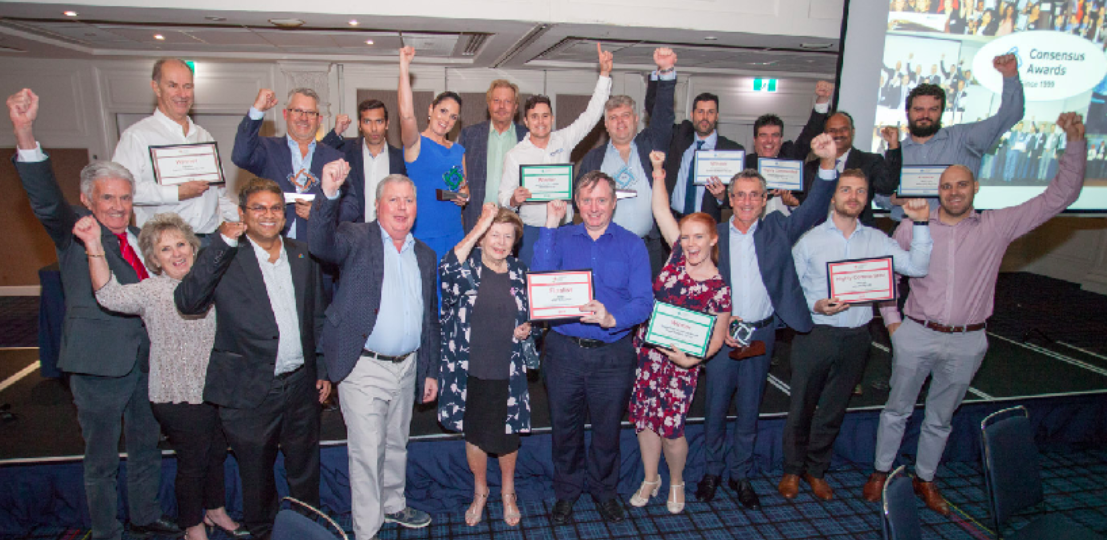 The 2019 Consensus Awards Winners with (back centre) Richard White, Founder & CEO, WiseTech Global and (front 4th from left) Julian (Jolly) Day Founder & CEO of Consensus.
The Consensus Awards were co-presented on 12th December by Richard White, Founder & CEO, WiseTech Global (Winner in 2004) and Julian Day, Founder & CEO, Consensus. Thanks to Phil Redding for MC'ing the event.
Our thanks go to the Australian Graduate School of Management at University of New South Wales for hosting the judging, and to the Judges that participated in the final evaluation:
| | |
| --- | --- |
| John Katsiris (Chair) | Ray David |
| Marion de Courcay | Richard Hayes |
| Louise Meyrick | Edward Mandla |
| Preetie Shehkkar | Rainer Tietz |
| Andrew Zell | Steven Dujin |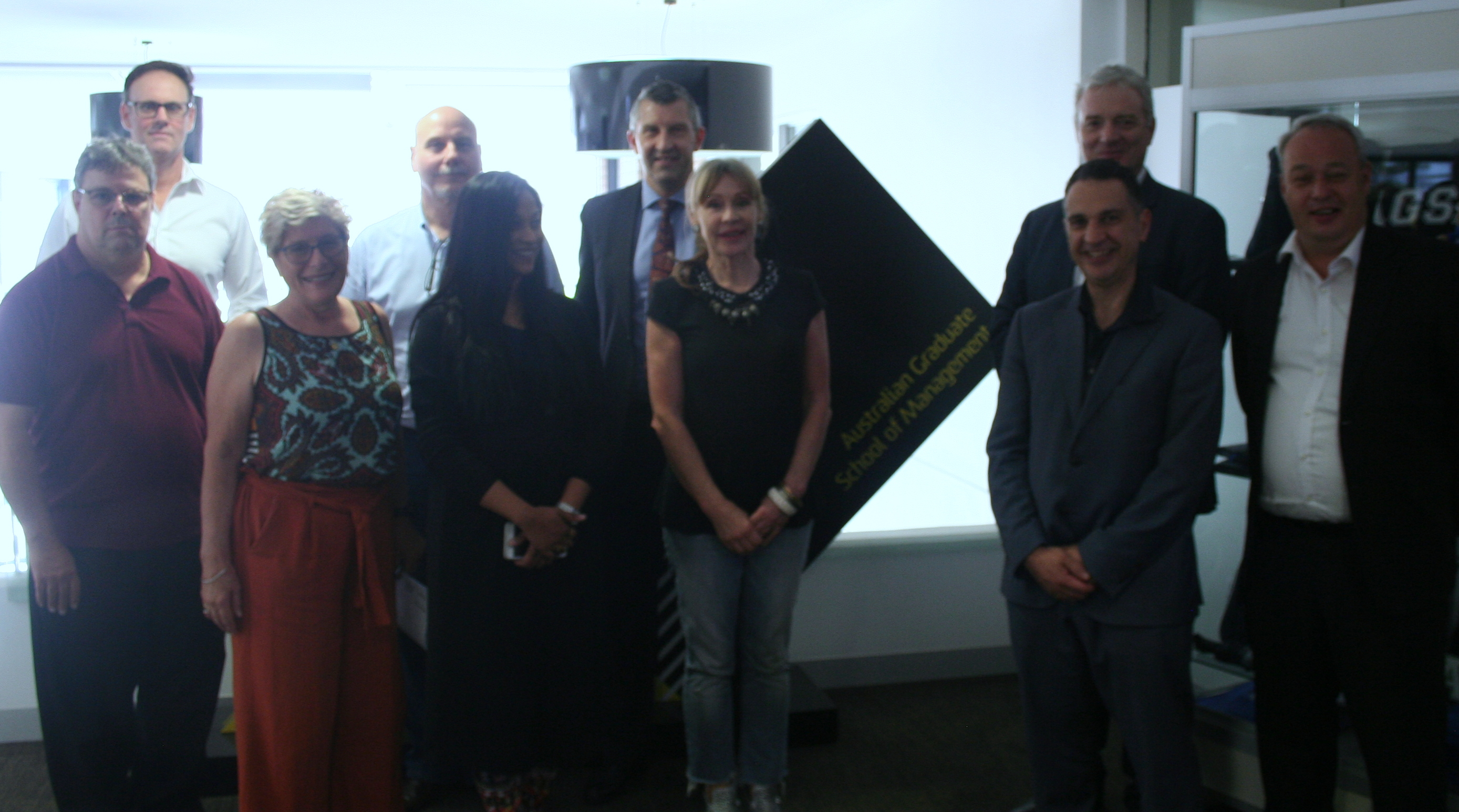 Judges of the 2019 Consensus EdTech Awards at the Australian Graduate School of Management.
2020 TIMETABLE – 1ST SET
Event
Date

Nominations Open

Late January 2020

Nominations Close

End April 2020

Final judging




Venue: UBSS, 233 Castlereagh Street, Sydney

Mid May 2020

Announcements and Presentations in Sydney




Venue: TBC

Mid June 2020

Post Awards Media

End June 2020
2019 HIGHLY COMMENDED: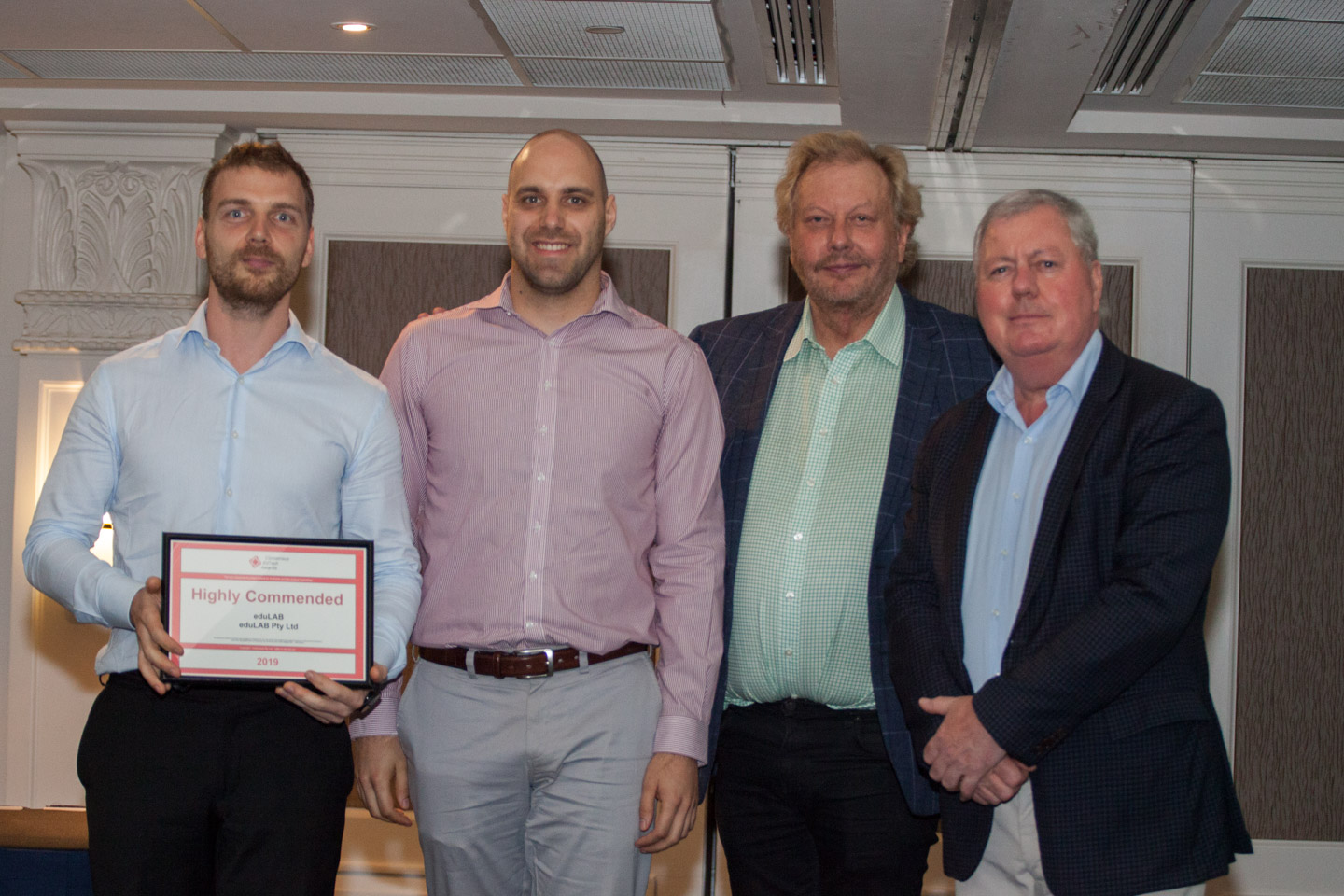 eduLAB presented with their Certificate by (second right) Richard White and (right) Julian Day.
eduLAB    www.edulab.com.au
from eduLAB Pty Ltd
eduLAB team and lectures work together on customisation of the lab environment (simple or complex) to satisfy the learning outcome.
Industry consultation is arranged by eduLAB or by lecturers to create a relevant lab environment to solve real problems – creating industry-based real-life projects. Once the customised lab is ready, the lab is distributed to students and lecturers. Users can access the platform using their existing credentials.
The lab can include but not limited to:
– Multi-site network simulations,
– Complex ICT network setup,
– Cybersecurity penetration testing,
– Implementation of enterprise communication solutions,
– Network equipment troubleshooting,
– Big data analytics.
BACKGROUND
All Consensus Award programs are based on an open nomination process. Nominations are welcomed from individuals and organizations with experience of the product or service concerned. Before nominating a product please consider the aims of the program and the judging criteria against which the product will be measured. Self nominations welcome.
THE AIMS OF THE AWARDS
The Awards exist to reward excellence in Australian and New Zealand software design and to grow and strengthen software development in Australasia. Award recognition can be vital in building the credibility and exposure necessary for locally developed products to break into new markets. The Consensus AgTech Awards have been developed to provide this credibility by using an open and transparent judging process based on the Consensus Model.
JUDGING CRITERIA
To achieve a Consensus AgTech Award, the technology or product must be Australian or New Zealand designed and developed and be judged by the invited panel of judges to be Innovative, deliver performance benefits to the user, and have further potential for product or market development. Entrants are invited to present the evidence to the judging panel first through a written and then by direct presentation. Since each product is assessed directly against the judging criteria there are no categories and the judges may recommend as many or few Awards as they deem to be worthy each year.
Entries may be related to any type of Education in schools, colleges, universities, technical colleges, online and remote teaching including:
– Course development
– Literacy Education
– Experience-Based Learning
– Face-to-face learning
– Free play
– Technology delivery
– 3D delivery
– Artificial Intelligence
– Robotics
– Teacher autonomy
– Measuring results or improvements
– Exams and learnings
They should demonstrate one or more of the following:
– Creating a business advantage and markets
– Breaking new ground
– Earth shrinking potential
– Expanding new horizons
– New business/service delivery
– New Technology
– New or advanced Process
– Social change or empowerment of users