2023 AWARDS ANNOUNCEMENTS
The 2023 Consensus Software Awards were assessed and judged in late July. Gorgon Cyber was conferred a Consensus Software Award by the judges. http://www.gorgoncyber.com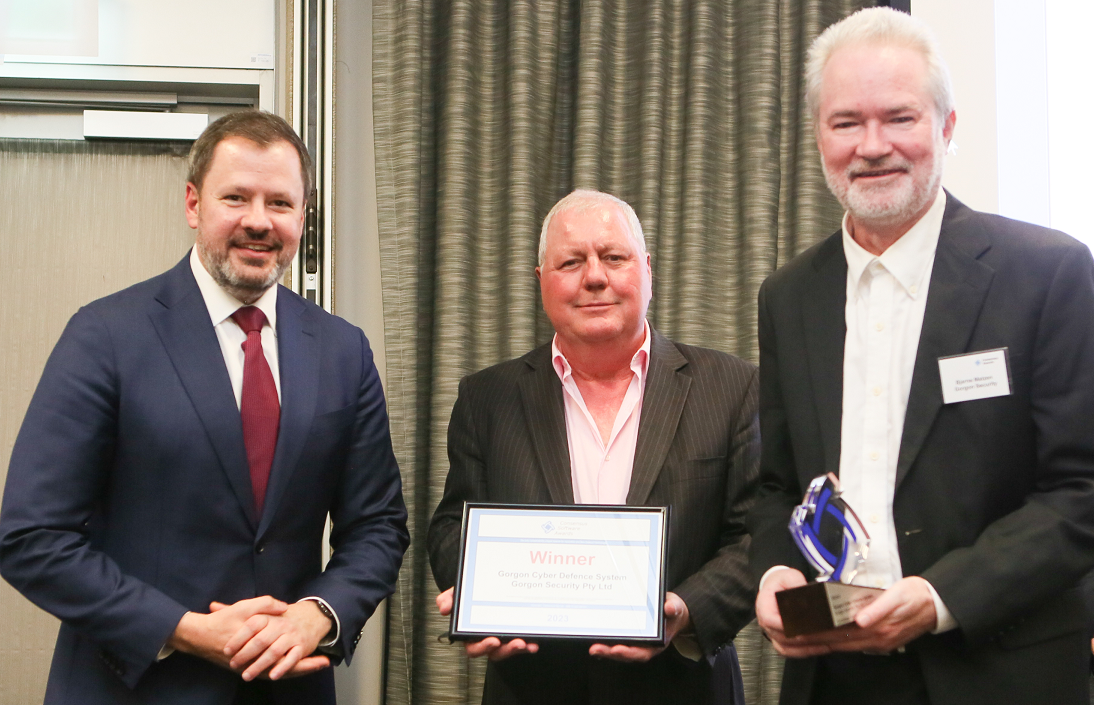 Bjarne Matzen (right) receiving his Consensus Award from (left) The Hon. Ed Husic, Minister for Industry & Science, and Julian Day, Founder & CEO of Consensus
The Gorgon Cyber Defence System uses military principles to defend your home / office, small business, or work from home enterprise workforce. It increases your defense against hackers that want to steal your identity, security codes, banking details, intellectual property, or private information; or hold you to ransom, or simply destroy your digital property.
The Gorgon Cyber Defense System initially takes 24 hours to learn what is on your network, then starts up to 25 fake devices that deceptively mimics existing computers. It also continues to learn if and when your network devices change. So if you have a single smartphone, a hacker (human or machine) will suddenly see many smartphones, with the same make, model, operating system and so on. The hacker trying to infect, damage or steal things will not know of the decoys and any attempt to connect to one of the decoys instantly triggers an alert, and the defense system is now in action.
Judges Citation:
Home office workers are increasingly exposed to threats from hackers. The proliferation of IP-enabled smart devices in the home – Google Nest, other smart speaker systems, home security systems, smart lighting, IP-enabled washing machines, smart fridges, security cameras, solar panel controllers, smart TVs – has greatly increased the potential attack surface for hackers.
At the outset of the pandemic, Deloitte published a paper pointing out that "COVID-19 has brought about a change in criminal activity. … Cyber criminals are adapting their tactics and are now targeting people in their homes".
At present, only corporate employees whose organisations can afford Enterprise-grade multi-layer cyber protection systems are well protected. Home networks tend to rely upon endpoint protection i.e. firewalls, anti-virus and malware software, which do not offer sufficient multi-layer security. The company will market their system at a price that is quite affordable, unlike systems currently used by Corporate and Government customers.
It would be the first working system that ticks the boxes of security, affordability and ease of installation. The judges awarded a Consensus Software Award to the product.
Our thanks go to the following judges and special thanks to John Katsiris who chaired the panel and managed the Zoom Conference.
| | |
| --- | --- |
| John Katsiris | Wayne Slager |
| Edward Mandla | Steve Mackay |
| Jed Fisher | Patrick Wilson |
| Rainer Tietz | Tony Veljancevski |
| | |
| | |