2011 CONSENSUS SOFTWARE AWARDS – WINNERS ANNOUNCED
The 2011 Consensus Software Awards were presented at the Amora Jamison Hotel in Sydney on Wednesday 9th November by The Hon. Malcolm Turnbull, Shadow Minister for Communications & Broadband.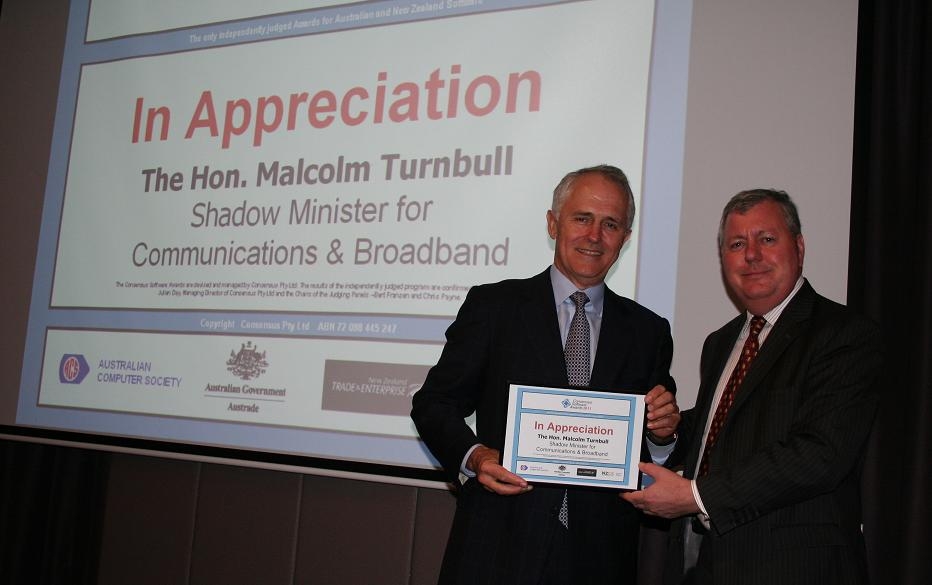 Julian Day, Founder & CEO Consensus Group (r) presents a Certificate of Appreciation to The Hon. Malcolm Turnbull
The Awards identify the most innovative software in Australia and New Zealand. They are endorsed and supported by Austrade, NZ Trade & Enterprise, Australian Computer Society and New Zealand Computer Society. Program Partners are Clifton's, TiE and Alinement. Wholesale Investor is the Media Partner.
OUR THANKS TO THE JUDGES WHO PARTICIPATED THIS YEAR:
Abbass Ghanbary, Bert Franzen, Carl Rogers, Chris Payne, Debra Kelly, Edward Mandla, Geoff Hoddinott, Hans Olthof, Hugh Gyton, Joseph Najem, Narelle Clark, Patrick Wilson, and Robin Wall.
Click here for a list of the 2011 Judges
THE 2011 WINNERS ARE: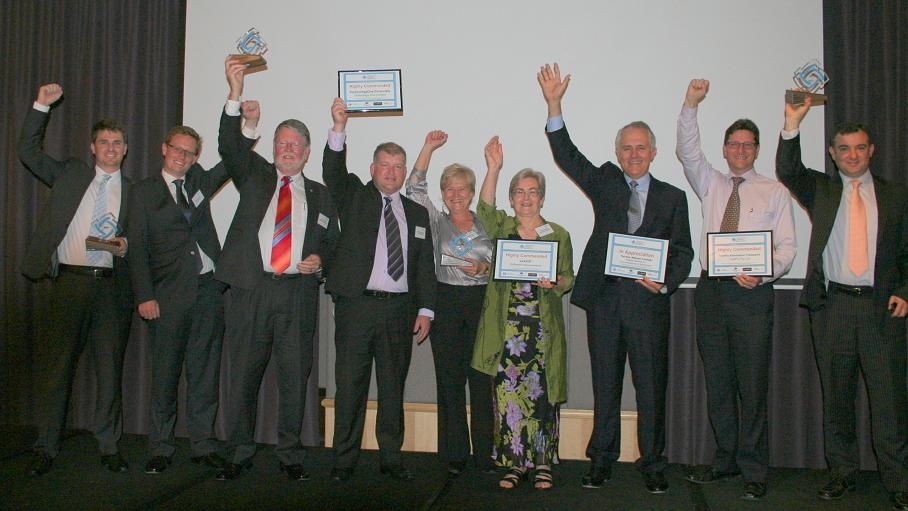 Winners & Finalists of the 2011 Consensus Software Awards with (3rd from right) The Hon. Malcolm Turnbull
GeoOP    www.geoop.com
from GeoOP Limited (NZ)
GeoOP (Geo Operations) is a job dispatch, mobile workforce management and GPS tracking system that leverages Cloud computing, geo-location based mobile applications, SMS and the iOS / Android platforms. In a nutshell, it tells your field staff where to go and what to do via their mobile phone.
It is presently being used by paying customers in NZ, Australia, UK, South Africa, Canada and the USA in these industries: Freight, IT, Audio Visual, Sign Writing, Landscaping, Trades, Maintenance, Health care, Pest control and Security. GeoOP was deployed after the Christchurch earthquakes, enabling the 15,000 volunteers of the Student Volunteer Army (SVA) to coordinate the huge amount of work that was required to assist people in need.
Judges' Citation: "GeoOP is a contemporary solution to the mobile workforce management problem that leverages simple job dispatch functionality with the GPS tracking capabilities of smart phones. Built for the cloud, GeoOP is a slickly packaged SAAS offering with great potential.
GeoOP is targeted at the small-to-medium enterprise (SME) market and is well positioned to capitalise on the adoption of smart phones and mobile devices by this largely untapped sector. An innovative 'pay-per-job' pricing model and quick web-based setup process enables customers to adopt GeoOP quickly and efficiently. The extension of GeoOP's functionality through integrations with other SAAS offerings, such as Xero and Freshbooks, extends the value proposition to the price sensitive SME market.
GeoOP can also be leveraged to assist with disaster recovery coordination, as evidenced by the Christchurch Student Volunteer Army's use of GeoOP during the recent New Zealand earthquakes to orchestrate the completion of 4,000 jobs by 15,000 volunteers. GeoOP is currently being used by customers in Australia, UK, NZ, South Africa, Canada and the USA who are engaged in businesses as diverse as freight, IT, audio visual, sign writing, landscaping, trades, maintenance, health care, pest control and security.
With plans to release GeoOP in multiple languages in 2012, combined with the rapidly diminishing cost of Android phones, GeoOP is well positioned for growth in mature and developing nations around the globe."
GuestPoint®    www.centiumsoftware.com
from Centium Software (QLD)
In 2011, Centium released, GuestPoint® – an accommodation management system purpose-built for small to mid-sized regional properties. GuestPoint® is the first of a new generation of software in this space that gives small operators a suite of powerful tools to enable them to compete in the online world without detailed knowledge and experience.
GuestPoint® integrates sophisticated web booking technologies into the real-world reservation environment, simplifying the management of online reservations, web booking channels, dynamic rate and real-time online inventory management.
GuestPoint® is delivered with WebPoint®, an online booking link added to property web sites and includes search engine optimization to enhance web presence.
Judges' Citation: "GuestPoint® by Centium could well be the most elegant yet practical solution for managing an accommodation business on the market today.
Clearly designed with usability in mind, it met all the criteria for a Consensus Award: refreshingly innovative in its highly attractive user interface, integrating seamlessly with the essential Internet booking and other systems necessary in the modern hotel business, and with all the business process features for reliably delivering accommodation services and more.
Of particular merit is that the product creation included extensive customer input; the developers run a hotel and the programmers even spent time on the reception desk! The judges commend Centium for their comprehensive approach to delivering a product we are convinced is, and will be, a delight to their customers. "
riskware®    www.riskware.com.au
from PAN Software (VIC)
riskware® is a web-based application complying with the new international risk management standard (ISO 31000:2009) and extending it by integrating 10 modules which all "feed-off" each other providing a holistic view for organisational risk. Whether an enterprise manages financial, information systems, people, resources, government policies, etc., riskware® can be utilised to manage organisational risk.
riskware® can potentially replace up to 10 different applications with 1 web-enabled solution, which collectively we call Enterprise Risk Intelligence (ERI) software. riskware® features include:
– Corporate Governance module
– Risk Management module
– Compliance module
– Business Continuity module
– Incident Management module
– Health and Safety
– Environmental Management module
– Security Management module
– Claims Management module
– Risk Analytics
Judges' Citation: "In today's volatile market, the Enterprise is required to manage a broad portfolio of risks. They typically threaten the value of the brand, governance and compliance, quality of the environment, the health and well-being of their employees and overall security of the operation. Historically, the enterprise has addressed this broad "risk" spectrum through deployment of a number of 'ad hoc' and disparate solutions.
Pan software Pty Ltd has taken an innovative leap at this problem with the release of their highly successful Enterprise Risk Intelligent software – "riskware®". riskware®, leverages a patented (pending) backend engine that not only integrates the various risk verticals but analyses historic data to future proof the business by turning history into strategic management information.
The judging panel was impressed not only by the innovative approach to solving the 'integration' problem, but also by Pan Software's strong business fundamentals combined with a deployment strategy that allows the product to be sold as a standalone platform or via the Cloud. The innovative approach, strong business base and flexible deployment strategy speaks strongly to the longer term potential of the product as a player on the international stage. "
The Manufacturing Simulation    www.abw.org.au
from Australian Business Week Limited (NSW)
The Manufacturing Simulation is aimed at students in years 10 and 11 in high school and is intended to take them through the process of running a business making sporting goods. Participating students form into teams of ten supported by both a teacher mentor and a business mentor recruited from the local business community.
Each team is responsible for the election of a Chief Executive Officer and the allocation of team members to each of the Marketing, Operations and Finance positions. Every position is important for making the decisions related to that role and for working cooperatively with the rest of the team. The key to success is to encourage the students to work together as a team!
The companies sell in three markets; local ( home market), national (other areas in the home country) and international, (the export market).
Judges' Citation: "Years 10 and 11 in secondary school are when students often have to start making serious career choices. But how do they know what a career in a particular industry can involve? And how can teachers showcase the complexity of a typical business in a true hands-on way? Last year, Consensus was pleased to recognise Australia Business Week with an award for its secondary school educational software program, The Café Simulation. This year the company is again recognised for providing yet another feature-rich learning tool; The Manufacturing Simulation. The Manufacturing Simulation is an educational software product that not only engages student teams in a virtual manufacturing business, but also gives teachers the ability to tailor real-life business challenges on-the-fly. Innovative simulation design and development, simple yet robust software performance, and with demonstrated export potential, The Manufacturing Simulation ticked all the boxes for our judging panel. "
THE 2011 HIGHLY COMMENDED ARE:
eVACS®    www.softimp.com.au
from Software Improvements Pty Ltd (ACT)
eVACS® is a family of electronic voting and counting systems designed to meet all types of elections as adopted anywhere in the world, and crucially, providing transparent, secure, accessible, verifiable and accurate election results.
eVACS® enables customers to select from a range of electronic voting options (standalone voting machine, LAN, online and telephone) to suit their needs and to incorporate additional modules overtime as requirements change. There are also modules to incorporate details of paper votes for electronic counting.
eVACS® is the first electronic voting system to be used in any parliamentary election in Australia, and the first to be used nationally.
TechnologyOne Financials    www.TechnologyOneCorp.com
from Technology One Limited (QLD)
TechnologyOne Financials (formerly FinanceOne) is TechnologyOne's leading software solution. Today's 'roles-based' design has made it very easy-to-use and now more than ever it is being utilised across an entire organisation – rather than just limited to the financial department.
It is a robust, extremely comprehensive solution as attested by over 800 customers across seven vertical markets managing their operations and growth with the solution. A partnership with the Australian Federal Government to streamline business-to-Government reporting, an exciting initiative that mirrors accounting 'best practices' in Europe and one that the UK and USA governments are watching closely.
In addition to the flexibility of user-defined ledgers, TechnologyOne Financials comes with a multi-dimensional account structure and unprecedented reporting capabilities.
TestPro Automation Framework (TAF)    www.testpro.com.au
from TestPro Pty Ltd (NSW)
The TestPro Automation Framework (TAF) is a hybrid automation framework, combining and extending the use of each test automation methodology with innovative concepts to enable teams to build automation faster than any existing technique currently available. TAF provides an easy to use GUI that allows business users to:
– Compose test scenarios by sequencing and combining IBM Rational Functional Tester scripts to fill a test objective
– Manages data requirements through the use of multiple data groups on individual test scripts utilising common keyword capabilities and smart filtering to target the test set
– Compile Execution suites by ordering several scenarios to achieve a testing outcome
– Manages the execution delivery preventing premature termination of a test set due to unforeseen issues to ensure full test results
– Correlates test results and provides snapshot information on failed tests
VMInformer Professional    www.vminformer.com
from VMInformer Pty Limited (NSW)
VMinformer is a security assessment solution for virtual computing environments that makes it easy for IT security and system administrators to manage their virtual infrastructure. This level of assurance was not previously available on Virtual Machines.
The volume of systems with many hundreds of control settings to manage, challenges everyone. Additionally, there is no segregation of duties and oversight within these virtualized platforms. The increasing, and projected use, of virtual computing means that the virtualisation platform could be the single point of failure of corporate infrastructure.
VMInformer provides a holistic view through the hypervisor to the virtual machines, their hosts, the administration layer, supporting databases and storage that is required.