CONSENSUS IT PROFESSIONAL AWARDS
2019 AWARDS PRESENTATIONS
The first set of 2019 Consensus IT Professional Awards were presented on the evening of Thursday 9th May at PricewaterhouseCoopers (PwC) at their prestigious offices at Barangaroo in Sydney.
The Awards will be open again for nominations again from June 2019 and presented in early December 2019. Please note that there can be as many Awards presented as the judges deem fit the criteria (see below). If you would like further details, please send us an email.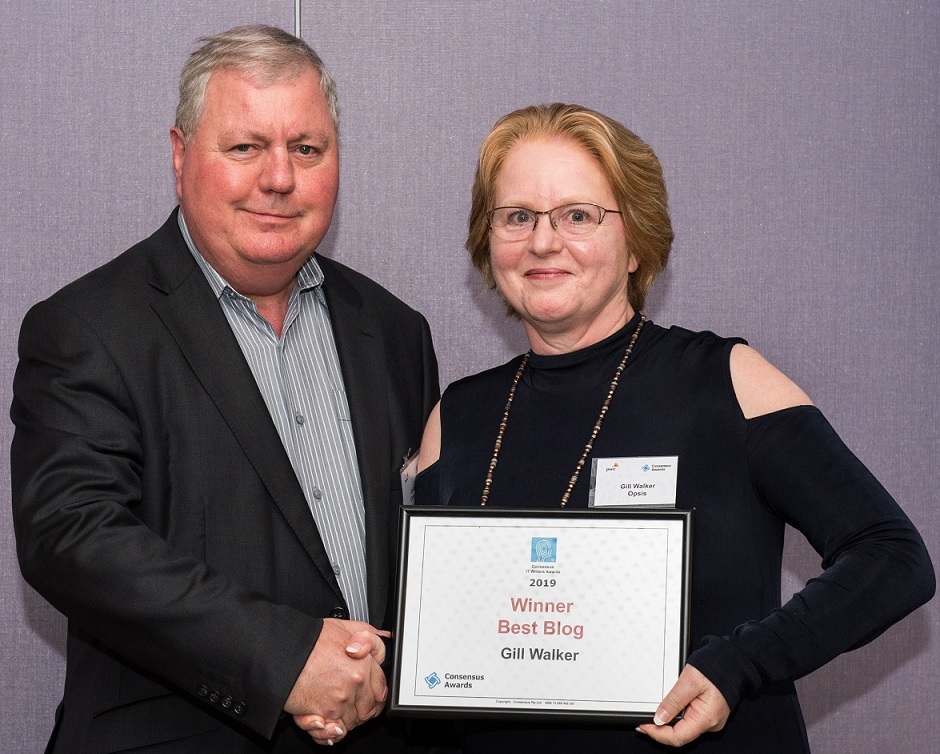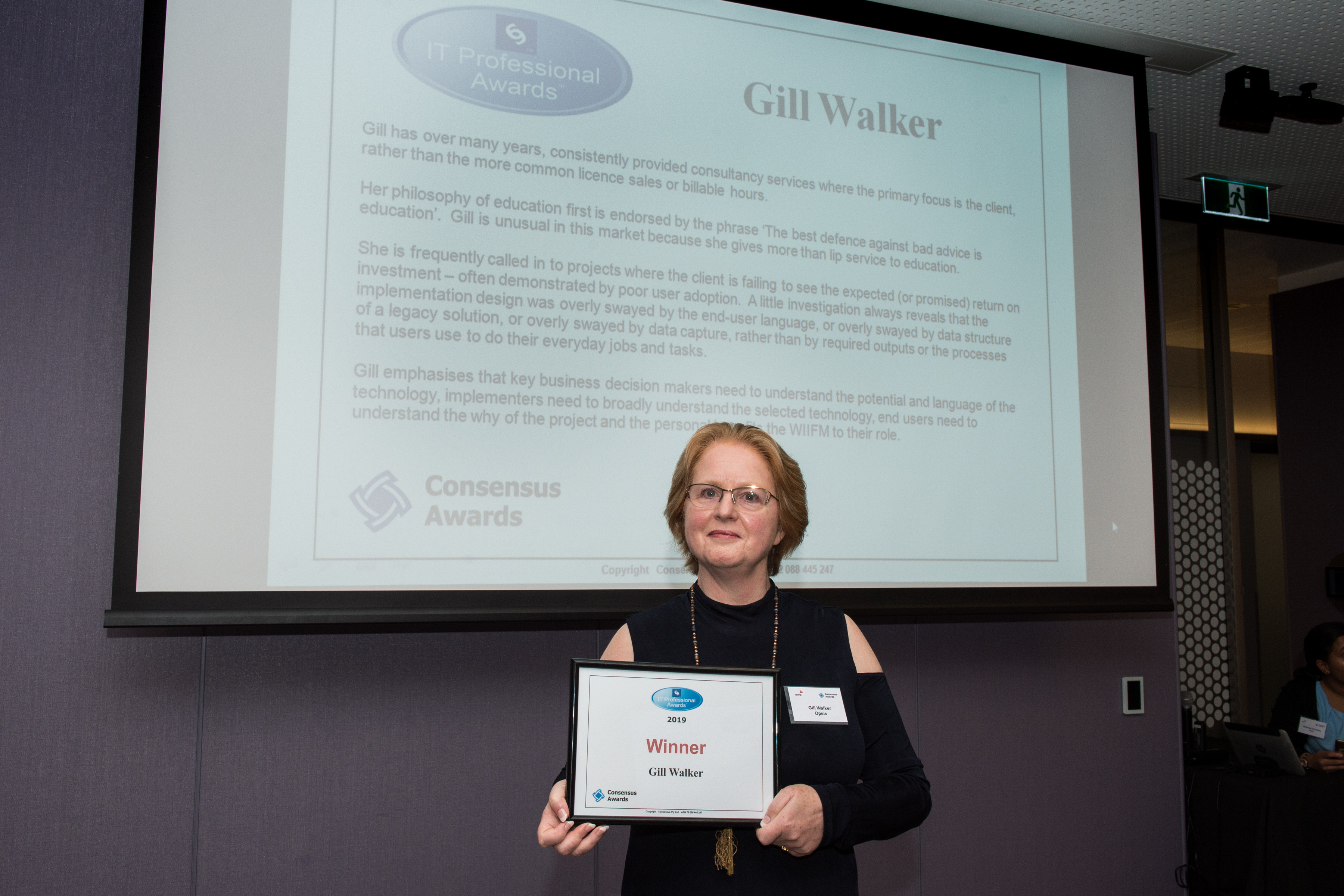 Gill Walker, Winner of a prestigious 2019 Consensus IT Professional Award
Gill has over many years, consistently provided consultancy services where the primary focus is the client, rather than the more common licence sales or billable hours.
Her philosophy of education first is endorsed by the phrase "The best defence against bad advice is education". Gill is unusual in this market because she gives more than lip service to education.
She is frequently called into projects where the client is failing to see the expected (or promised) return on investment often demonstrated by poor user adoption. A little investigation always reveals that the implementation design was overly swayed by the end-user language, or overly swayed by the data structure of a legacy solution, or overly swayed by data capture, rather than by required outputs or the processes that users use to do their everyday jobs and tasks.
Gill emphasises that key business decision-makers need to understand the potential and language of the technology, implementers need to broadly understand the selected technology, end-users need to understand the why of the project and the personal benefits the WIIFM to their role.
2017 AWARDS PRESENTATION HONOURS SIX MORE IT PROFESSIONALS
The 2017 IT Professional Awards were presented by Graeme Philipson, IT Veteran at Pricewaterhouse Coopers in Sydney on the evening of Monday 18th December. Graeme stood in at late notice to present the Awards as The Hon. Craig Laundy headed home for an early night, due to be in Canberra the next day for the Turnbull cabinet reshuffle! There were six recipients of the Consensus IT Professional Awards. Page down to see their brief biographies and their achievements.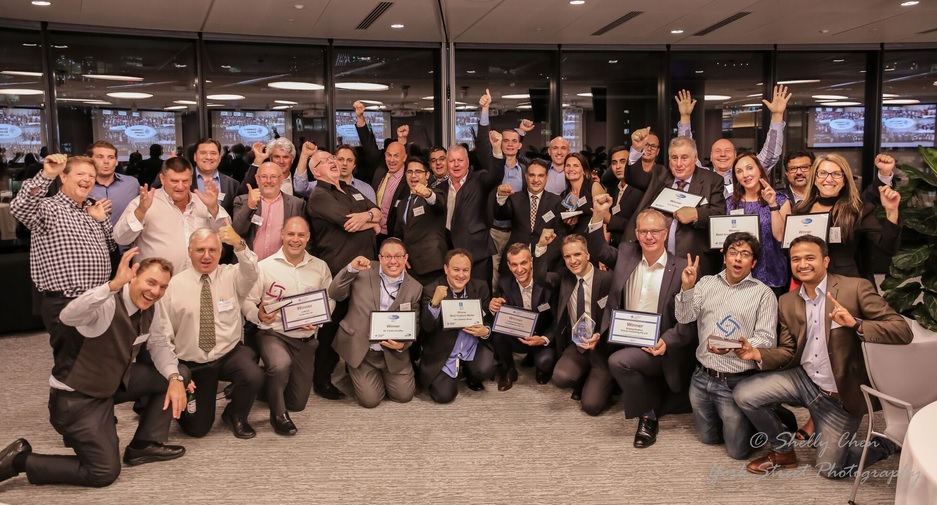 The happy crowd at the Awards ceremony celebrates their wins!
If you would like to receive information about the Awards Presentations, please send us an email.
NOMINATION AND JUDGING PROCESS
The IT Professional Awards nomination and judging process is built upon the successful and proven Consensus Model™ which has been used over for over ten years for other Consensus Awards Programs. To make a Nomination, click on the above link.
The Criteria for the Consensus IT Professional Awards is anyone that is deemed to have achieved a significant career or result in the following areas. They must be an Australian or Permanent Resident, but their work does not have to be Australian-based. The nominations can be made by anyone based in Australia or overseas. All nominees are verified.
– Achieved a long professional career and is recognised as a major contributor to the IT industry
– Delivered a major or significant project; infrastructure, software, communications, integration etc
– Specialised in a specific technology area and considered to be an expert in the field
– Acted as a leader/mentor/driver/evangelist in the IT industry
– Started an IT-related company and/or grown that company to be a major achiever in the IT industry
– Devoted their time and energy to the establishment or growth of non-for-profit or charitable causes related to the IT industry
The judges may confer as many awards as they feel appropriate. A suitable worded citation is written by the judging panel to be read out at the Awards Presentations and used in any press or publicity.
The Awards Presentation is in Sydney with all finalists and invited guests from a wide area of influence. Awards evenings are always a terrific opportunity for networking. Consensus makes all official photography available at no charge to all finalists, guests and our Sponsors and Program Partners.
2017 CONSENSUS IT PROFESSIONAL AWARDS – WINNERS ANNOUNCED
2017 WINNERS PROFESSIONAL PROFILES
Peter Oliver
Peter is a Technology Strategist and Innovator, CIO and Consultant, having led a number of ERP projects, in multiple global locations, focussing on using major technology innovations to enable the businesses to undergo strategic change and be supported by, rather than constrained by, the underlying support technologies, using a mix of legacy and newly implemented leading-edge technologies.
His IT career spans almost 40 years, following an initial career in Accounting. During that time, he has also been responsible for several ground-breaking logistics infrastructure & technology projects, utilising a variety of warehouse automation software and specialised handling equipment systems solutions, to significantly increase throughput and productivity, whilst also reducing costs and picking/handling error rates.
Peter has also been engaged in several large and high-profile IT outsourcing projects, and led possibly the first Function Points in estimating project in Australia. He has assisted clients, both large corporates and small to medium sized businesses, select technology pathways and solutions to support their growth and change.
Dr. Gleuto Serafim
Gleuto runs an Enterprise Architecture Framework Methodology consultancy, covering Compliance and Information Systems Governance, providing in-depth architectural design consultation in Fintech, Identity Management, Distributed Frameworks, Shared Cryptography, adopting Blockchain technology.
He has worked on the strategic path for the use of digital technology in innovative vertical solutions such as Digital Banking, Client Life Cycle Management, Smart Payments, Risk, and Blockchain.Responsible for recommending technologies to CxOs which reflect exact business requirements and consulting on Infrastructure Architectural solutions including Public and Private Cloud Solutions and on-Premises implementations.
Provision of leadership and guidance for senior engineers in the development of infrastructure solutions, including physical networks, computing platforms, and storage technologies.
Consulting on strategic topics such as compliance and IT Impact Matrices produced by regulatory authorities and IT control objectives (such as Sarbanes-Oxley, NIST, Basel II, etc.).
Steven Sherry
Steven is VP of Samsung Electronics Australia. He is an innovative and dynamic leader with a broad range of experience covering selling, consulting, delivery and senior management roles. A results-driven career, able to lead large diverse teams, by creating clarity of direction, a shared sense of purpose and commitment for growth. Experienced in large complex transformational programs across a variety of businesses. Accomplished in business development, strategy, and corporate acquisitions.
His areas of Expertise include Vice President / Director / General Management, Consulting Selling, Business Development and Marketing, Mergers and Acquisitions, Strategy and Change Management, Delivery and Business Operations, Finance and Business Planning, Nurturing Strategic Partnerships, Professional Consulting Services, Client Engagement, Project and Program Management, P&L Analysis, Staff Management and Engagement, Contract Negotiations, Cross-Geography and Cross-Cultural Client Engagements.
He has superior leadership skills and has had responsibility for business between $AUD15M to $AUD685M, plus extensive management skills having managed over 900 employees for many years.
Anne-Marie Elias
Anne-Marie's mission objective is to help corporates, philanthropists, and organisations work on the stuff that matters and get shit done. Known as the "Chief Disruptor", she knows that we have to seriously disrupt to achieve results for disadvantage, homelessness, family and domestic violence, poverty and exclusion of any kind.
With a career spanning 30 years spent working in strategic roles within Ministerial, Government and NGO's, leading projects, driving innovation and performance; she has now packaged a range of services that she delivers as an advisor and consultant to leaders in the public and private sector.Anne-Marie provides:
– Corporate workshops – innovation, change, and user centered design
– Consultation – Innovation, Disruption, Social Licence
– Inspirational talks and speaker at conferences on resilience, change, human centered innovation, social licence
– Organise social impact hackathons and user centered design swarms to co-design solutions
Len Norman
Len spent 33 years in IBM where he established a reputation for innovation in the management of diverse areas such as Education, Call Centre Management, Software Development, and Human Resources. Earlier in his career, his direct support of customers earned him a personal letter from the IBM Chairman of the Board in New York.
He is an internationally recognised expert in the fields of People Development through Skills Management and Resource Deployment. He has invented several tools and processes making substantial positive business impacts where applied. His flagship product, SkillSpeak, represents at once the most powerful, yet easy-to-use, tool ever devised to manage structured people development.
Len has been a close advisor and volunteer for 20 years to the not-for-profit Australian Business Week group, themselves twice winners of Consensus Awards for their innovative Business Simulation Programs. Having significantly contributed to the design of these very successful programs, Len still gives his time to acting as a mentor of mentors in the various high school programs. More than 160,000 high school students have benefited from this powerful learning exercise usually offered to Years 10 or 11 in Australian High Schools.
Jeff Lock
Jeff is a founding member and treasurer of the not-for-profit Software Quality Association, now renamed as Quantitative Enterprise Software Performance (QESP). QESP aims at providing industry leadership in Software Quality, Software Process, and Software Metrics subjects while influencing the direction of the development and improvement of ICT Frameworks and Standards.
QESP members include some of the best-known experts in this field and the QESP membership participates in ICT related Forums, conferences, workshops, and other activities, in Australia and internationally, representing the views and focus of the Australian ICT industry.
For close to 30 years Jeff has played an active role as treasurer and committee member in helping to achieve SQA and QESP goals.
Jeff has been employed with the Department of Education and Training for close to 20 years as an IT Auditor and prior to that with Westpac Banking Corporation within their IT Security unit. Jeff is also Editor at Royal Aeronautical Society Australian Division.
2016 CONSENSUS IT PROFESSIONAL AWARDS – WINNERS ANNOUNCED
The 2016 Consensus IT Professional Awards were presented by The Hon. Ed Husic MP, Member for Chifley, Shadow Spokesperson for Digital Innovation and Startups, on the evening of Tuesday 14th June There were four recipients of Awards – Leanne Howard, Shara Evans, Barry Nash, and Ben Martin.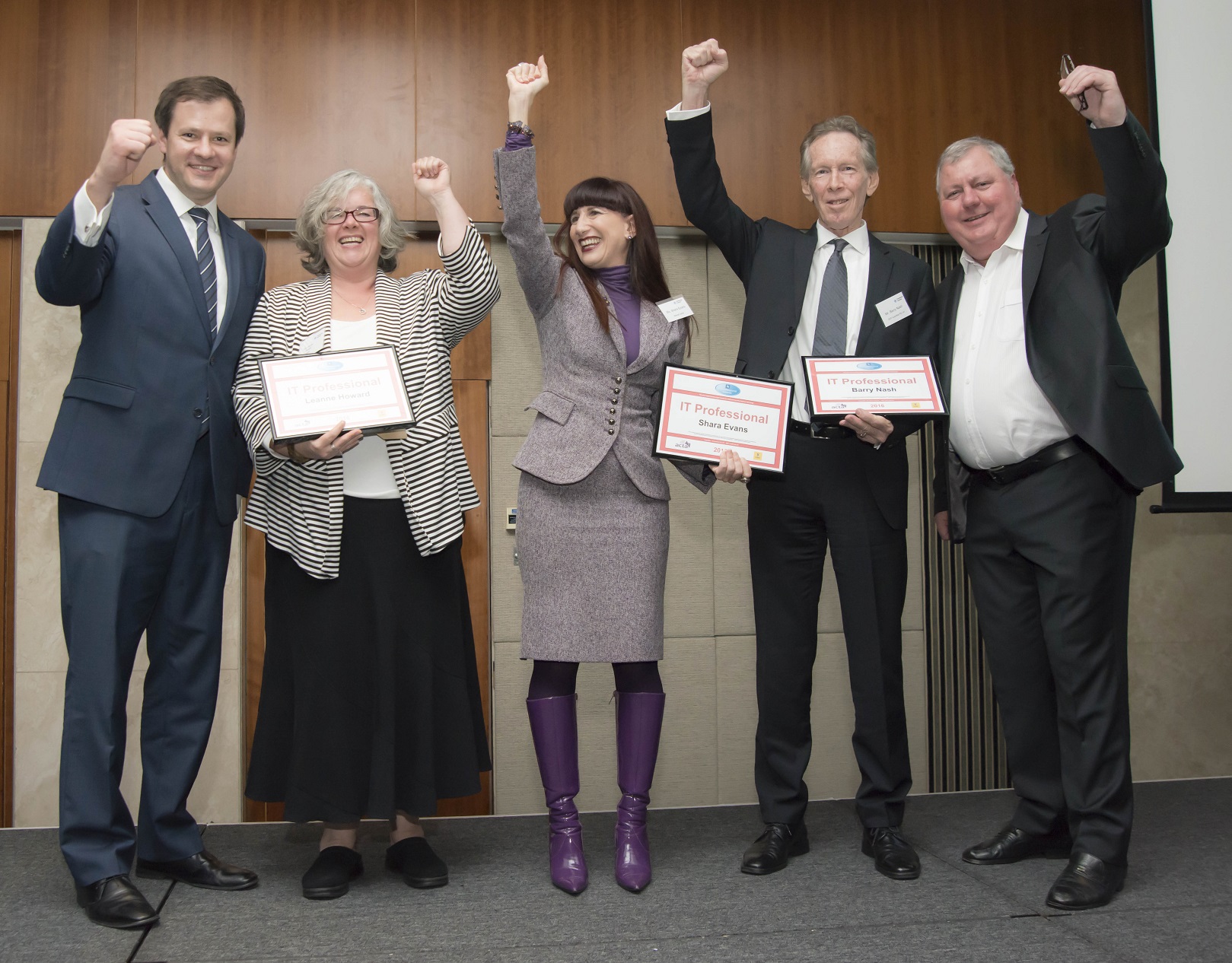 (Left) The Hon. Ed Husic with Leanne Howard, Shara Evans, Barry Nash, and Julian Day, Founder & CEO of Consensus
2016 WINNERS PROFESSIONAL PROFILES
Leanne Howard
Leanne is Agile Practices Consultant at Planit and is recognised in her chosen profession and considered an expert in her specialisations of agile and testing. She has devoted her time to raising the profile of the cost of quality, leading and mentoring both staff and clients in its benefits. She is also very active in the wider community donating a lot of her spare time to establishing and growing organisations in the related IT industry.
Leanne has 30 years' experience across IT and has had a number of roles in major software development change initiatives where she has conducted Test and Agile Process Improvement reviews, quantifying the current position and making specific recommendations for areas and ways to improve; defined software testing processes and acting as a champion for change.
Shara Evans
Shara is a Technology Futurist, Innovation Strategist, Keynote Speaker, and Telecoms Expert. She is internationally acknowledged as a cutting edge technology futurist, commentator, strategy advisor and thought leader, as well as the Founder and CEO of Market Clarity an award-winning technology analyst firm.
She is also the Founder of Telsyte (subsequently sold to UXC) and has been providing innovative research and strategic consulting on telecoms and technology for the past 18 years. Shara is one of the industry's leading commentators on telecommunications and technology issues and is regularly sought by print, online, radio and television media, conference producers and clients to provide insight on a broad spectrum of issues.
Barry Nash
Barry is a Business Development Manager, Strategic Consulting Partnerships. He has an IT career spanning over 40 years the major focus has been on selling and delivering Consulting Services, Software, Hardware, and Support to Enterprise Systems clients in Banking and Finance, Government and other Sectors in Australia and Asia/Pacific, including China, Hong Kong and Taiwan. He achieved a sustained career track record of exceeding 90% productivity quotas.
Major achievements have included exceeding quota for sales to Finance Sector clients, successfully replacing competitive products and services in Finance and Government, and building consulting services in major Australian Banks and Insurance clients.
Ben Martin
Ben is a Research Associate at the Information Assurance Research Group, Advanced Research Centre at the University of South Australia. His research focus is in the field of digital forensics looking at the implications of cloud computing. He has a broad range of research interests.
Ben gives occasional invited presentations to industry organisations and his PhD thesis in the field of cloud forensics is currently under examination. He holds a Masters degree in Business Information Systems and a Bachelor degree in Information Technology (Networking & Security).
2013 CONSENSUS IT PROFESSIONAL AWARDS – WINNERS ANNOUNCED
The 2013 Consensus IT Professional Awards were presented at Cliftons on 25th March. There were four recipients of Awards – Dr. Peter Jones, Raja Venkateswar, Warren French and Peter Alexander.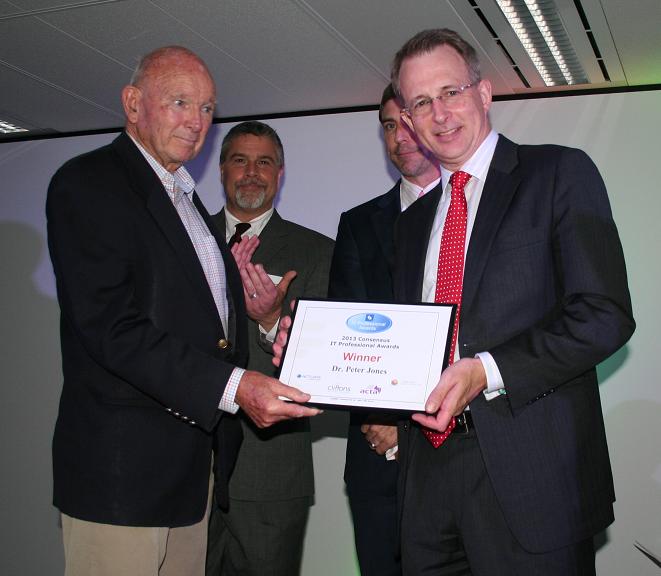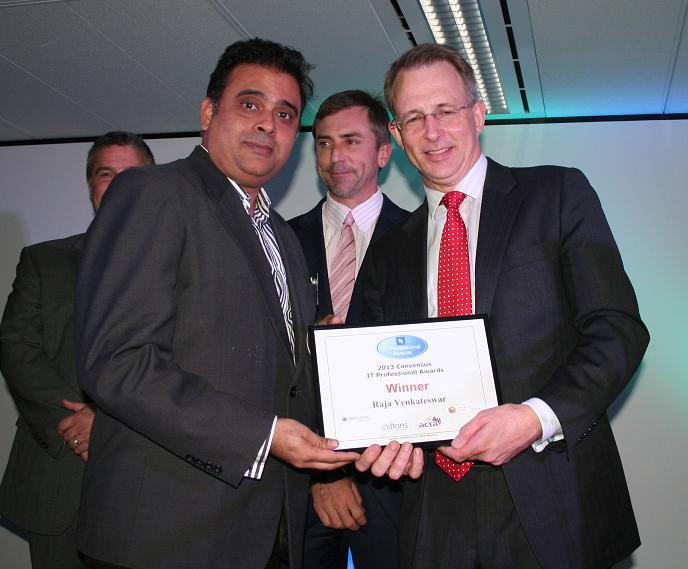 (Left) Dr. Peter Jones receives his IT Professional Award from Paul Fletcher MP, Member for Bradfield, and (right) Raja Venkateswar receives his Award. Sponsors Mark Gamble of Actuate and Paul James of Hosted Community join in the congratulations.
2013 WINNERS PROFESSIONAL PROFILES
Dr Peter Jones
An luminary figure in the IT industry, Dr. Jones was a pioneer of computing and worked on some of the first computers in Australia and the USA. His number of achievements over 50 years are a list of firsts. He was a member of the Prime Minister's Advisory Committee on Science and Technology from 1984-90 and also a member of the Australian Telescope Steering Committee from 1987-97.
Dr. Jones was elected a Fellow of the Australian Academy of Technological Sciences and Engineering in 1991 and was President, Science Foundation for Physics, University of Sydney from 1993-96. He was made an Honorary Fellow of the University of Sydney in 2000 for excelling in his chosen area of academic and professional endeavours. He was elected a Fellow of the Australian Computer Society in 1994 and made a Member of the Order of Australia in 2010 for services to the information technology industry, to the promotion of internet-based communications networks and to science education.
Dr. Jones played first grade rugby for Sydney University and was a founder of the University's Rocket Society. Amongst his many other achievements are several start-ups including Techway Limited, out of which grew manufacturing facilities in Penrith NSW, the development of high performance packet switching networks and close business relationships with a number of leading-edge international companies including Cray Research, Network Systems, Storage Technology and Oracle. Techway listed on the Sydney Stock Exchange in December 1993 with Dr Jones as Chairman.
Raja Venkateswar
Raja has over 2 decades of experience in global leadership and management positions with expertise in building and managing Technology & Operations teams, practices & competencies across several geographies and cultures.
He has led & delivered complex technology solutions to the tune of ~$ 200M TCV. He has experience of working with global heads of business and CXOs to deploy relevant solutions and is well networked enjoying confidence of the business and technology stakeholders he has worked with.
Raja has published more than 30 white papers, serves on the regional advisory board at IAOP and the ICT chapter of the Australian India Business Chamber and has recently been voted as a thought leader at IQPC-SSON.
He has an engineering degree from India's leading engineering institute and Advanced Masters programs from Booth School of Business, Chicago and IE Business School, Madrid. These credentials have helped him within culturally diverse environments. He has shown success in translating business and conceptual models into specific growth & technology strategies. He has also seen success in incubating business in diverse geographies.
As for domain, he is knowledgeable in Financial Services (Risk, Compliance, Core & Online Banking, Origination, Wealth, Private Banking, Contact Center), Telcos (CCBS, Contact Centers) & Retail (Online, m-commerce).
Peter Alexander
Peter has a career delivering IT systems and solutions for the government and is an expert in web policy, online services and mobility. He graduated with a Bachelor of Commerce (Accounting) and a Diploma in Information Systems before going on to complete a Master of Business Informatics.
As Assistant Secretary Online Services Branch, Australian Government Information Management Office (AGIMO), Peter was responsible for Strategic Planning and development of policy advice for the Australian Government's online environment and delivery of the Government 2.0 Taskforce Report. He also established the AGIMO Blog and delivered the Australian Government Online Service Point (AGOSP) a major, multi-agency program, to enhance australia.gov.au as the Australian Government online entry point.
Peter is currently Chief Information Officer, The Treasury where he is responsible for development and implementation of Treasury's Information Management and Technology Strategy. He delivers on Information Management and Technology governance reform including engaging the Treasury Executive Board with a business driven ICT reform agenda. As well as delivery of unified communications he has also established a department wide information and records management reform, delivery of a secure and usable mobile technology solution and has improved ICT and IM services to ministers and parliamentary secretary's offices.
Warren French
Warren commenced his IT vocation as a programmer in 1979 and since then enjoyed a career spanning 33 years in IT. He has held the position of CIO for a broad range of organisations across the public and private sector including TransGrid, Australian Hearing and Landcom. He has also worked on the supply side of the IT industry as a Professional Services Manager at Avnet and Infrastructure Services Manager at Railtek, the then outsourced IT services supplier to National Rail.
In 1994, Warren was invited to establish the total hardware, network and software IT infrastructure for TransGrid, the NSW high voltage electricity distributor as a greenfield site, created as a result of electricity industry restructuring. As an early adopter, Warren became a specialist in the implementation and management of IT outsourcing contracts starting with TransGrid, followed by Australian Hearing and Landcom and was part of the team managing Westpac's outsourced IT Infrastructure contract with IBM.
He has also gained invaluable experience overseas where he worked as an international IT consultant in both Thailand for EGAT (the Electricity Generating Authority of Thailand) and China for the Shenyang Power Company. In both cases, Warren developed and then assisted with the implementation of their IT strategy over several years.
Warren's specialisation in IT outsourcing has translated to the Australian and international IT speaking circuit, presenting in Singapore, Hong Kong and Los Angeles on effective management of IT outsourcing contracts. Warren's long standing career illustrates his specialisation of being an IT change agent, transforming the total IT hardware and software infrastructure for organisations. He is now IT Manager at the new Charles Perkins Centre at Sydney University where he will assist to drive cross-disciplinary partnerships and collaboration – within and beyond the University.
2011 CONSENSUS IT PROFESSIONAL AWARDS – WINNERS ANNOUNCED
The 2011 Consensus IT Professional Awards were presented at Dimension Data in Sydney on 21st October. They are supported and endorsed by the Australian Computer Society. They are run alongside the Consensus IT Writers Awards.
There were two recipients of Awards – Keith Sherringham and Richard Favero. Brendan Trewartha was Highly Commended. Page down for photo and citation of each.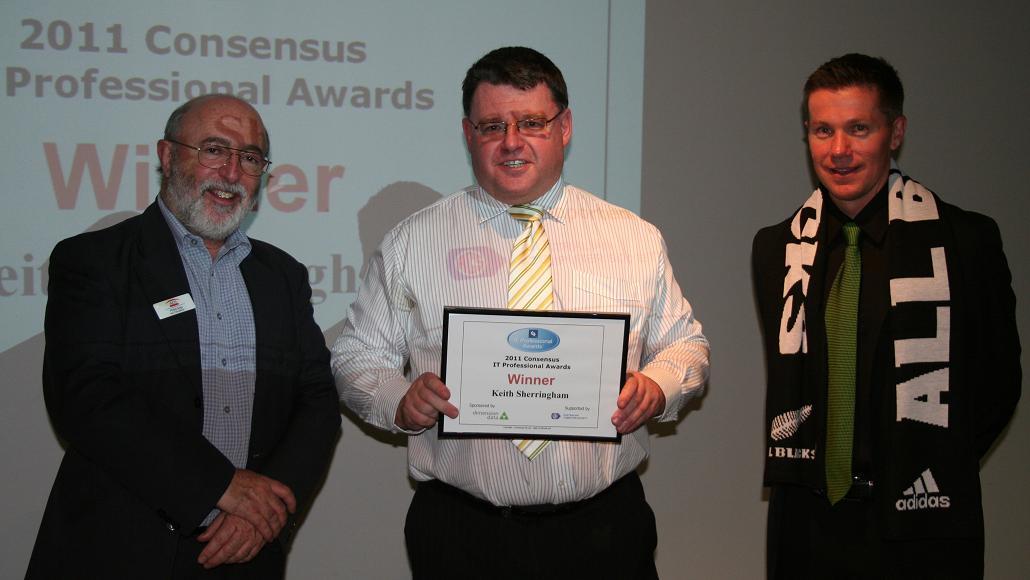 Keith Sherringham receives his IT Professional Award from (l) Phil Argy, Past President ACS and (r) Ben Field, NSW Professional Services Manager, Dimension Data.
Keith has more than 15 years of experience in business consulting in corporations and government at the executive and senior leadership levels on business strategy and planning; business application of ICT; program management and turnaround; and business resilience and change management.
He is a noted author and speaker on the business application of ICT and is known for his thought leadership and pragmatic strategy in areas including: real-time decision making, standardising the roles of knowledge workers, Green ICT, and resilient business operations.
Keith is a former Board Director of the Australian Computer Society responsible for strategy and planning and has guest lectured at various Universities in Australia on the impacts of changes in ICT to business. As a Company Director and mentor to CEOs and Boards within Not for Profits, Keith brings his practical pragmatic business experience to address organisational performance and Board – Executive relationships in Not for Profits.
He has co-authored a couple of Cutter executive reports and is always freely giving of his time and knowledge and always works for the overall benefit of the computing profession. Keith is truly deserving of this award and the judging panel wholeheartedly support him and wish him the very best.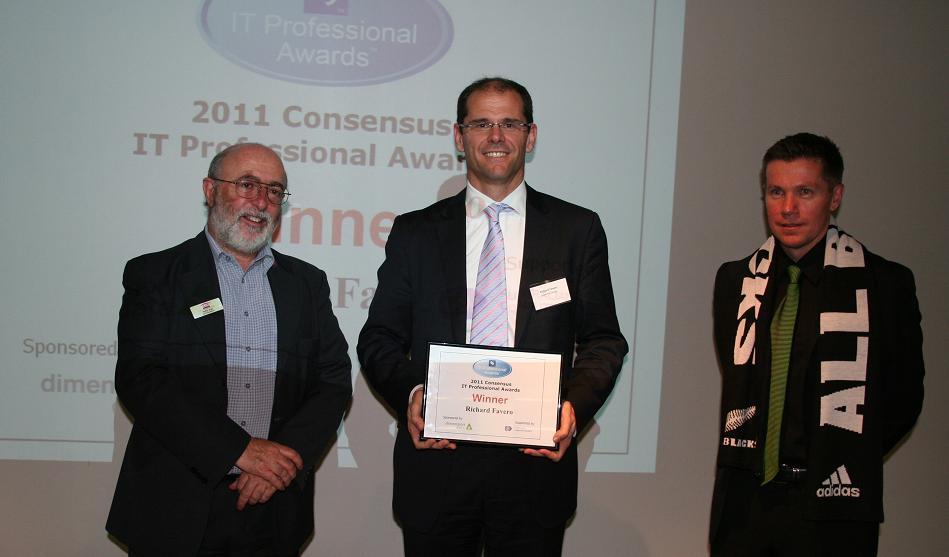 Richard Favero proudly receives his IT Professional Award.
Richard Favero is the founder and Chief Executive Officer of the leading mobile enterprise messaging and wireless application infrastructure provider SOPRANO Design Pty Ltd. He has been instrumental in driving Soprano's business and technology through this rapid market and technology change elevating the company from a small consulting business based in North Sydney to a software product multinational corporation empowering mobile network operators around the world including AT&T, Telstra, StarHub, Hutchison3 and many more.
With over 20 years experience in the telecommunications industry covering wireline switching, intelligent networks, mobile networks and mobile value added services, Richard is recognised as an industry thought leader for the adoption of mobile messaging to automate business and communication processes within enterprise and government customers.
As a result of Richard's expertise, experience and management of his staff he has played a key role in Soprano Design Pty Ltd winning various awards including two Consensus Software Awards, 2010 National Telstra Business Award, AMP innovation award, 2010 National iAward Merit Business Award and the 2010 ACCOM Award.
Richard provides high-level strategic consulting services for technology adoption, strategy and corporate impacts of technology to blue chip Australian companies and commercialisation services to early stage technology companies. The judges were unanimous in their recommendation for Richard's Consensus IT Professional Award.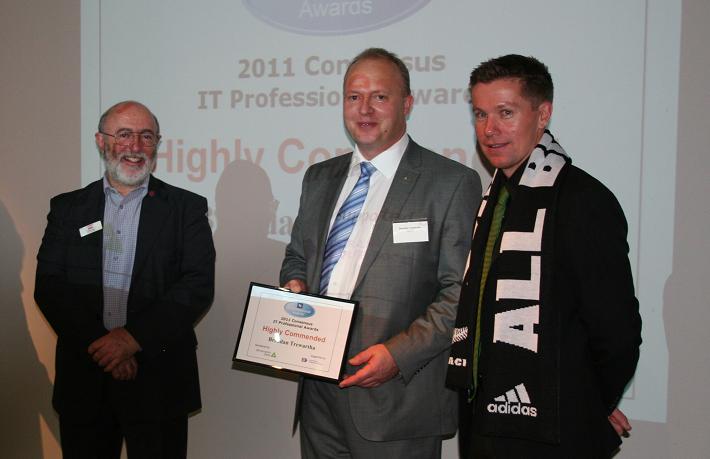 Brendan Trewartha is Highly Commended by Phil Argy (l) and Ben Field (r)
Brendan Trewartha is currently General Manager, HR & Payroll Services, for Talent2 in Sydney. With over 20 years experience working in Australia and Europe for technology companies in industries ranging from telecommunications, consumer electronics, IT, retail and human resource outsourcing, Brendan exhibits a unique prowess in leading and managing IT related products and services.
At Talent2, he is responsible for Payroll and Human Resource Information Systems (HRIS), and oversees provision of solutions by Talent2's enterprise and government clients across the Asia Pacific region. Prior to Talent2 his experience was developed in a diverse range of roles from software development and marketing through to business management.
Brendan was previously Managing Director for Toshiba TEC in Australia, a role he held for four years. His qualifications include a Bachelor of Engineering (Electrical) with Honours, Sydney University, 1991, and a Master of Business (Marketing) at UTS, Sydney.
Because of his enthusiasm, his desire to give his time, money and energy for worthwhile causes both within IT and outside of the IT domain, Brendan is an asset to the IT profession. The judges Highly Commend Brendan's contribution to the profession.
2010 WINNERS
Chafic Abdallah
Leading Microsoft business solutions and thought leader in systems management.
Mark Bedwani
Responsible for Connected Classrooms Program, NSW Department of Education and Training (DET) – implementing a Tandberg Video Conference (4000 endpoints) in every school which is the largest VC network in the world.
Kim-Kwang Raymond Choo
Senior Research Analyst, Australian Institute of Criminology (Canberra).
Prof. Brian Henderson-Sellers
Professor of Information Systems and Director of the Centre for Object Technology Applications and Research (COTAR) at the University of Technology, Sydney.
Paul Matthews
Lifetime IBM Mainframe Specialist and founder of several successful IT services companies.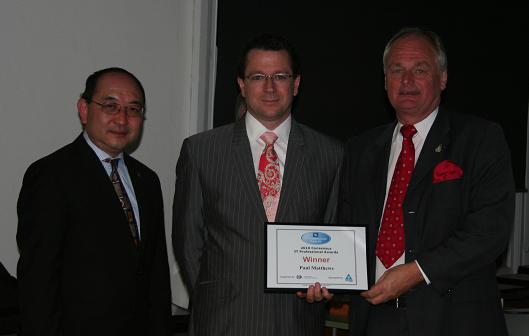 Paul Matthews, one of 5 Winners of 2010 IT Professional Awards receives his Award from (left) Anthony Wong President Australian Computer Society and (middle) Pete Murray NSW Manager Dimension Data
2010 HIGHLY COMMENDED
Alexandre Bacchin
Experienced IT professional focused on architecting, planning, developing and supporting Microsoft solutions, mainly in SharePoint and ASP.NET.
Richard Deck
stratITy Consultant to Jeanswest on three year IT strategy which identified tangible opportunities to improve margin ultimately saving Jeanswest in excess of $2.5M million per annum.
Willy Lee
Expert engineer with major customers in retail, finance banking and insurance, NSW Government, professional services and telecommunication verticals.