2012 CONSENSUS SOFTWARE AWARDS – WINNERS ANNOUNCED
The 2012 Consensus Software Awards were presented at the Amora Jamison Hotel in Sydney on Wednesday 9th November by The Hon. Malcolm Turnbull, Shadow Minister for Communications & Broadband.
The Awards identify the most innovative software in Australia and New Zealand. They are endorsed and supported by Austrade, NZ Trade & Enterprise, Australian Computer Society and New Zealand Computer Society. Program Partners are Clifton's, TiE and Alinement. Wholesale Investor is the Media Partner.
THE 2012 WINNERS WERE: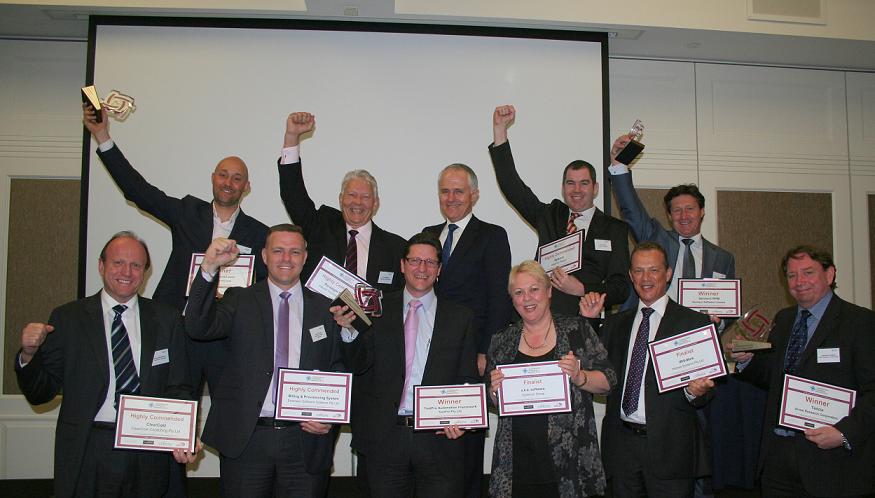 Winners & Highly Commended of the 2012 Consensus Software Awards with (middle back) The Hon. Malcolm Turnbull
astutepayroll.com    www.astutepayroll.com
from astutepayroll.com (VIC)
astutepayroll.com is a cloud software and outsourced payroll solution which automates the management of temporary and contract employees. It has been purpose-built for the recruitment industry. The business has averaged 150% growth in each of the last four years, and the application is now considered business critical infrastructure for recruitment firms.
By 2011, 10,000 recruiters, 50,000 client approvers and 50,000 employees logged on to process more than 50 million hours and $1.25 billion worth of wages and expenses through astutepayroll.com.
Judges' Citation: "The labour hire market in Australia operates in a complex environment governed by a wide range of awards, conditions, certifications and regulations. Companies supplying contract employees need to ensure all these requirements are met.
Astute Payroll is an Australian company with a patented software system that automates all of the processes that are involved in every aspect of labour hire through an innovative web portal.
With over 700 clients recruiting, placing and managing some 160,000 workers, Astute Payroll helps contractors and casual workers get paid accurately and speedily, ensures regulatory compliance is met, and saves the labour hire companies valuable time in this very competitive market."
Sentient PPM    www.sentientsoftware.com
from Sentient Software Limited (NZ)
Sentient PPM is a Cloud-based Enterprise Project Portfolio Management (PPM) system. It manages all aspects of the project delivery lifecycle, including assessment and prioritisation, pipeline management, compliance and governance, resource management and more. Each part of the solution addresses specific challenges that are common among our corporate customers. The diagram below is a summary of the Sentient PPM value offering.
Clients like Telstra, Foster's Group, Jetstar and Vodafone have a common thread that draws them to Sentient PPM, the need for better visibility and control. These organizations have many projects and programs in play across their respective businesses. With millions of dollars of project investment in-flight, these organizations need clear visibility and confidence in delivery.
Judges' Citation: "Sentient's portfolio Program Management (PPM) offers an effective tool set which will assist organisations to achieve consistent results across their portfolios. What impressed the Judges was Sentient's focus on speed of deployment and their competitive pricing model. Sentient PPM is a private cloud based solution and is pre-configured to ensure rapid implementation following adaptation to meet individual requirements of the organisation.
After establishing their business in New Zealand, Sentient has developed a successful business in Australia and is in the process of marketing their product and services to other geographies. With a distinct advantage over the large software providers in the Project Management industry, Sentient is well placed to raise its profile over the next six months and entering the US market in 2013."
Tencia    www.arrow.net.au
from Arrow Research Corporation (VIC)
Tencia is an accounting and business management software solution that has been designed specifically for small to medium sized businesses. Tencia has been developed in Australia by Arrow Research Corporation Pty Ltd, (ARC) an Australian owned and operated business servicing clients in Australia, New Zealand and the United Kingdom.
Tencia has been built utilising the Microsoft .NET framework using XML and a Microsoft SQL database. It uses web services which allows Tencia to 'talk' to any other system that conforms to web services, which means that the software can overcome compatibility issues of the past associated with different operating systems, platforms and programming languages.
Judges' Citation: "Over a sustained period of time, Arrow Research Corporation has established a proven business model encompassing a base of 3,000 customers and a sales and support channel that includes 40 partners. 'Tencia' (derived from the Chinese expression 'everything under the sun'), represents a major step forward in terms of accounting software functionality and provides the platform for the company to expand into markets throughout Asia and Europe.
The innovation within this product was evident to the judging panel through:
– The open application integration gateway provided by Tencia Connect
– The cultivation and embracing of 3rd party application developers
– The potential for development of future mobile and web-based solutions
– The support for the GS1 Electronic Data Interchange format
– The support for multicurrency and future multi-lingual support
– The enablement of workflow and reporting functionality."
TestPro Automation Framework (TAF PRO)    www.testpro.com.au
from TestPro Pty Ltd (NSW)
The TestPro Automation Framework (TAF PRO) is a hybrid automation framework, combining and extending the use of test automation methodology with innovative concepts to enable teams to build automation faster than any existing technique currently available.
TAF PRO provides an easy to use GUI that allows business users to:
– Compose test scenarios by sequencing and combining RFT scripts to fill a test objective
– Manages data requirements through the use of multiple data groups on individual test scripts utilising common keyword capabilities and smart filtering to target the test set
– Compile Execution suites by ordering several scenarios to achieve a testing outcome
– Manages test execution preventing premature termination of a test set due to unforeseen issues to ensure full test results
– Correlates test results and provides snapshot information on failed tests
Judges' Citation: "TAF PRO is an innovative testing solution that enables organisations to rapidly perform a large number of tests quickly, in an automated fashion, with an easy to use tool designed to be used by both technical and non-technical users. Its key benefits are to rapidly increase the speed, improve the quality, and reduce the cost of testing — thereby increasing the overall return on investment (ROI) that an organisation can make from its technology programs.
TestPro developed TAF PRO as an integrated solution with IBM testing tools (Rational Functional Tester and Rational Quality Manager), thereby enhancing the automation capabilities and value obtained from IBM's testing tools – and in doing so, filling a critical space within IBM's testing tool suite.
TestPro has performed well by retaining multiple long term clients in Australia over the last 3 years and is doing well to develop its position in the marketplace and increase its relevance to the IBM community. They have a sound demand generation strategy that, along with their mobile testing tool should lead to significant client growth."
THE 2012 HIGHLY COMMENDED WERE:
Paradigm Platform     www.valuedcommunities.com
Valued Communities Pty Ltd (NSW)
Valued Communities is an information management and exchange organisation that provides a service for the managing and routing of funds, payments and information for grassroots. Valued Communities provides this service through it Paradigm Platform.
The Paradigm Platform (Ahha) has taken the traditional fundraising mechanisms used by grassroots community organisation to fund community based activities and linked them to social networking, whilst providing an end-to-end solution for fundraising and payments.
Judges' Citation: "Valued Communities has tackled the integration, regulatory and payment challenges associated with online charitable donation collection. The end-to-end solution combines the need for fundraising with the fun of games of skill and choice for the needs of groups and organisations (school, hospital, sporting club and organisation, charity, political party, etc.) within the communities in which they live.
Globally, grassroots organisations are faced with the need to raise funds, but existing fundraising mechanisms are ineffective and give weak returns. This software and business model is innovative and with its launch will enable a wider and simpler operation of grass roots donations."
Rylson8     www.rylson.com.au
Ausenco Rylson Pty Ltd (QLD)
Rylson8 is a Total Asset Lifecycle management tool. Initially developed for use by the Rylson Group consultants to deliver Asset Management Projects, Rylson8 has since become much more than a business support tool and currently manages maintenance budgets in excess of $1Billion per annum across 15+ sites and 3 major clients.
Rylson8 is built on proven asset management principles developed and refined by leaders in their fields. The Rylson group have successfully converted and optimised these principles into an enterprise system which is designed to manage a physical asset from cradle to grave. Rylson8 is a modular application consisting of a core group of modules and complementary modules designed to deliver significant business benefits to the user.
Judges' Citation: "While noting the recent merger of Rylson with Ausenco, the judging panel felt that the asset management tool, Rylson8 had come a long way since being an accompaniment to its consultants.
In arriving at the Highly Recommended status, the judging panel noted Rylson8's modularized architecture, currently deployment managing large budgets and multiple clients, and alignment with existing and upcoming ISO standards.
More of a strategic rather than operational tool, Rylson8 has a bright potential – with numerous opportunities for innovation in technology, processes and analytics – especially in the transport and mining verticals."
ClearCost     www.clearcost.com.au
from ClearCost Software (QLD)
ClearCost is a multi-function Service Cost Management system designed to support the specific financial management needs of IT departments as well as other internal 'shared service' administration units within an organisation.
Based on the principle that an IT department's cost is a function of demand for the services it delivers, ClearCost presents that relationship in a data model of the IT department: from the department's resources (costs) to functions (activities) performed with those resources to services delivered using those functions to consumption/charging of those services by/to the 'end user' organisation units.
Judges' Citation: "As technologies become more complex, the challenge of where to invest will heavily depend on an organisation's knowledge of latest technology, its unit cost, and its purpose within the business. Whether through compliance to ITIL service catalogue or continuous service improvements, IT financial management will be the new mantra where standard business practices like budgeting and activity-based costing will become norm for IT departments.
ClearCost has positioned itself to be the Australian market leader in the IT Financial Management software solution that is backed by the experienced consulting services to allow IT departments to take the next step.
The Consensus judges highly commend the ClearCost product and encourage its principals to continue expanding the system footprint and the market in which it operates."
Billing and Provisioning System     www.emersion.com.au
from Emersion Software Systems (VIC)
Emersion saves organisations time and money, by providing an easy to use, secure and scalable billing, provisioning & customer management system delivered as a service in the cloud.
We provide an industry and product agnostic, multi-tier solution. This allows our clients to manage with ease a rapidly changing portfolio of bundled products and services and focus on the core activities of attracting and servicing their customers.
Judges' Citation: "Emersion was born of the Telecommunications industry and has grown to be a proven, robust, flexible and inexpensive option in this Provisioning and Billing Solution space, thus setting it apart from the traditional large-scale and proprietary vendors. Emersion's footprint now is far wider than just the Telecoms industry.
Its position on the cloud gives Emersion a great base for future growth and consolidation. The proven speed-to-market of the product will continue to provide a competitive edge over the other contenders in the same market space. With a dedicated focus on marketing of the system to a broader potential client base, both domestically and internationally, Emersion will become an even more dominant force in the financial business system arena.
The Consensus judges highly commend this product and encourage the principals to continue expanding the system footprint and the market in which it operates."
THE 2012 FINALISTS WERE:
a.k.a. Software     www.a-k-a.com.au
from Synercon Group (NSW)
Most organizations struggle to manage innumerable information systems – network drives, databases, electronic content management and physical filing systems. They need Information Governance tools, vocabularies, structures, policies, procedures, processes and controls to support their operational, regulatory, legal, risk, and environmental requirements.
The information governance framework in a.k.a. is like DNA – in that DNA comprises simple elements (nucleotides) which are combined in multiple different structures called genes. Genes provide living organisms with the instructions they need to develop and function. Likewise everything you need to know about managing information can be developed within a.k.a. in a range of different combinations which achieve different things.
IRIS-Marks     www.holross.com.au
from Holross Systems Pty Ltd (NSW)
IRIS-Marks is a comprehensive web-based student mark book used to record student results in k-12 schools. Designed to work on a range of computing systems including mobile devices such as iPads and iPhones, IRIS -Marks gives users extensive access to information in typical school working environments.
Until now available student mark-book applications have been restricted to PC-based systems within the school confines. With IRIS-Marks teachers can now create, maintain and view student marks on-line through the internet greatly improving efficiency, flexibility and accessibility.