CONSENSUS STUDENT INNOVATION AWARDS
WORLD'S MOST SUCCESSFUL AWARDS
2019 AWARDS PRESENTATIONS
The 2019 Consensus Student Innovation Awards were presented on the evening of Thursday 9th May at PricewaterhouseCoopers (PwC) at their prestigious offices at Barangaroo in Sydney. There was one Finalist of locally designed and developed technology. Page down to see their great solution with links to their website.
The Awards will next be open from February 2020 with the Awards presented in June. See the timetable below and if you would like further details, please send us an email.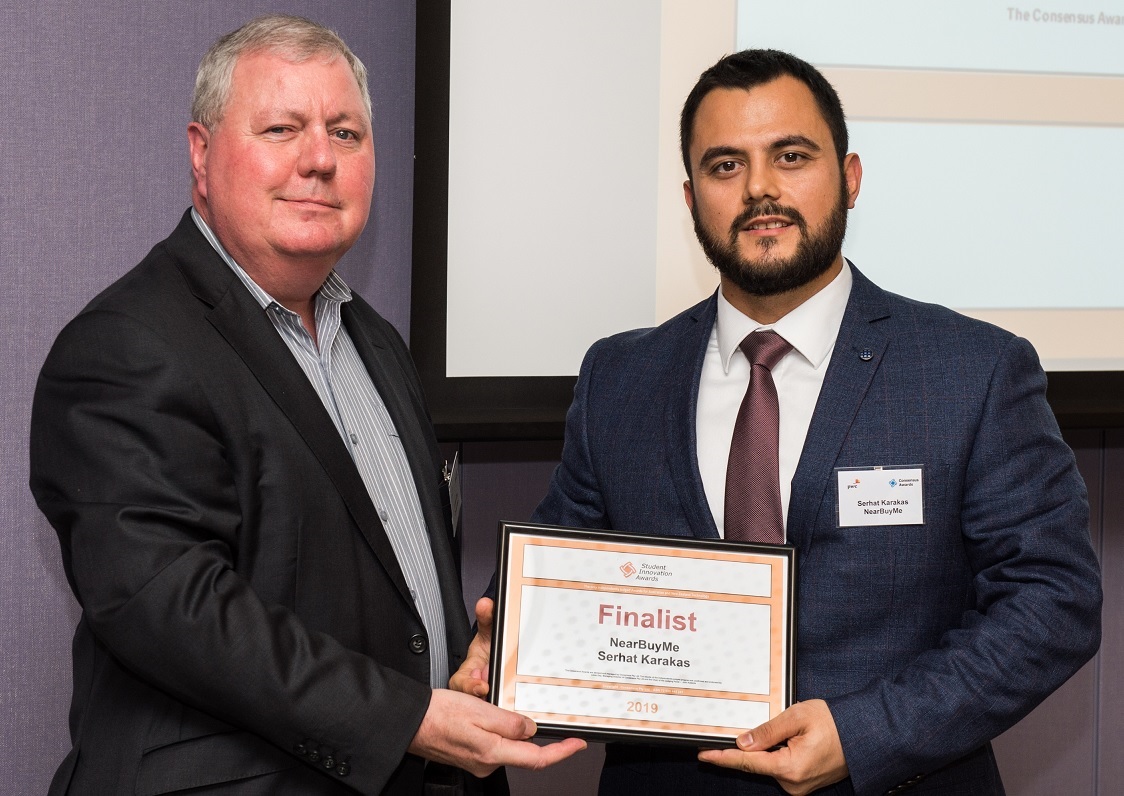 (Right) Serhat Karakas, Finalist in the 2019 Consensus Student Innovation Awards with Julian Day, Founder & CEO of Consensus.
Our thanks go to Universal Business School Sydney for hosting the judging, and to the Judges that participated in the final evaluation:
| | |
| --- | --- |
| John Katsiris (Chair) | James Cowie |
| Rosemary Gillespie | Will Horton |
| Louise Meyrick | Erin Mikan |
| Joseph Najem | Peter Rieder |
| Paul Steele |   |

Judging of the 2019 Consensus Student Innovation Awards, hosted by UBSS.
2020 TIMETABLE
Event
Date

Nominations Open

February 2020

Nominations Close

End April 2020

Final judging




Venue: TBC

May 2020

Announcements and Presentations in Sydney




Venue: TBC

June 2020

Post Awards Media

June/July 2020
2019 FINALIST
NearBuyMe    Serhat Karakas
NearBuyMe is designed to connect local retailers and local customers in a way in which while retailers increase indoor sale, the savings uplifts the customer's spirit and make offline shopping more pleasurable.
It is also designed to pioneer a new shopping culture that purchases desired products and services while concerning about the growth, development, and improvement of our societies, economies, and the planet.
NearBuyMe is a smartphone shopping application (IOS, Android, etc.) which provides a unique service to the retail industry and consumer by utilizing trending technology such as personalized push notification, location track systems, making a direction, and search and browse tools. These features are designed to facilitate the traditional sales promotions methods and tactics and eventually increase foot traffic in brick-and-mortar stores in local communities.
2016 AWARDS PRESENTATIONS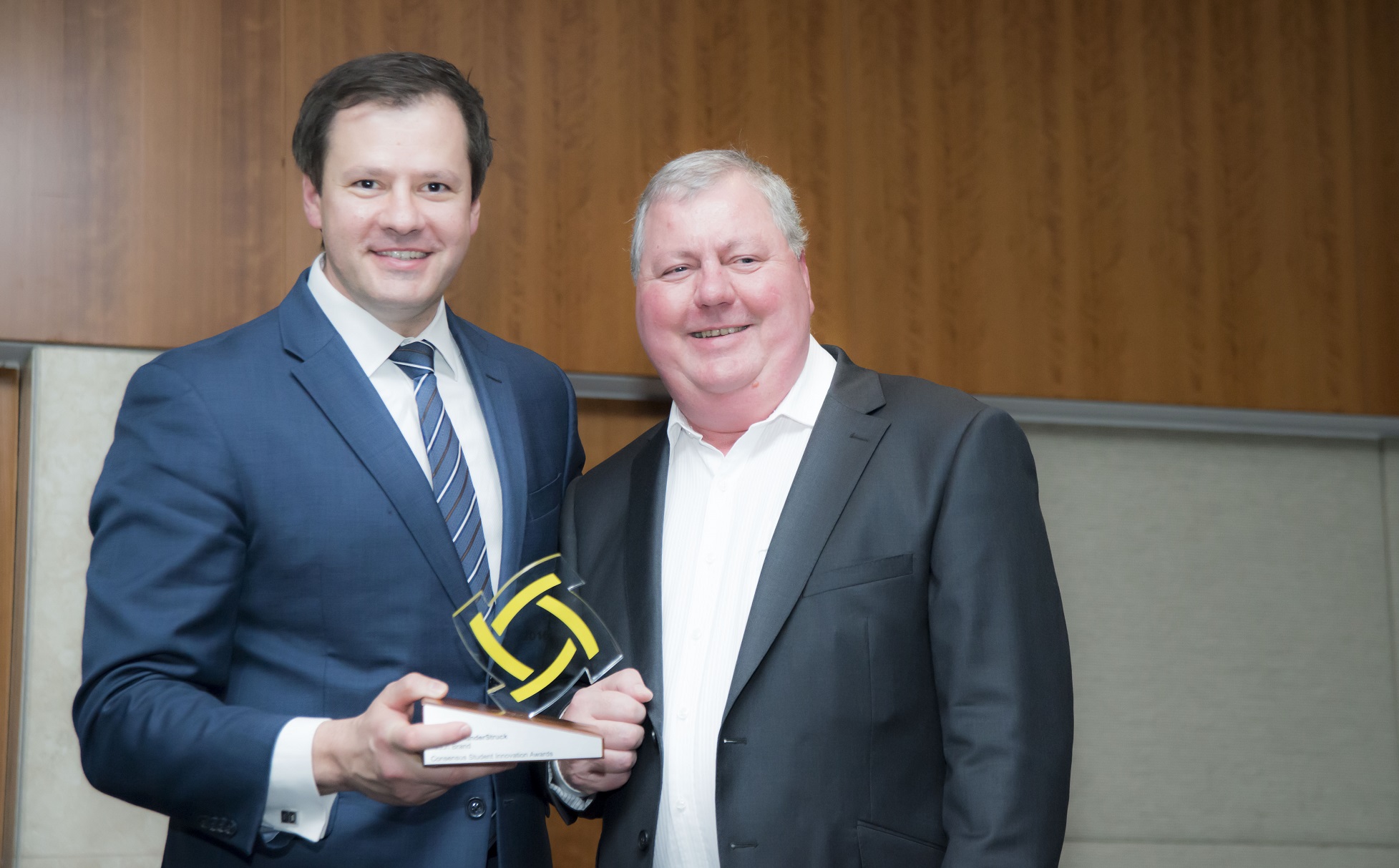 The 2016 Consensus Awards were presented by The Hon. Ed Husic MP, Member for Chifley, Shadow Spokesperson for Digital Innovation and Startups on the evening of Tuesday 14th June at the Sheraton on the Park Hotel in Sydney.
If you would like to receive an Entry Form for the next set of Awards or receive any further information, please send us an email.
Judging was kindly hosted by the School of Software & Engineering, the University of Sydney and our thanks go to the Judges that participated in the final evaluation in 2016:
– Janine Cahill (Chair)
– Richard Hayes
– Kim Lyle
– Robert Iacopetta
– Rahul Mohod
– Paul Steele
– Selena Griffith
2016 WINNER:
Project ThunderStruck    www.pluscomms.com
from Jason Brand
Jason is 14 years of age and part of Team Stellar competing for the Google Lunar X Prize. In his role he travelled to Croatia to fly student payloads to about 1/3 the way to space (33km) and recover the science payloads. The Croatian flights were a fantastic success and he shared a large proportion of the workload to ensure that success. It was essential that they avoided mountains, swamps, borders, lakes and fields of landmines.
Project ThunderStruck is a non-commercial endeavour to create an Australia spacecraft design to be used as a space courier service for payloads of 50kg or less. As part of that design, a winged model will return payloads from orbit. Like NASA, they are doing glider tests to ensure that their craft will meet the harsh conditions of space flight and high speed re-entry.
Judges' Citation: "ThunderStruck is an ambitious student project to run with the giants of the space game and rewrite the space play book.

With 100% payload recovery of all 23 payloads to date, the ThunderStruck project is taking incremental steps to verify concepts and progress in a phased manner towards realising a first prototype flight.
While the daunting challenges that lie ahead should not be underestimated, at the same time the vision, ambition and progress achieved would be impressive for any well funded and supported organisation.
These become exceptional Achievements for a 14-year student, deserve encouragement and support and is worthy of the Consensus Student Innovation Award."
NOMINATIONS OPEN
Consensus is very proud to announce the 4th annual Student Innovation Awards. Consensus successfully ran the NASSCOM Innovation Student Awards in 2012 and 2013 and extended this program across all innovations including process, products and technology.
The 2012 and 2013 Awards attracted a strong field in the ICT sector. Click here for the results of the 2012/2013 NASSCOM Awards.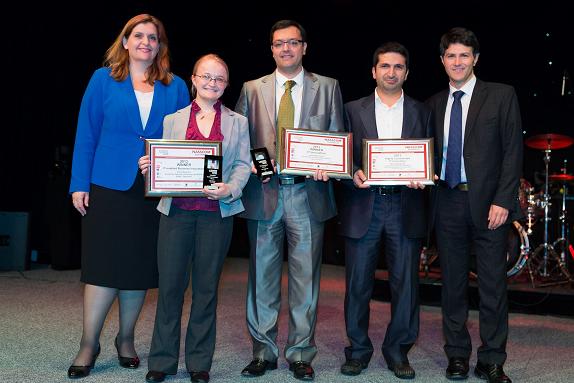 left to right: The 2013 Awards presented by Deborah Hadwen, Chair NASSCOM Australia, with winners Vahid Vakiloroaya, Elena Kelareva, Mojtaba Maghrebi, The Hon. Victor Dominello, MP
If you would like further information or would like to receive an Entry Form for the Consensus Student Innovation Awards, please send us an email.
CRITERIA & JUDGING
The Consensus Student Innovation Awards is an open process and all entries will be judged on their own merits. The judges may confer as many or as few students that demonstrate that their innovation is unique, provides real user benefits and has great world-wide potential.