WORLD'S MOST SUCCESSFUL AWARDS
2020 CONSENSUS INNOVATION AWARDS
WINNER: 1WordFlow Transform from 1WordFlow
1WordFlow is a Winner in the first set of 2020 Consensus Innovation Awards for their excellent innovative solution Transform. 1WordFlow transforms traditional analogue documents into digital web pages, systematically, quickly and at scale.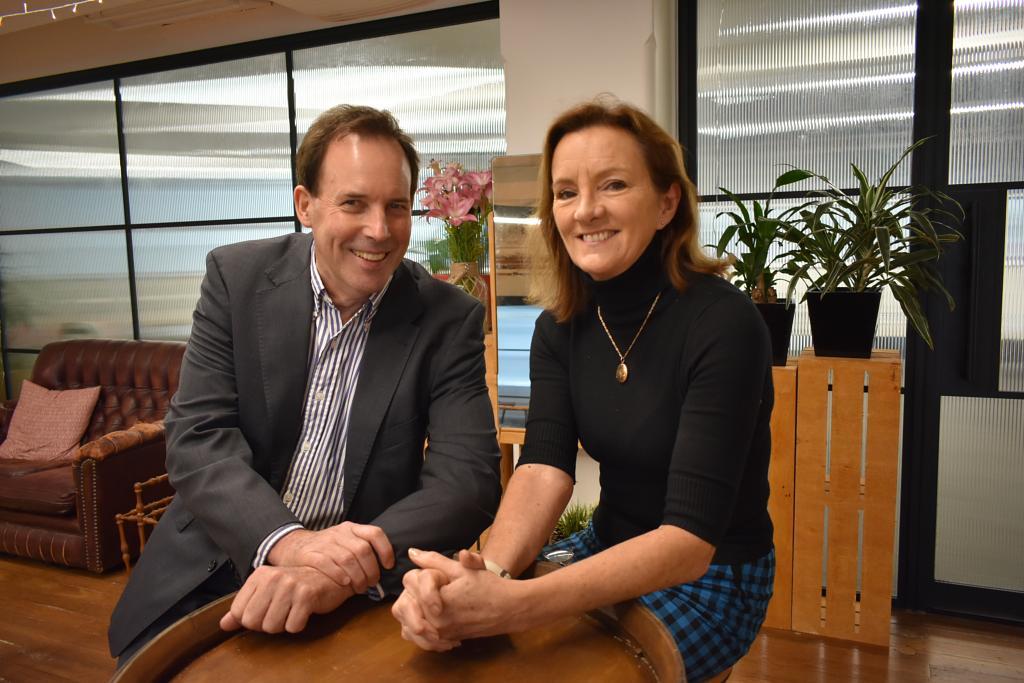 Above: Bruce Wren and Caroline Trotman, co-founders of 1WordFlow. Please take a look at Bruce's Video talking about Transform and winning a Consensus Innovation Award.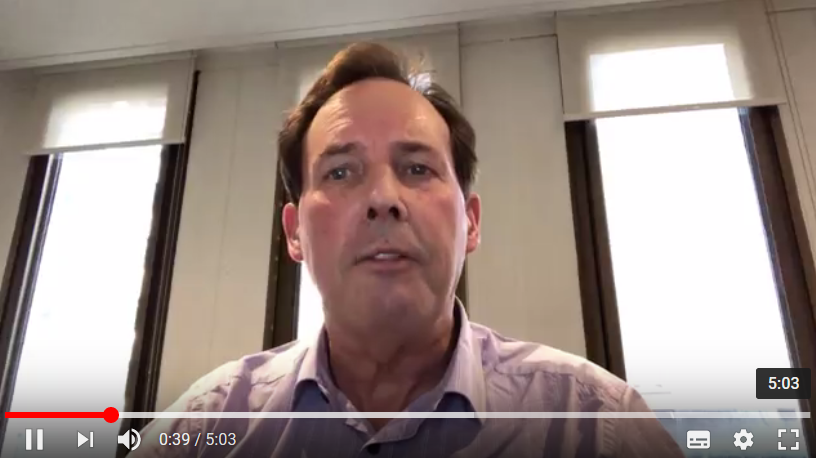 Description
1WordFlow Transform converts Word (and PDF) documents and their contents into friendly web pages. A 100-page document is transformed into 100 webpages in just 3 minutes!
Once the content is digital, there are significant benefits for content creators and viewers including customers only see the latest version (no more version control issues), all documents can be searched in a single pass (not document by document), every page has its own URL making any page a click away, no need to download Word/PDF documents is eliminated, and pages can be translated into any language.
The benefits to business are a sharp reduction in the time lost through staff trying to locate the required documents and far less overheads by stakeholders acting on up to date information through fewer errors and more effective processes.
Judge's Citation:
Accessing the ever-growing library of documents accumulated by an organisation efficiently and effectively whilst maximising the value gained from the information is a challenge.
Organisations increasingly wish to take advantage of web optimised analysis and web publishing channels. If your information is web optimised it can take advantage of more cloud and web based tools.
In today's web centered and digitally transforming business environment the judges found 1WordFlow offered an innovative solution that demonstrated performance and potential in the Australian and Global Market place.
A particular case study provided a good example of the value realised by transforming traditional PDF documents to webpages.  An Australian State government department was lamenting the poor accessibility of a 12 volume 250 page per volume report released to the public. Only 200 downloads over a 3 month period.  Engaging 1WordFlow they moved to a website enriched mobile friendly format available in over 100 languages.  The department recorded over 200,000 visitors in 3 weeks.
The Judges congratulate 1WordFlow on a well-deserved Consensus Innovation Award.
Our thanks go to the Judges that participated in the final evaluation with special thanks to John Katsiris who chaired and managed the Zoom conference.
| | |
| --- | --- |
| Ray David | Marion de Courçay |
| Hugh Gyton | Rosemary Gillespie |
| John Katsiris | Kim Lyle |
| Edward Mandla | Peter Oliver |
| Wayne Slager | Glenn Stafford |
| Paul Trunoff | Tony Veljancevski |
2020 TIMETABLE – 2ND SET
| | |
| --- | --- |
| Event | Date |
| Nominations Open | October 2020 |
| Nominations Close | End November 2020 |
| Final judging – Online | Early December 2020 |
| Announcements | Mid December 2020 |
| Media Promotion | Mid to late December 2020 |
---
2019 CONSENSUS INNOVATION AWARDS PRESENTATIONS
The Consensus Innovation Awards were run twice in 2019, in the first 6 months of the year and also the second 6 months. See below the Winners and Highly Commended of each. If you would like further details, please send us an email.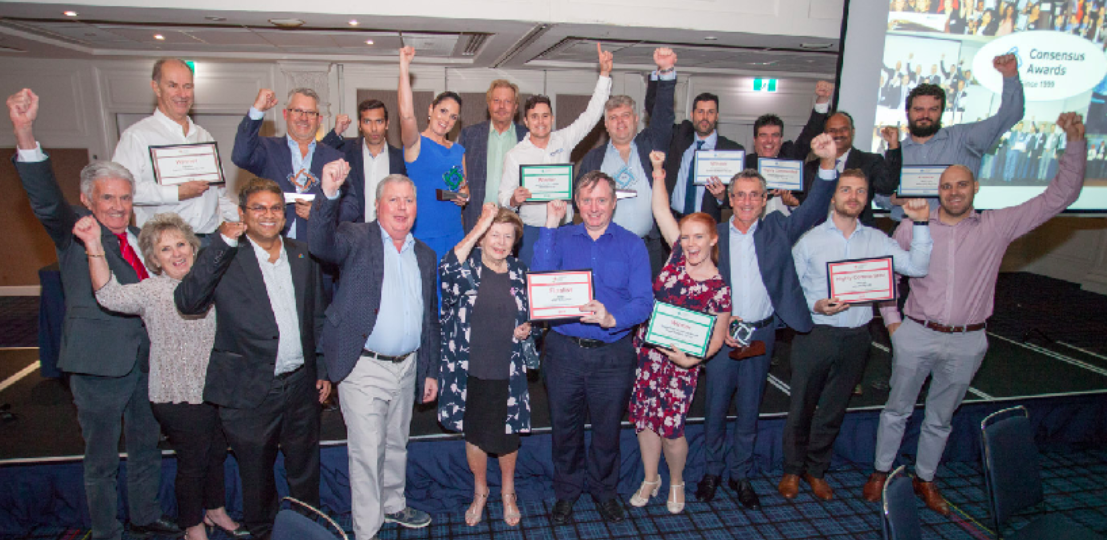 The 2nd set of 2019 Consensus Awards Winners with (back centre) Richard White, Founder & CEO, WiseTech Global and (front 4th from left) Julian (Jolly) Day Founder & CEO of Consensus.
The 2nd set of Consensus Innovation Awards were co-presented on 12th December by Richard White, Founder & CEO, WiseTech Global (Winner in 2004) and Julian Day, Founder & CEO, Consensus. Thanks to Phil Redding for MC'ing the event.
The next round of Consensus Awards in 2020 will be open from late January through to the end of April with the Awards presented in mid June. See the timetable below and if you would like further details, please send us an email.
2ND SET OF 2019 CONSENSUS INNOVATION AWARDS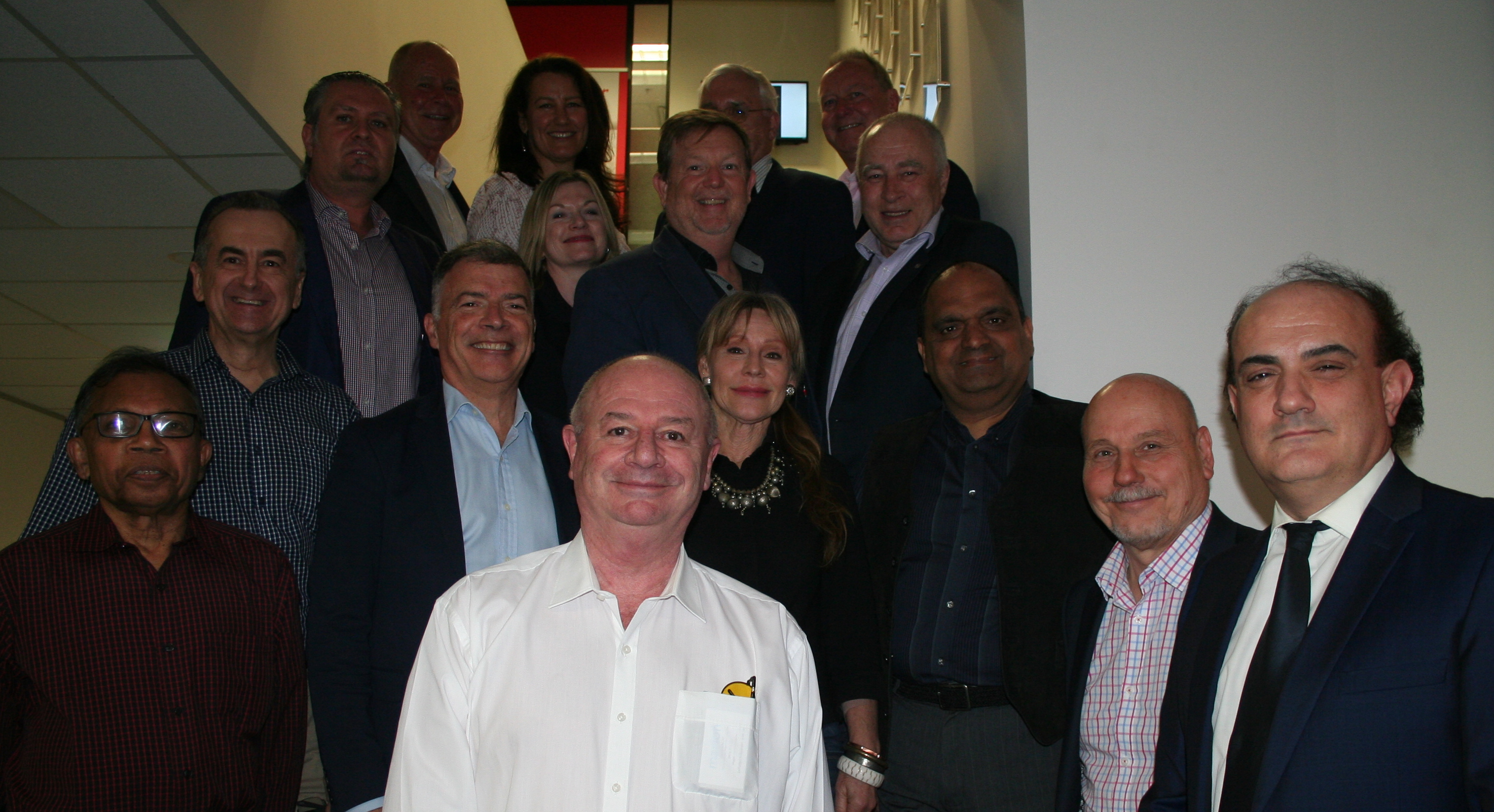 WINNER: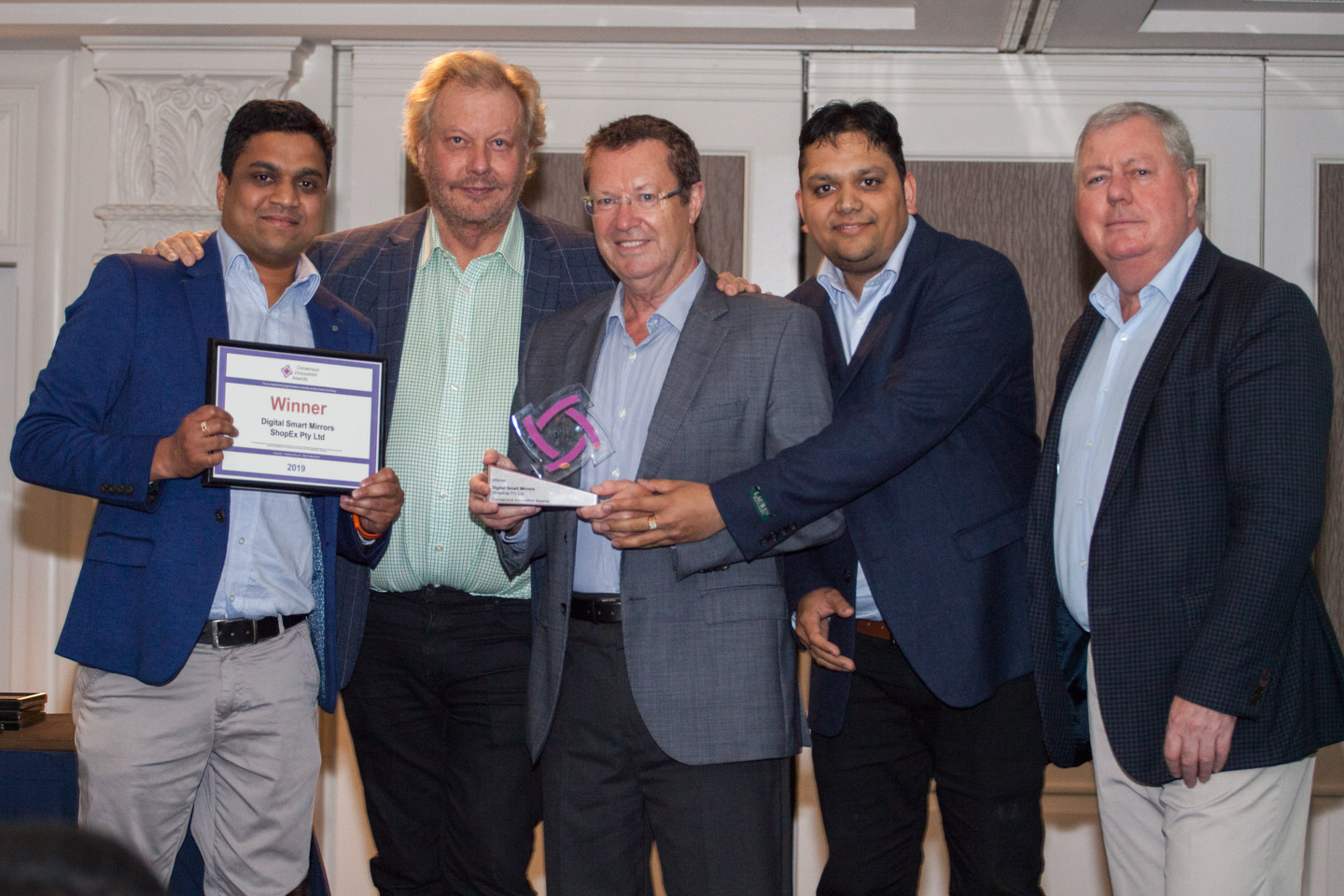 The ShopExp team receive their Award from (2nd left) Richard White, Founder & CEO, WiseTech Global and (right) Julian (Jolly) Day Founder & CEO of Consensus.
Digital Smart Mirrors    www.shopexp.io
from ShopExp Pty Ltd
With the vision to bridge online and offline retailing, our digital smart mirrors not just allows customers to virtually try-on clothes and other accessories but also gives the customers a futuristic digital shopping experience.
How it helps retailers:
– Online and Physical retailers can now even out and integrate the advantages of both channels.
– Cross-sell and up-sell
– Personalized promotion
– Give personalized customer service
– One point of inventory access
– Give a futuristic digital shopping experience using AI and AR technologies
– Inbuilt analytics on store shopping and try-on trends helping retailers to minimize SKU counts as well as giving better customer service.
Judges' Citation: "The integration of bricks and mortar retail with the digital marketplace has now become a reality with the development and release of Digital Smart Mirrors by ShopExp.
Digital Smart Mirrors uses a shop based full length mirror that allows the shopper to try on different virtual items including fashion, sunglasses, jewellery, shoes, makeup and similar accessories that automatically align to the shopper's size and fit.
Through the clever design of hardware and the use of Augmented Reality and 3D technology, ShopExp have designed a solution that has the potential to reduce the retailer's cost in relation to floor space and stock levels. Further, from an environmental perspective, the product also has the potential to disrupt the entire supply chain by better aligning production levels to real time demand reducing overall product wastage and therefore landfill.
The judging panel are pleased to confer offer this award to ShopExp as they felt Digital Smart Mirrors more than met the judging criteria of Innovation, Performance and Potential".
1ST SET OF 2019 CONSENSUS INNOVATION AWARDS
The first set of 2019 Consensus Innovation Awards were presented on the evening of Thursday 9th May at PricewaterhouseCoopers (PwC) at their prestigious offices at Barangaroo in Sydney. There were three Winners of locally designed and developed technologies. Page down to see their great solutions with links to their websites.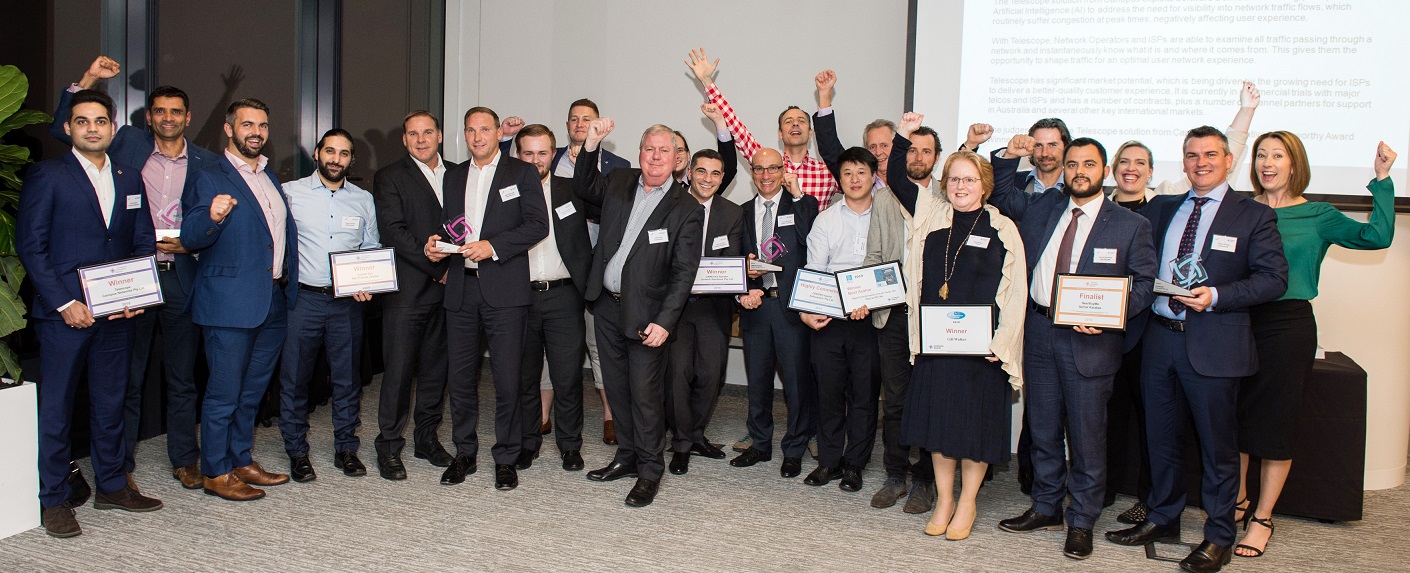 The 2019 Consensus Awards Winners with (centre) Julian (Jolly) Day Founder & CEO of Consensus.
Our thanks go to Universal Business School Sydney for hosting the judging, and to the Judges that participated in the final evaluation:
| | |
| --- | --- |
| John Katsiris (Chair) | James Cowie |
| Rosemary Gillespie | Will Horton |
| Louise Meyrick | Erin Mikan |
| Joseph Najem | Peter Rieder |
| Paul Steele |   |

Judging of the 2019 Consensus Innovation Awards, hosted by UBSS.
2019 WINNERS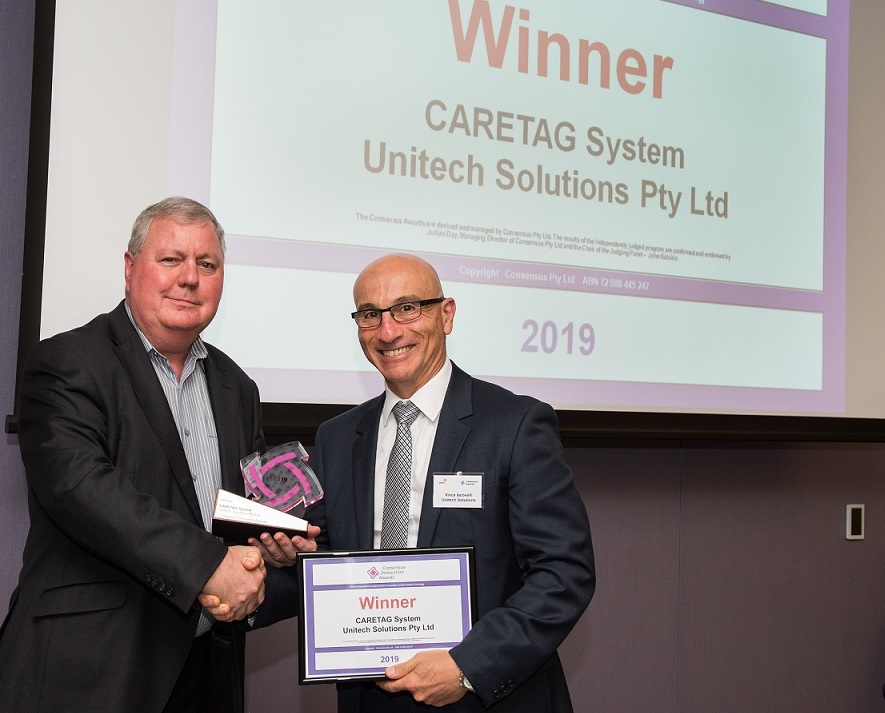 (Right) Vince Iacovelli Managing Director CARETAG System, Winner of a 2019 Consensus Innovation Award with Julian Day CEO & Founder of Consensus
CARETAG System    www.caretag.com.au
from Unitech Solutions Pty Ltd
The CARETAG System is a services and resources management system. It is a distributed solution developed for the not-for-profit community services industry, such as Disability and Aged Care.
The application was developed over 7 years to meet the new industry reforms in this sector, it has been specifically designed to address the changing service delivery requirements from "provider centric" to "consumer centric" and adapt to a more flexible and dynamic consumer directed care service delivery model.
The innovative use of GPS and smart card technology means that customers of all levels of intellect are able to simply use the app giving them choice and control over the services they receive.
Judges' Citation: "The judges agreed that the CARETAG System is well-thought out and offers significant opportunities for market growth.
The CARETAG System uses GPS and smart card technology to streamline administration for not-for-profit disability and aged care providers. It was developed to help care providers meet the requirements of NDIS' consumer-directed model, whereby consumers choose the types of services they want and when and where they receive them.
CARETAG replaces the discrete single-function software systems traditionally used by care providers with a series of modules for the routine, yet time-consuming tasks that care workers and their managers typically deal with each day, from updating schedules, validating staff attendance, logging kilometres driven, timesheet recording, uploading of client notes, and reporting to NDIA.
Care providers can choose to implement any one of the modules or in any combination and scale up to all the modules as they desire.
Modules are accessed from care workers' desktops, tablets and a mobile app that can requires 'tap and go' encrypted smart cards to open. For example, when a carer arrives at a client's home, the client must tap ON to the app using their own smart card; the carer then taps ON using their smart card. The same process is completed in reverse at the end of the service delivery.
The judges recognised the tremendous efficiency gains for not-for-profits that the CARETAG System offers at a reasonable price point. CARETG eliminates the need for timesheets, automatically generates billing and payroll information in real time, removes the risk of double entry errors, and streamlines reporting.
The judges were impressed by the CARETAG System's simplicity and its versatility. It is quick to learn and simple to use and can be applied to other sectors with dispersed workforces".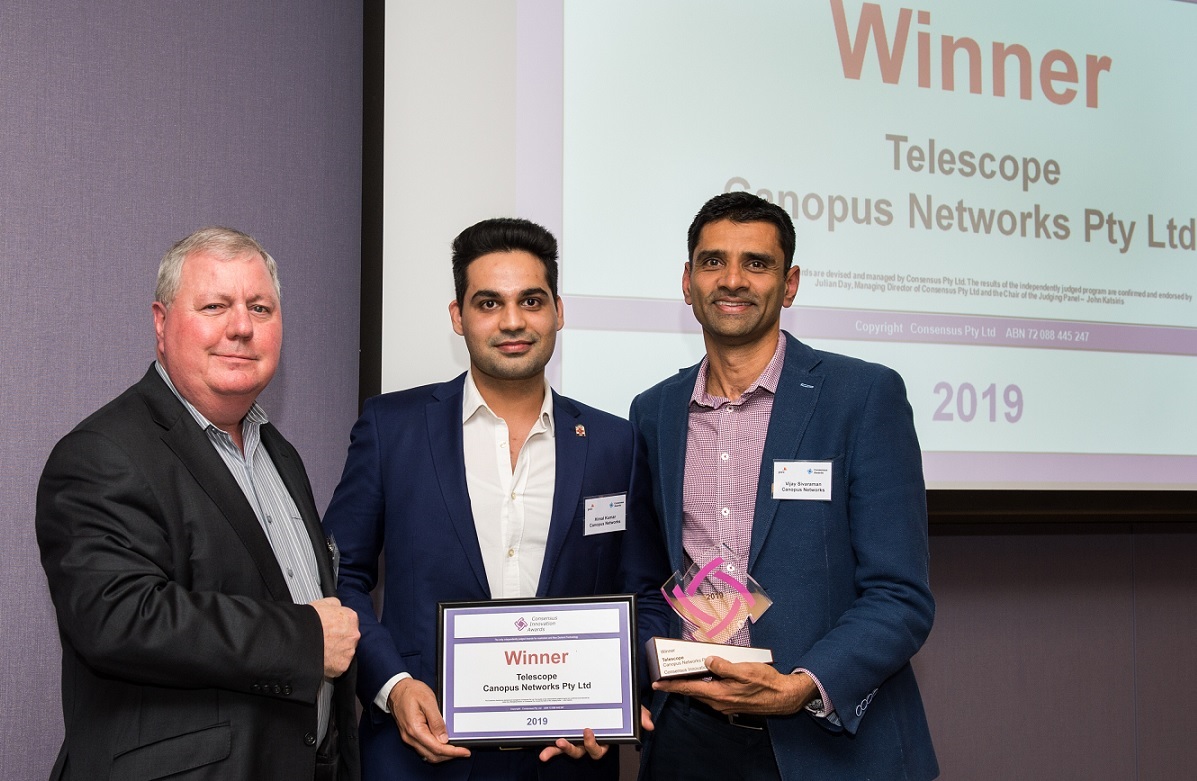 Himal Kumar & Vijay Sivaraman of Canopus Networks, Winner of a 2019 Consensus Innovation Award with (left) Julian Day CEO & Founder of Consensus
Telescope    www.canopusnet.com
from Canopus Networks Pty Ltd
The Canopus Networks software solution has been developed to change the way telecommunications network operators and Internet Service Providers (ISPs) classify internet traffic, reduce CVC bandwidth cost and enhance user experience.
Using Artificial Intelligence (AI), Telescope identifies, classifies, and logs every long flow in real-time and shows internet traffic mix by content type, provider and rate/resolution on an hourly and daily basis.
In doing so it enables operators and providers to identify the class of data – whether video streaming, web page or download – in real time across all traffic through a network node so that they can dynamically reprioritise traffic based on the value to the customer and ultimately optimise bandwidth use to enhance customer experience.
Judges' Citation: "The Telescope solution from Canopus exploits Software Defined Networking (SDN) and Artificial Intelligence (AI) to address the need for visibility into network traffic flows, which routinely suffer congestion at peak times, negatively affecting user experience.
With Telescope, Network Operators and ISPs are able to examine all traffic passing through a network and instantaneously know what it is and where it comes from. This gives them the opportunity to shape traffic for an optimal user network experience.
The Telescope solution can be implemented at a very low cost and without having to take up additional bandwidth. Because Telescope uses Machine Learning to monitor and analyse traffic flow patterns rather than packet contents, it is impervious to data encryption, which makes it future-proof. This makes it more scalable and more cost effective than other methods of traffic classification.
Canopus Networks IP brings an innovative approach to network traffic assessment and management through their use of machine learning and through their extensive know-how and ecosystem knowledge, and are constantly improving their models through the use of real data from operational networks.
Telescope has significant market potential, which is being driven by the growing need for ISPs to deliver a better-quality customer experience. Telescope is currently in commercial trials with major telcos and ISPs and has a number of contracts, plus a number of channel partners for support in Australia and several other key international markets.
The judges felt that the Telescope solution from Canopus is innovative and a worthy Award Winner."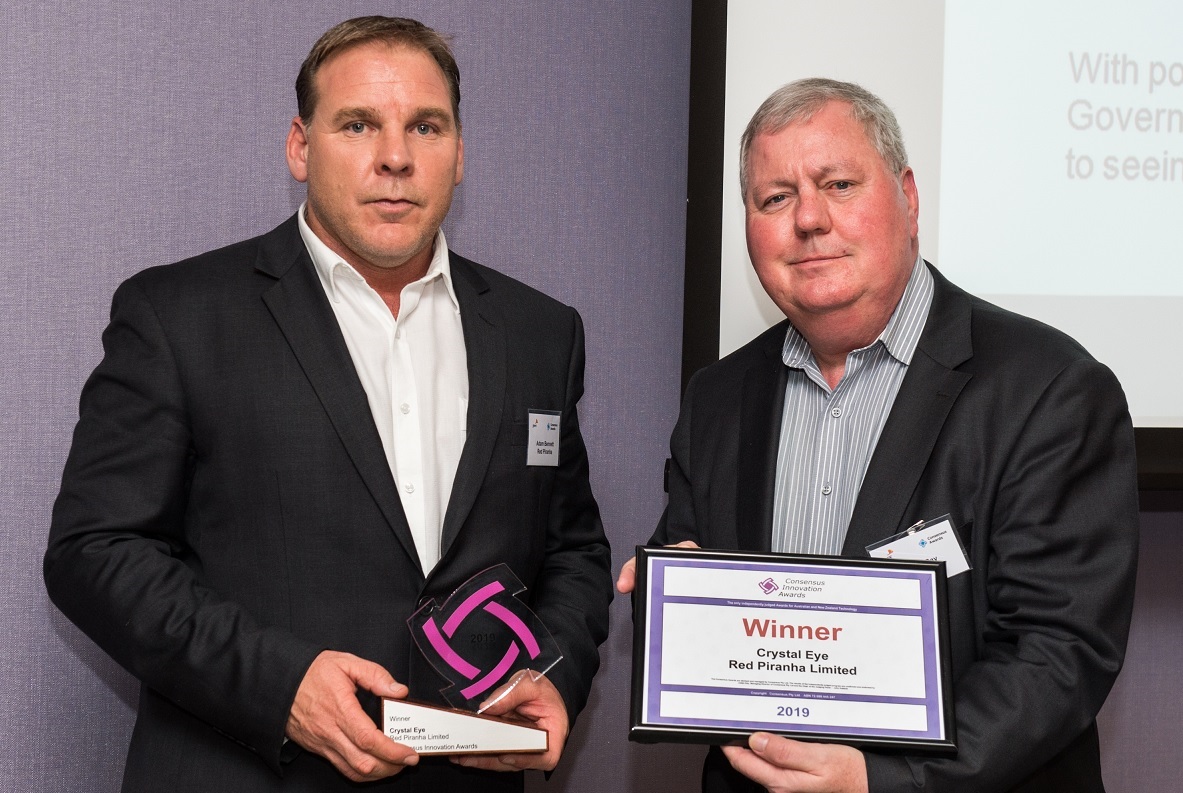 Adam Bennett CEO of Red Piranha, Winner of a 2019 Consensus Innovation Award with (right) Julian Day CEO & Founder of Consensus
Crystal Eye    www.redpiranha.net
from Red Piranha Limited
Red Piranha is an end-to-end cyber security product developer that engineers and manufactures affordable, yet advanced security products for Managed Service Providers (MSPs), Small to Medium Businesses (SMBs) and enterprises to give them an advantage in fighting off cyber-crime and intrusion.
Our main cyber security product, Crystal Eye, is the first Australian-made Unified Threat Management (UTM) platform designed specifically for SMBs to simplify information-security management at an affordable price.
Until now, these smaller companies have largely been forgotten about when it comes to the development of cyber security products that are affordable and easy to use. As a company this bothered us. Crystal Eye fills that gap and solves this problem. The Crystal Eye platform directly addresses business issues related to information security, data privacy and availability caused by digital systems.
Judges' Citation: "The judges agreed that the business model of Red Piranha for their UTM (Unified Threat Management) offering, Crystal Eye, was comprehensive and well designed for their target market, SMEs.
Listed on the ASX and into their sales phase with 52 staff on-board, they have already signed customers and have significant interest from other local and international organisations. Having seen a gap in the security area for SMEs, with most of the UTM providers being structured and priced for Enterprise or large Government, their complete and simplified tools allow SMEs to detect breaches and to neutralise and recover quickly, including incident response reporting.
New features being patented include Application White List to be managed by the Gateway, simplifying management and maintenance. Creativity in research and development and using gamification and VR increases the talent pool for developers. Leveraging the MSP market to assist and deliver the solution to the customers ensures a broad reach and exponential sales and support resources for minimal investment.
With possible ties to cyber insurance, their existing partnerships with AustCyber, other Government and professional organisations, and a scalable business model, we look forward to seeing Red Piranha's national and international success.
2018 AWARDS PRESENTATIONS
The 2018 Consensus Innovation Awards were presented by The Hon. Zed Seselja, Federal Assistant Minister for Science, Jobs & Innovation on the evening of Wednesday 25th July at PricewaterhouseCoopers (PwC) at their prestigious offices at Barangaroo in Sydney. Attended by an enthusiastic crowd, Award recipients and industry representatives, the evening was a huge success with two highly innovative solutions winning Consensus Innovation Awards, and a third Highly Commended.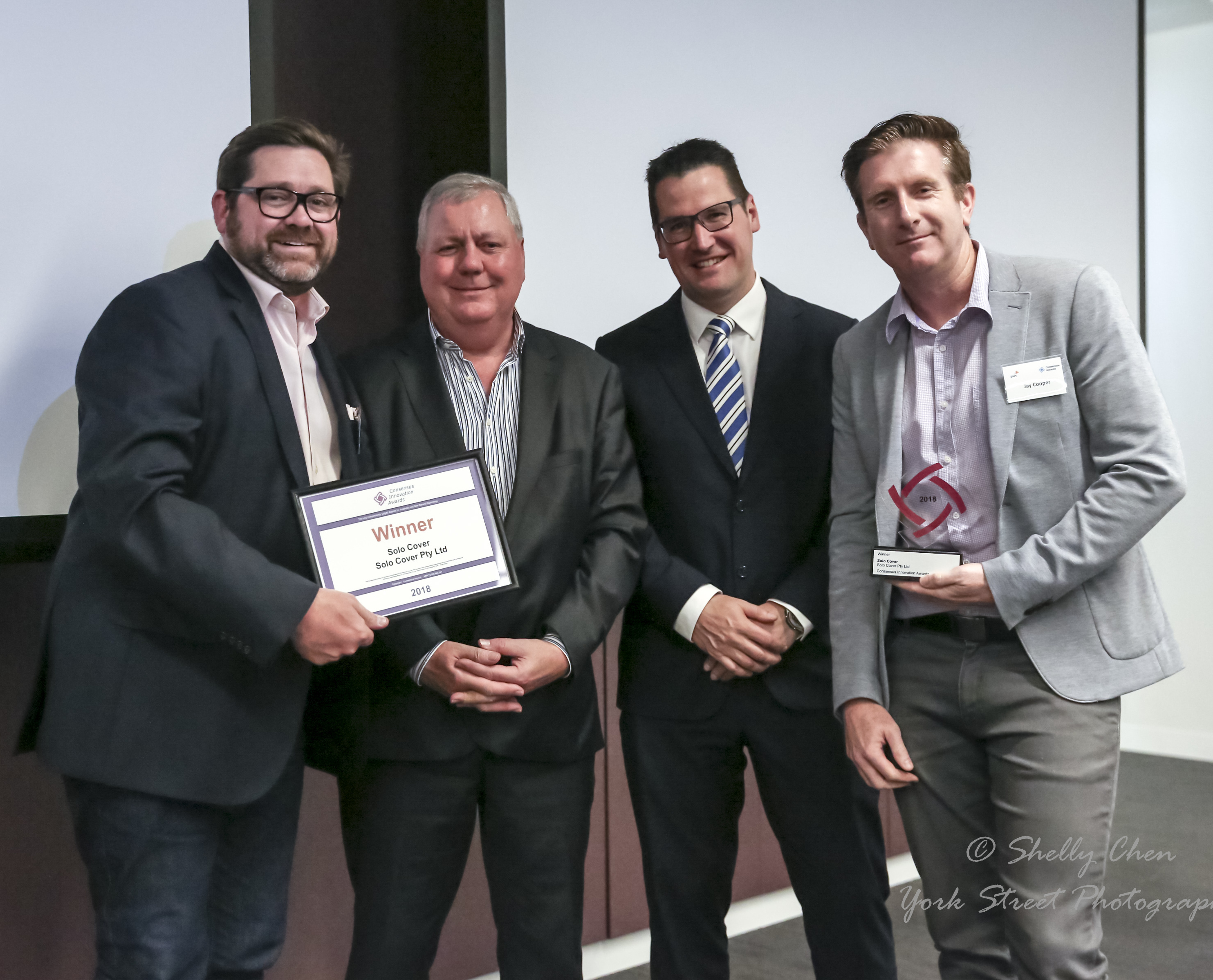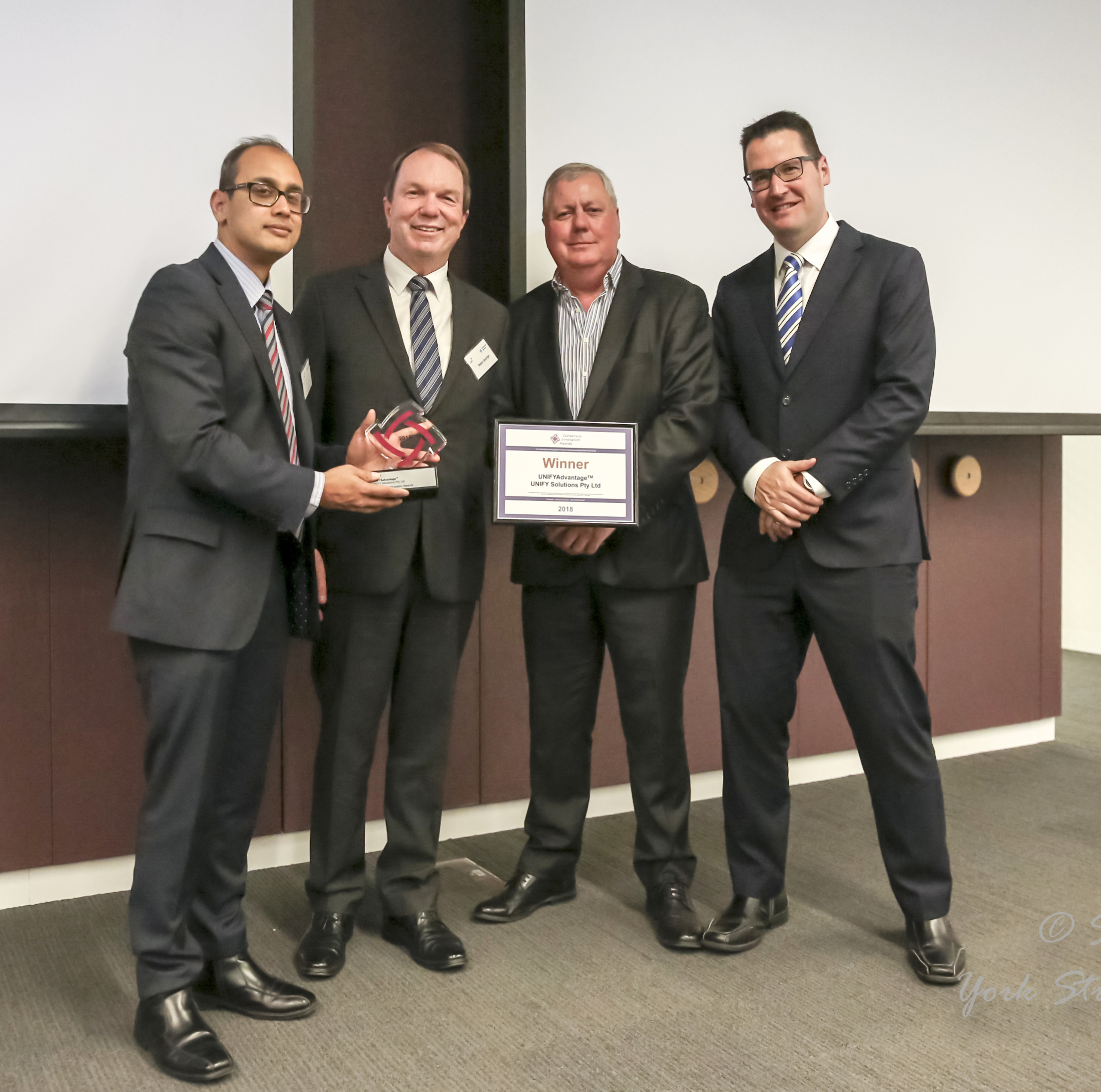 Winners of the 2018 Consensus Innovation Awards with Senator The Hon Zed Seselja, Assistant Minister Science, Jobs & Innovation and Julian Day CEO Consensus.    (Left) Solo Cover and (right) UNIFY Solutions
In addition to the above Awards, Ikabo was Highly Commended for their Ikabo Incubator.
Our thanks go to BSI (Business Strategies International) for hosting the judging, and to the Judges that participated in the final evaluation:
| | |
| --- | --- |
| Hugh Gyton (Chair) | James Cowie |
| John Dean | Parames Ghosh |
| John Katsiris | Kim Lyle |
| Edward Mandla | Joseph Najem |
| Peter Oliver | Rainer Tietz |
| Paul Trunoff | Paul Steele |
| Tony Veljancevski | Rick Vosila |
| Greg White |   |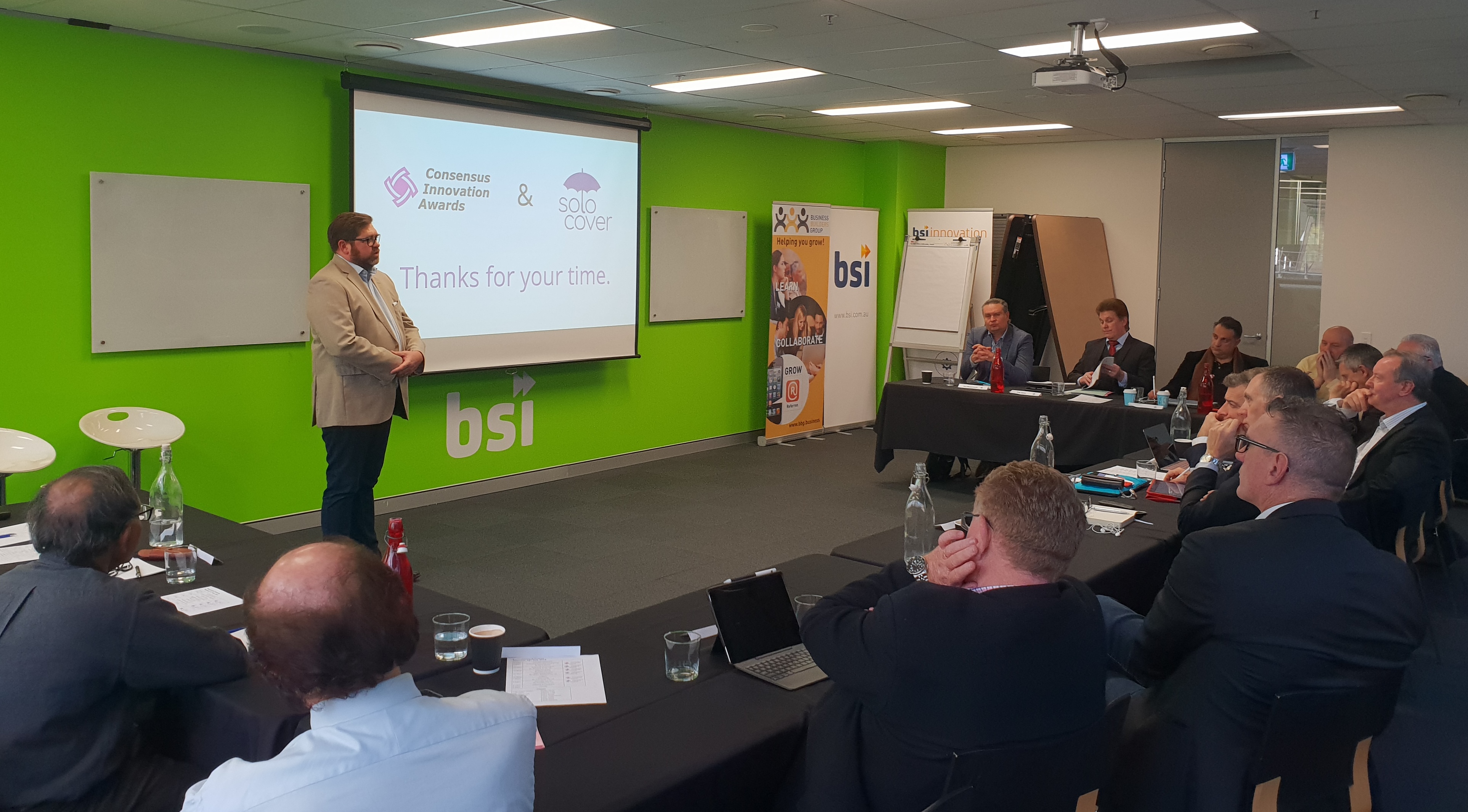 Judging of the 2018 Consensus Awards, hosted by BSI.
The Consensus Innovation Awards will be held next in April 2019 as we celebrate our 20th year of running the Consensus Awards. See the timetable below. If you would like further details on these Awards, please send us an email.
2019 TIMETABLE
Event
Date

Nominations Open

Mid June 2019

Nominations Close

End October 2019

Final judging




Venue: TBC

November 2019

Announcements and Presentations in Sydney




Venue: TBC

Early December 2019

Post Awards Media

December 2019
2017 AWARDS PRESENTATIONS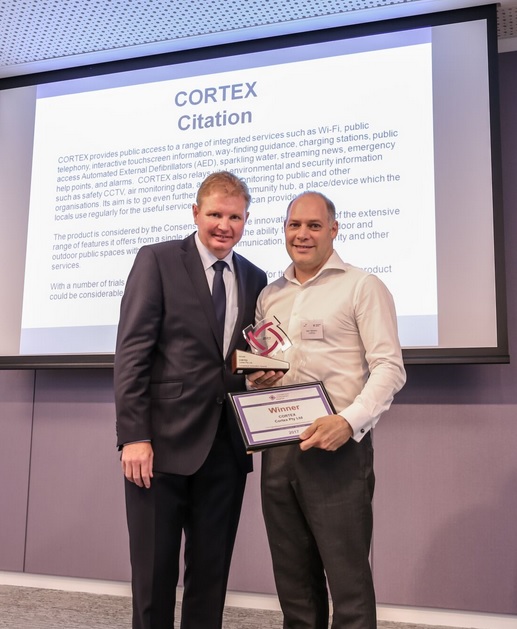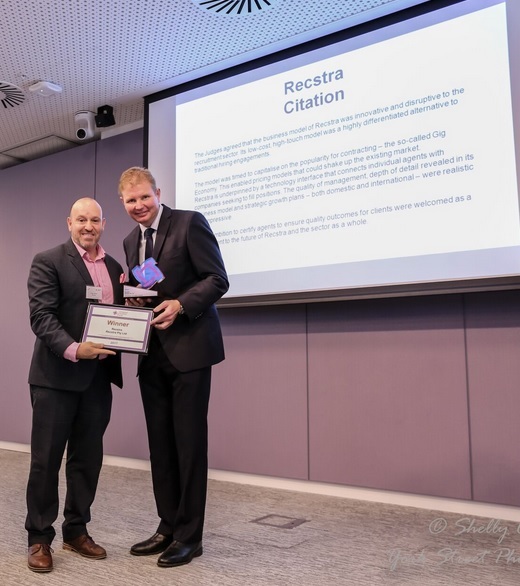 Winners of the 2017 Consensus Innovation Awards with The Hon. Craig Laundy, Assistant Minister for Industry, Innovation & Scdience. (Left) Mark Hartmann CEO Cortex Pty Ltd and (right) Craig Watson CEO Recstra Pty Ltd.
The Awards were presented on Monday 18th December at the prestigious offices of PricewaterhouseCoopers, International Towers, Barangaroo. Page down to see the Judges Citations.
Our thanks go to The Business School, the University of NSW for hosting the judging, and to the Judges that participated in the final evaluation:
– Ray David (Chair)
– Jed Fisher
– Richard Hayes
– Mark Hollands
– Paul Trunoff
– Chris van Brugge
– Paul Cheever
2017 WINNERS:
CORTEX    www.cortex.com
from Cortex Pty Ltd
CORTEX provides public access to a range of integrated services such as Wi-Fi, public telephony, interactive touchscreen information, way-finding guidance, charging stations, public access Automated External Defibrillators (AED), sparkling water, streaming news, emergency help points, and alarms. CORTEX also relays vital environmental and security information such as safety CCTV, air monitoring data, and audio monitoring to public and other organisations. Its aim is to go even further to being a community hub, a place/device which the locals use regularly for the useful services and updates it can provide.
Features can be selected depending on the application and are built into a sleek stainless steel and glass structure. Additional features can be added according to the requirements of the application, for example, asthma pumps, or even sun cream dispensing.
The product is considered by the Consensus judges to be innovative because of the extensive range of features it offers from a single device that has the ability to enhance indoor and outdoor public spaces with increased information, communication, safety, security and other services.
Cortex is seeking to take advantage of the need for Councils and other organisations (e.g. retail businesses) to offer improved and more modern public area services via the use of smart-city appliances – for tourists and locals alike. The costs of providing this public benefit using CORTEX can be offset by revenue from paid advertising that can be displayed on CORTEX's colour screens.
With a number of trials currently in the planning, the potential for the adoption of this product could be considerable, not only in Australia but in a number of overseas markets.
Recstra    www.recstra.com
from Recstra Pty Ltd
The Judges agreed that the business model of Recstra was innovative and disruptive to the recruitment sector. Its low-cost, high-touch model was a highly differentiated alternative to traditional hiring engagements.
The model was timed to capitalise on the popularity for contracting – the so-called Gig Economy. This enabled pricing models that could shake up the existing market.
Recstra is underpinned by a technology interface that connects individual agents with companies seeking to fill positions. The quality of management, depth of detail revealed in its business model and strategic growth plans – both domestic and international – were realistic and impressive.
Future ambition to certify agents to ensure quality outcomes for clients were welcomed as a commitment to the future of Recstra and the sector as a whole.
2016 AWARDS PRESENTATIONS
The 2016 Consensus Awards were presented by The Hon. Ed Husic MP, Member for Chifley, Shadow Spokesperson for Digital Innovation and Startups on the evening of Tuesday 14th June at the Sheraton on the Park Hotel in Sydney.
2016 WINNER:
How Far is Up?    www.bettysargeant.com
from Betty Sargeant
How Far is Up? is an iPad storybook app for children aged four and above. It combines fact and fiction, teaching children about distance and space. How Far is Up? entertains and educates.
The How Far is Up? app has been internationally acclaimed as being aesthetically alluring, functionally reliable and easy to use. The design has also been internationally recognised for the ways in which it encourages adults and children to read together over a shared mobile device.
Betty Sargeant is currently an independent developer and researcher. How Far is Up? was created with funding from RMIT University and was supported by a Varuna Writers' House fellowship.
Judges' Citation: "It is not often the Consensus judges have such an animated, passionate and positive discussion about a submission to the awards process. The Betty Sargeant 'How Far Is Up' digital children's reading app elicited such a response. This app, based on rigorous research and observations of early childhood learning, qualified easily in the three Consensus criteria of innovation, performance and potential and therefore deserves a Consensus Innovation award.

The judges debated the premise that the methodology of the app construction may be the strength of the initial publication, rather than the publication itself and recommend that Betty Sargeant consider this as more publications are produced. The judges also discussed a potential broader market for this product other than early childhood; it may well be that illiterate adults would also benefit from the tools and techniques used in this initial product release.
A better defined marketing strategy is needed for the app and its future releases. The judges recommend Betty seek commercial assistance in this area. We expect to see the product released on the android and windows platforms soon too.
The judges look forward to observing the growth of this product idea in such a significant area of our society and congratulate Betty on this initiative."
2014 WINNERS ANNOUNCED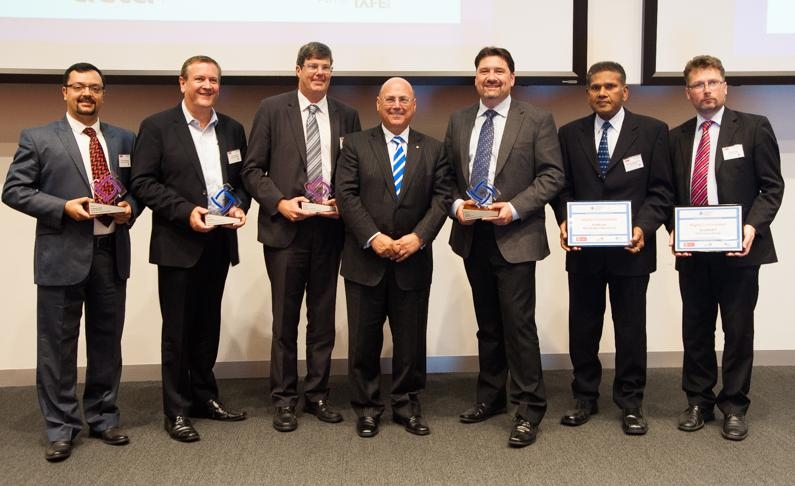 Sen. Sinodinos celebrates with Winners and Highly Commended recipients of the Awards.
The latest Consensus Innovation Awards were presented by Senator The Hon. Arthur Sinodinos, Senator for NSW on Wednesday 17th December 2014. The Awards were hosted by The University of Sydney in the new Charles Perkins Centre, itself a Winner in the Consensus Innovation Awards.
The Awards identify the most innovative technology in Australia and New Zealand. They are endorsed and supported by the Australian Consensus Technology Association, Northern Sydney Institute part of TAFE, New Zealand Trade & Enterprise, Wholesale Investor and TiE.
Please page down to see the winners of the 2014 Consensus Innovation Awards.
Click here for the results of the 2013 Consensus Innovation Awards
If you would like to receive an Entry Form for 2015, get involved as a supporter or be a judge of these prestigious awards please send us an email.
Our thanks go to the Judges that participated this year in the final judging panels. They are (Front left to right) Janine Cahill, Kim Llye, Robin Wall, Will Horton, Ray David, Rainer Tietz, (Back left to right) Brian Dorricott, Julian Dimbleby, Paul Cheever, Gerard McMullan, Chris Payne, Bert Franzen.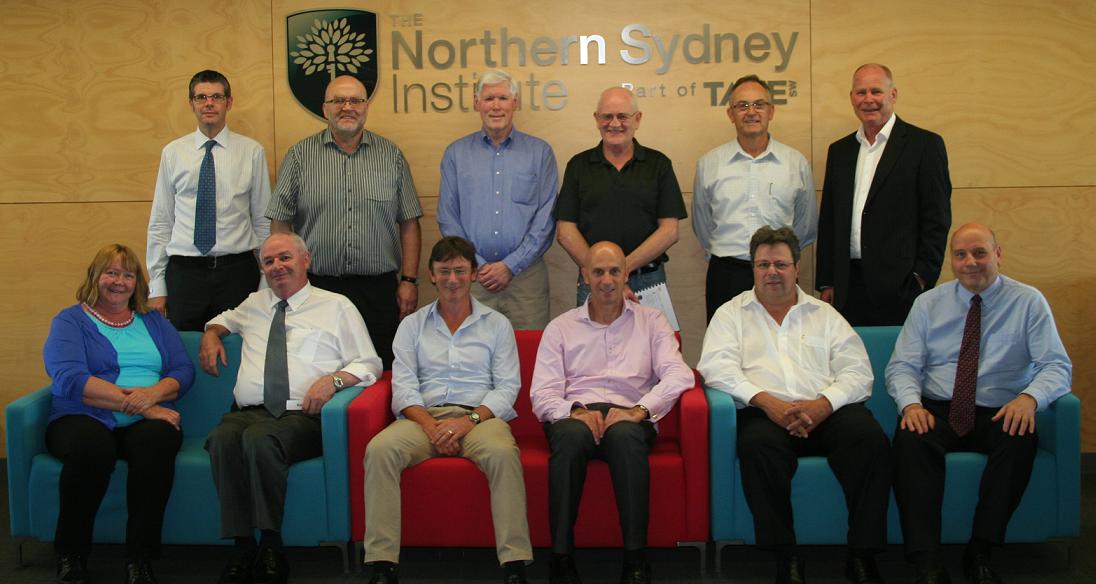 THE 2014 WINNERS ARE:
IP Hybrid HVAC    www.greenhvac.com.au
from Green HVAC Solution
The IP Hybrid product relates to cooling, heating, and in particular to an air-conditioning system. This system has been patented and developed and currently installed in many buildings with very successful performance. This novel product could save about 40% electricity and reduce around 30% of the greenhouse gas emissions.
The air conditioning system is adapted for augmented heat exchange using an augmenting heat exchange fluid. This advantageously reduces the electricity consumption and greenhouse emissions while maintaining low airflow temperature and human comfort levels under any climatic conditions.
The system is further adapted to evaporate the refrigerant by an evaporator that receives the refrigerant from the condenser via an expansion valve.Judges' Citation: "The IP Hybrid HVAC product uses affordable gas to fluid heat-exchange technology suitable for both new stand-alone installations and retrofitting existing ones. Outstanding features include the reclamation of otherwise wasted chilled condensate for utilisation in the cooling process.
An advanced, low-cost design that is viable for a wide range of installation situations (domestic and commercial) globally. It is suitable for all climate applications. The key benefits are significant energy savings (25%-40%) over conventional air-conditioning systems. It provides relatively short payback when retrofitted to conventional systems.
Elegant in its simplicity, the advanced, low cost heat exchanger is innovative. It delivers substantial performance improvements over conventional fluid to air heat exchange systems that results in energy savings. It is also lower in cost than alternative fluid to fluid heat exchange systems. The reduced running time of the system's compressor is a source of the realised power savings as well as extending the life of this key component.
The market potential is very significant given the growing global demand for energy efficient HVAC installations. The product is currently in production, with distributors appointed in a number of key international markets, with strong early sales.
The judges felt that the IP Hybrid HVAC is innovative and a worthy Award Winner."
X-Lab    Charles Perkins Centre
from The University of Sydney
The X-Lab is an iconic component within the University of Sydney Charles Perkins Centre (CPC) Research and Learning Hub. It is a 264 seat wet teaching laboratory: 'wet' meaning for hands-on experimental work involving chemicals, reagents, fluids and/or biological material; 'X' represents the new cross-faculty teaching paradigm within the space.
One of the design goals was to have a teaching laboratory that maximised utilisation. To satisfy this goal the innovative use of technology was required to enable multiple classes to operate in the same large space without impinging on each other and without disrupting the individual teaching and learning experience.
The X-Lab drew its inspiration from the original London University wet teaching lab, but the Charles Perkins Centre X-Lab and the University of Sydney has implemented a new generation of technology to achieve its goals.
Judges' Citation: "X-Lab from the University of Sydney was unanimously recognised by the judging panel for capacity to revolutionise science education and create highly engaging learning experiences for students.
At the heart of X-Lab is the imagination of how technology can be bought to bear in the teaching process especially in Lab related environments.
The judges were impressed with the collaborative process that enabled an inclusive cross faculty engagement. This facilitated the realisation of the design whilst at the same time motivating staff and students to move into the new teaching processes.
The panel noted that X-Lab has already achieved impact with positive student and staff responses and assisted the recruitment of new researchers. X-Labs has achieved a new dynamic of facilities efficiency that has allowed the University to expand its reach into potentially new markets and opportunities."
THE AIMS OF THE AWARDS
The Awards exist to reward Innovation in Australian and New Zealand industry including manufacturing, engineering, electronics and other sectors and to grow and strengthen Australia's and New Zealand's contribution to innovation worldwide. Award recognition can be vital in building the credibility and exposure necessary for locally developed technology to break into new markets. The Consensus Innovation Awards have been developed to provide this credibility by using an open and transparent judging process based on the Consensus Model.
JUDGING CRITERIA
To achieve a Consensus Innovation Award, the technology must be Australian or New Zealand designed and developed and be judged by the invited panel of judges to be Innovative, deliver performance benefits to the user, and have further potential for product or market development. Entrants are invited to present the evidence to the judging panel first through a written and then by direct presentation. Since each product is assessed directly against the judging criteria there are no categories and the judges may recommend as many or few Awards as they deem to be worthy each year.