2010 CONSENSUS GREENTECH AWARDS
– WINNERS ANNOUNCED
The 2010 Consensus GreenTech Awards were presented on Friday 10th December 2010 by Russell Edwards, NSW State Manager, AusIndustry and Christopher Long, National Sales Director, Dimension Data in Sydney. Both AusIndustry and Dimension Data were sponsors.
The Awards identify the most innovative GreenTech solutions in Australia and New Zealand. They are endorsed and supported by Australian Consensus Technology Association, New Zealand Trade & Enterprise, Wholesale Investor, Northern Sydney Institute part of TAFE and Connections Research.
If you would like to receive an Entry Form for the next set of Awards or receive any further information, please send us an email.
2010 Winners and Highly Commended with (left) Chris Long, Dimension Data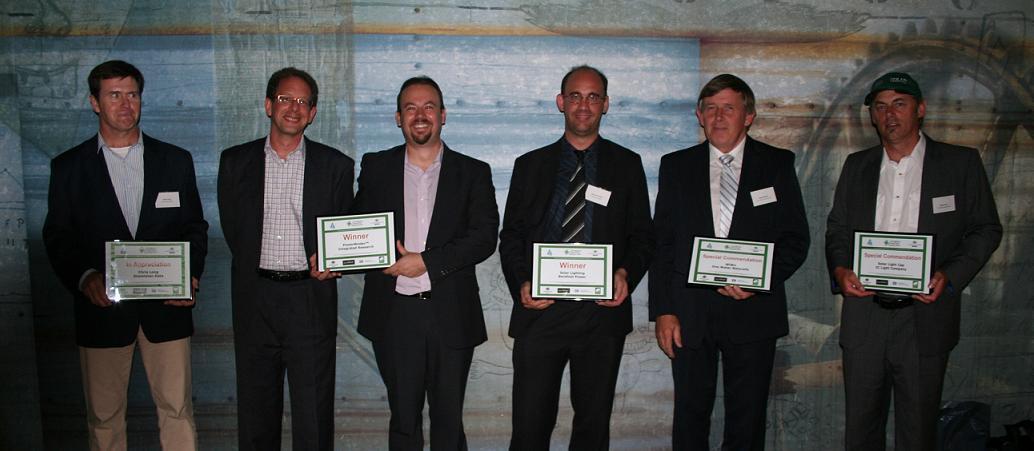 Page down for the Citations for the 2 Winners and 2 Highly Commended.
Our thanks go to the Judges that participated this year:
– Dr. Bhuvan Unhelkar (Chair)
– Janine Cahill
– Ray David
– Jenny Davis
– Bert Franzen
– Andrew Greatbatch
– Bruce Hills
– Robert Iacopetta
– Melissa Neighbour
– Kevin Samsone
– Ian Woolf
2010 WINNERS
POWERMINDERTM FROM INTEGRATED RESEARCH WWW.POWERMINDER.COM
JUDGES' CITATION: "PowerMinderTM elegantly addresses the strong market demand for an efficient Solution that can automate power management for networked PCs. Leveraging a Web based architecture, cost of ownership is significantly minimised whilst at the same time reducing the power/carbon footprint. Through their extensive client base, international footprint and well financed route to market IR is sure to see PowerMinder as their next success story."
SOLAR LIGHTING FROM BAREFOOT POWER WWW.BAREFOOTPOWER.COM
JUDGES' CITATION: "This Award is for Barefoot Power's business innovation and business success in the most challenging market – where the need is greatest without the ability to pay. The Judges recognise that Barefoot Power is applying existing technologies in innovative ways to 'Light up the World'. Their 'Business in a Bag' particularly impressed the Judges. They have looked at the market in a new way – light for school children, charged mobile phones for families, power for communities, and have a winning solution – Congratulations!"
2010 HIGHLY COMMENDED
2C LIGHT CAP FROM 2C LIGHT COMPANY WWW.SOLARLIGHTCAP.COM
JUDGES' CITATION: "The judges valued the safety & efficiency of the cap product. It virtually eliminates the need for batteries, and even the solar brim is designed with lifecycle considerations. The judges also noted the significant certification effort, which both substantiates the product's environmental credibility and forms an excellent foundation for the global marketing effort. Key remaining challenges are to fund & execute the marketing of the product, & to realise the potential application to other items worn by people. Hence the 2C Light Cap is a worthy winner of the Highly Commended Award. If further proof is needed, some judges look forward to buying a cap!"
WIWO FROM ONE WATER NATURALLY WWW.ONEWATER.COM.AU
JUDGES' CITATION: "The WiWo is a smart extendable water management system that guarantees a water supply from multiple sources. The Judges were impressed with the environmental benefits of producing hydraulics in plastic instead of brass. Its scalability and ability to be upgraded and extended were impressive. Its market potential is protected by robust IP protection and firmware encryption. WiWo's partnership with Hung Pumps and market guaranteed by Government will ensure its success"
BACKGROUND
All Consensus Award programs are based on an open nomination process. Nominations are welcomed from individuals and organisations with relevant technologies that meet the judging criterion. Before nominating please consider the aims of the program and the judging criteria against which the technology will be measured. Self nominations are welcome.
THE AIMS OF THE AWARDS
The Awards exist to reward excellence in Australian and New Zealand Green Technology and to grow and strengthen Australia's and New Zealand's contribution to sustainability in society. Award recognition can be vital in building the credibility and exposure necessary for locally developed technology to break into new markets. The Consensus GreenTech Awards have been developed to provide this credibility by using an open and transparent judging process based on the Consensus Model.
JUDGING CRITERIA
To achieve a Consensus GreenTech Award, the technology must be Australian or New Zealand designed and developed and be judged by the invited panel of judges to be Innovative, deliver performance benefits to the user, and have further potential for product or market development. Entrants are invited to present the evidence to the judging panel first through a written and then by direct presentation. Since each product is assessed directly against the judging criteria there are no categories and the judges may recommend as many or few Awards as they deem to be worthy each year.