CONSENSUS AGTECH AWARDS
2019 AWARDS – PRESENTATIONS
The Consensus AgTech Awards will be run twice in 2020, in the first 6 months of the year and also the second 6 months. See the timetable below for the 1st Set and if you would like further details, please send us an email.
See below the Winner of the 2019 Consensus AgTech Awards.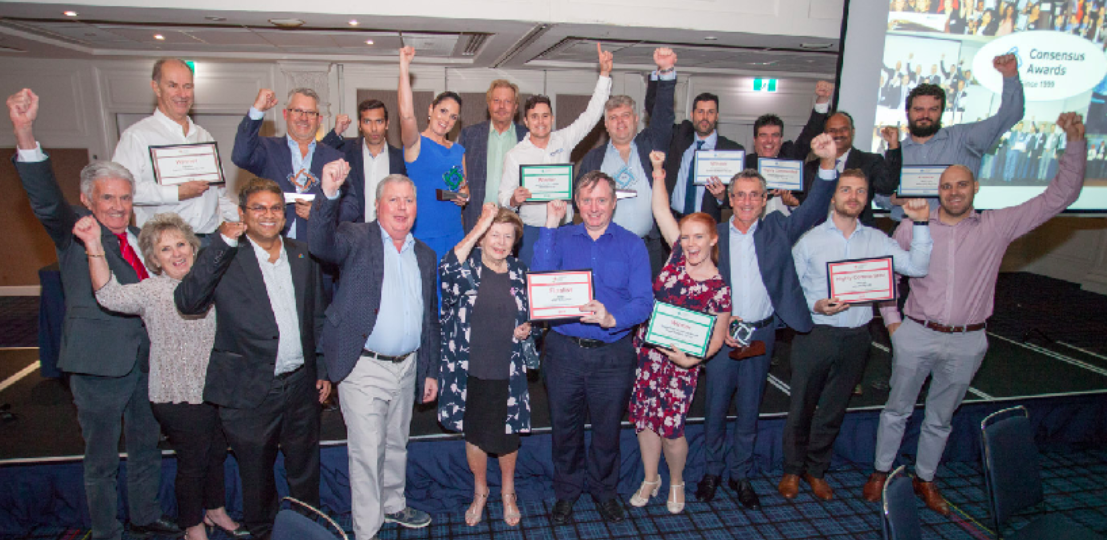 The 2019 Consensus Awards Winners with (back centre) Richard White, Founder & CEO, WiseTech Global and (front 4th from left) Julian (Jolly) Day Founder & CEO of Consensus.
The Consensus Awards were co-presented on 12th December by Richard White, Founder & CEO, WiseTech Global (Winner in 2004) and Julian Day, Founder & CEO, Consensus. Thanks to Phil Redding for MC'ing the event.
Our thanks go to the Australian Graduate School of Management at University of New South Wales for hosting the judging, and to the Judges that participated in the final evaluation:
| | |
| --- | --- |
| John Katsiris (Chair) | Ray David |
| Marion de Courcay | Richard Hayes |
| Louise Meyrick | Edward Mandla |
| Preetie Shehkkar | Rainer Tietz |
| Andrew Zell | Steven Dujin |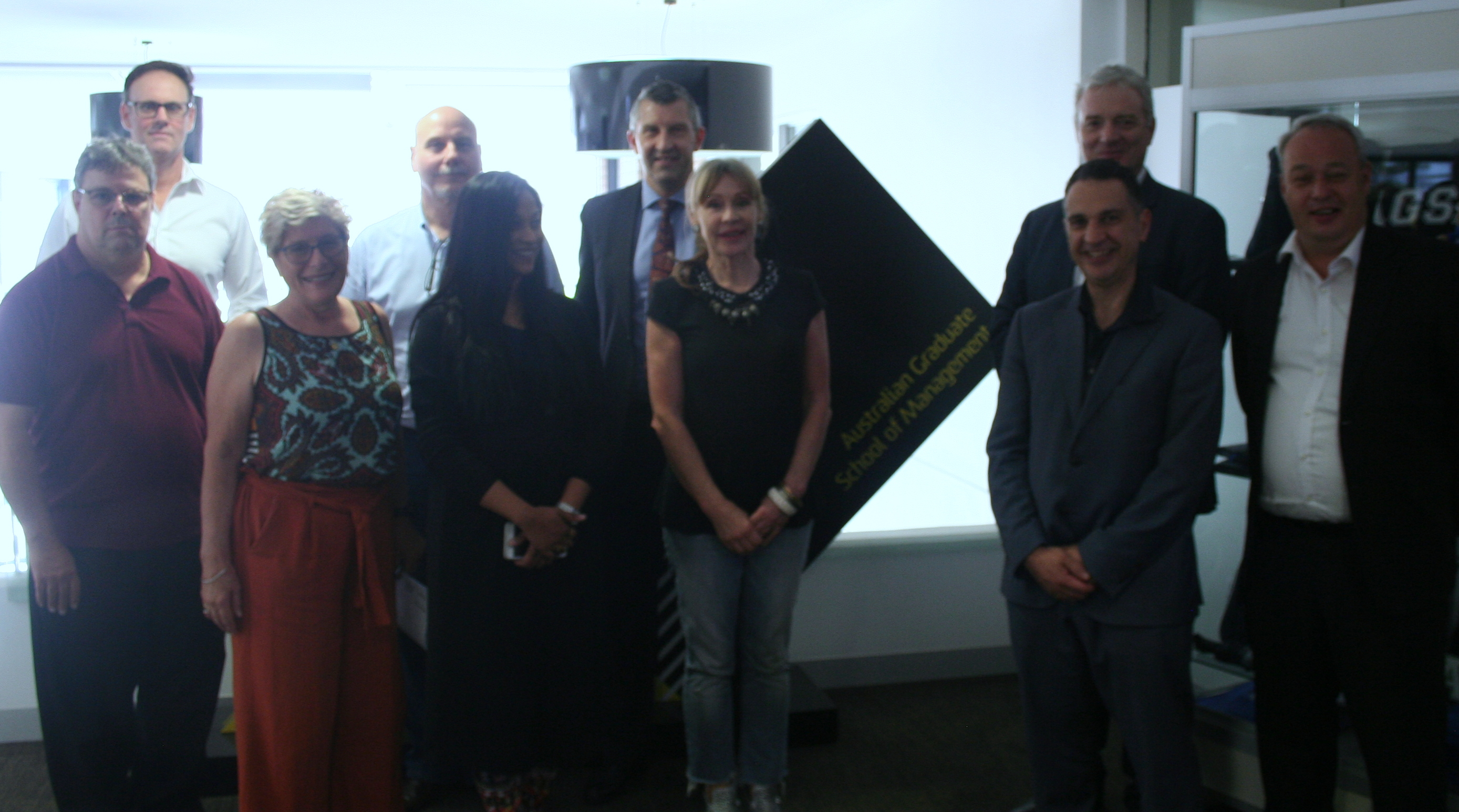 Judges of the 2019 Consensus AgTech Awards at the Australian Graduate School of Management.
2020 TIMETABLE – 1ST SET
Event
Date

Nominations Open

Late January 2020

Nominations Close

End April 2020

Final judging




Venue: UBSS, 233 Castlereagh Street, Sydney

Mid May 2020

Announcements and Presentations in Sydney




Venue: TBC

Mid June 2020

Post Awards Media

End June 2020
2019 WINNER:
Farmbot    www.farmbot.com.au
from Farmbot Australia Pty Ltd
Farmbot's simple proposition is #knowyourwater. Farmbot offers affordable, near-real-time satellite communications. It is cost effective because our proprietary technology transmits data in response to meaningful change. These transmissions occur within minutes of an event with the Farmbot sending an alert to the user's smart device. Replacing traditional water runs (and the expense) while protecting their most valuable resource, water. Alerting managers when corrective action is needed, to save and/or make sure it is available to prevent livestock stress (also expensive).
The Farmbot primarily measures water level, with the device located on a properties tank, dam or irrigation channel. It is easy to install ( a 10-minute self install), use and maintain. Farmbot is also a part of the Internet of Things (IoT), able to create a network of devices that can communicate back to the cloud, via Farmbot's 3G/4G or Satellites.. This critical water data is accessible and visible anywhere in the world.
Judges' Citation: "The judges were unanimous in their praise for Farmbot Australia.
Under the three judging criteria of innovation, performance and potential, Farmbot Australia excels. They are very clear on who their target market is and demonstrate a particular focus on the strong relationship between the company and its customers.
Their remote water monitoring products brings a number of technical and commercial elements together to deliver compelling solutions for the livestock sector. There is also potential to become the de facto data monitoring solution for other farming groups.
Farmbot is a worthy winner of a Consensus AgTech Award".
BACKGROUND
All Consensus Award programs are based on an open nomination process. Nominations are welcomed from individuals and organizations with experience of the product or service concerned. Before nominating a product please consider the aims of the program and the judging criteria against which the product will be measured. Self nominations welcome.
THE AIMS OF THE AWARDS
The Awards exist to reward excellence in Australian and New Zealand software design and to grow and strengthen software development in Australasia. Award recognition can be vital in building the credibility and exposure necessary for locally developed products to break into new markets. The Consensus AgTech Awards have been developed to provide this credibility by using an open and transparent judging process based on the Consensus Model.
JUDGING CRITERIA
To achieve a Consensus AgTech Award, the technology or product must be Australian or New Zealand designed and developed and be judged by the invited panel of judges to be Innovative, deliver performance benefits to the user, and have further potential for product or market development. Entrants are invited to present the evidence to the judging panel first through a written and then by a direct presentation. Since each product is assessed directly against the judging criteria there are no categories and the judges may recommend as many or few Awards as they deem to be worthy each year.
Entries may be related to any type of Agriculture across Growing, Processing, Packaging, Marketing & Distribution. They should demonstrate one or more of the following:
– Creating a business advantage and markets
– Breaking new ground
– Earth shrinking potential
– Expanding new horizons
– New business/service delivery
– New Technology
– New or advanced Process
– Social change or empowerment of users