"KESTER" CRANSWICK LIFETIME ACHIEVEMENT AWARD
Many people in the IT industry have fond memories of Kester Cranswick, and a number of them have kindly shared their memories here.
Please page down for a list of all receipients plus their biographies.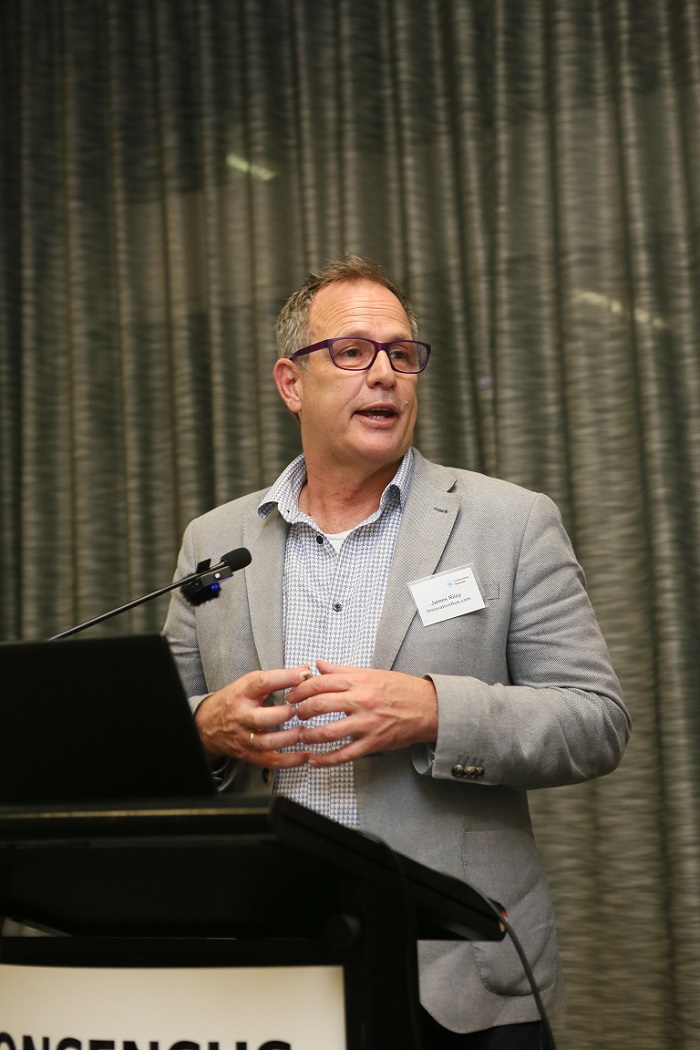 James Riley was the latest recipient of the prestigious "Kester" Lifetime Achievement Award
Beata Cranswick presenting Simon Sharwood with the 2019 "Kester" Lifetime Achievement Award.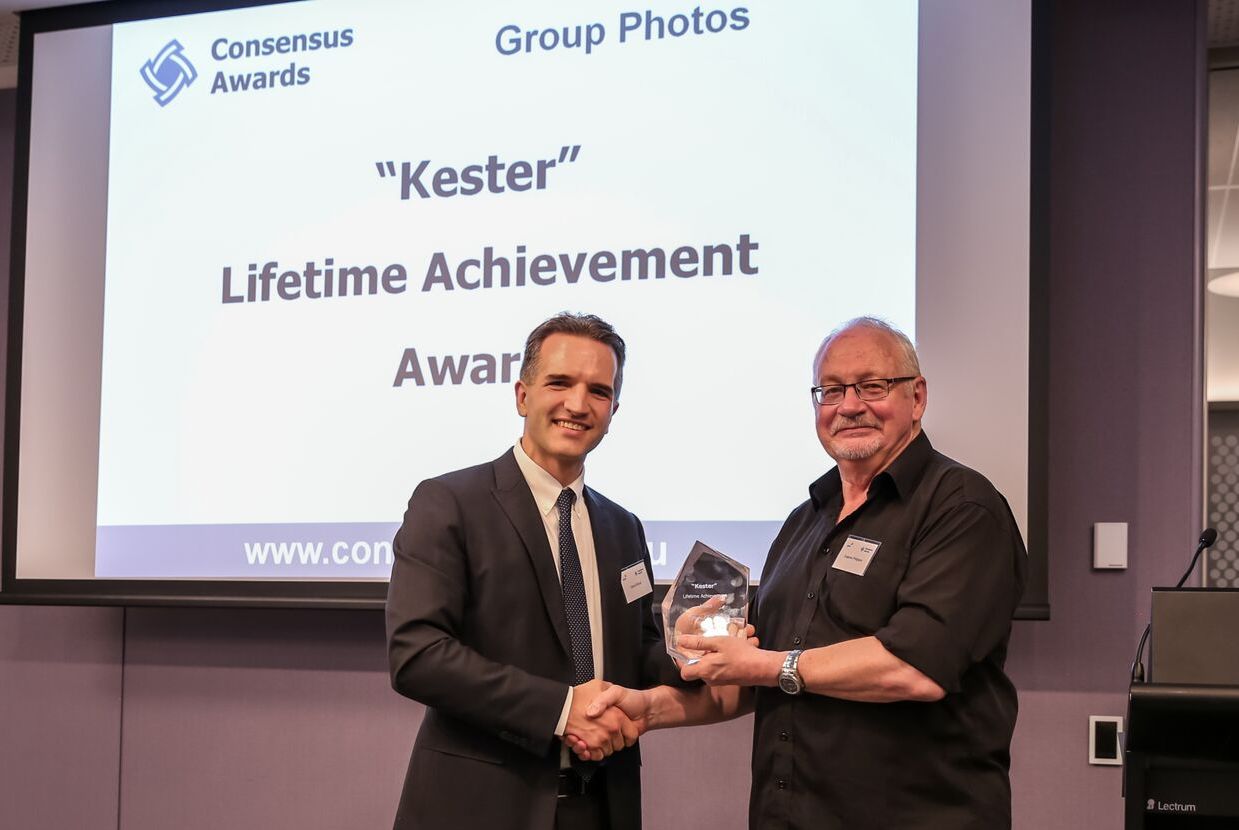 David Braue being presented with the 2017 "Kester" by Graeme Phillipson, veteran IT Journalist and recipient of the 2005 "Kester".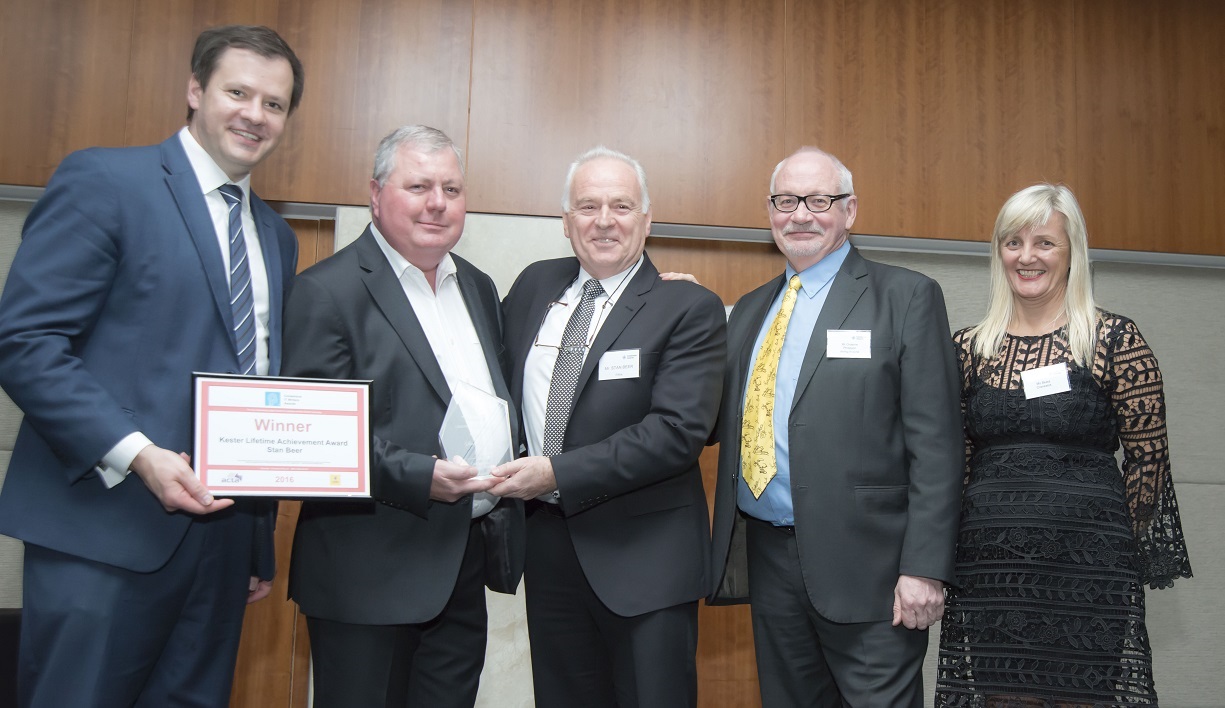 Stan Beer (Middle) being presented with the 2016 "Kester" by The Hon. Ed Husic with Julian Day, Founder & CEO Consensus, Graeme Phillipson, veteran IT Journalist and recipient of the 2005 "Kester", and Beata Cranswick.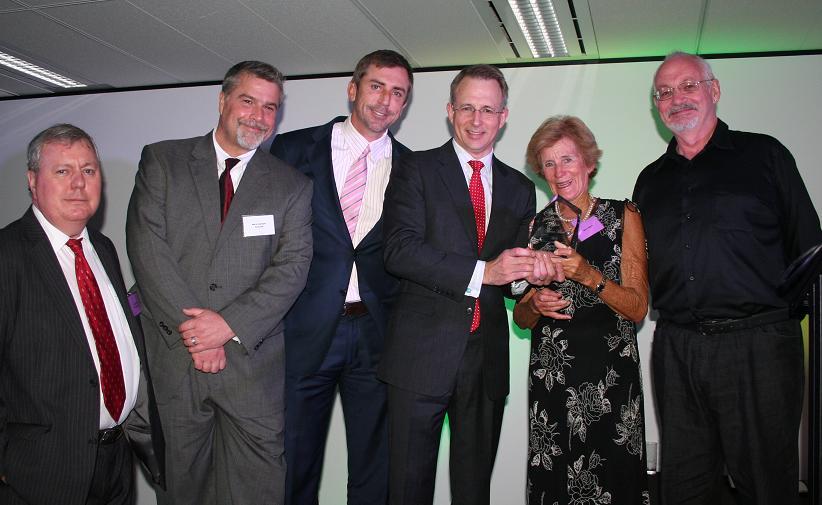 Merri Mack (2nd right) being presented with the 2013 "Kester" by Paul Fletcher (3rd right) with left to right) Julian Day, Founder & CEO Consensus, Mark Gamble, Technical Director Actuate, Paul James, GM Professional Services Hosted Continuity and (far right) Graeme Phillipson, veteran IT Journalist and recipient of the 2005 "Kester".
If there is a person that you would like to nominate to receive a 'Kester' Lifetime Achievement Award please complete the Kester Nomination Form.
KESTER AWARD RECIPIENTS
| | |
| --- | --- |
| 2023 | James Riley |
| 2019 | Simon Sharwood |
| 2017 | David Braue |
| 2016 | Stan Beer |
| 2013 | Merri Mack |
| 2011 | Stuart Kennedy |
| 2010 | Stuart Corner |
| 2006 | John Costello |
| 2005 | Graeme Philipson |
| 2004 | Beverley Head |
| 2003 | Helen Dancer |
| 2002 | Helen Meredith |
| 2001 | Kester Cranswick |
| 2000 | David Frith – Winner of Lifetime Achievement Award prior to it being named in Kester's honour |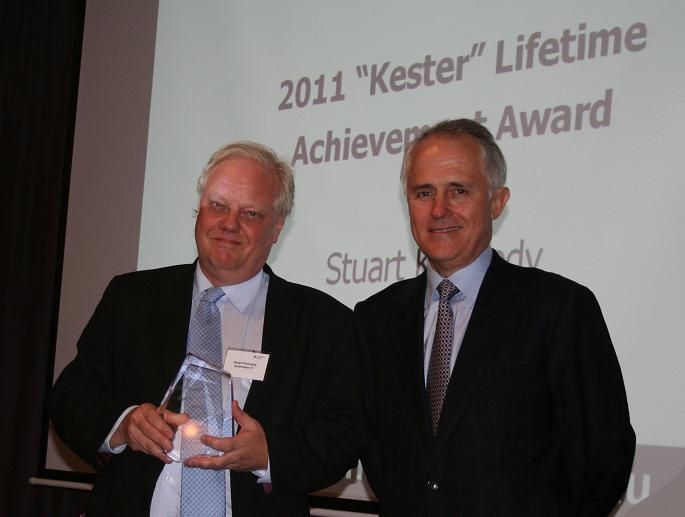 Stuart Kennedy being presented with the 2011 "Kester" by The Hon. Malcolm Turnbull, Shadow Minister for Broadband & Communications
KESTER AWARD WINNER BIOGRAPHIES
As part of our commitment to the outstanding individuals who have contributed to IT journalism in Australia, we intend to place on this page a short biography of each Kester recipient If you have an interesting anecdote or can provide any background information it would be gratefully accepted.
SIMON SHARWOOD 2019
Simon Sharwood started his IT writing career as a teen when he contributed to the magazine of the Australian ZX Users Association.
His career proper started in 1994 as a technical writer contracted to Westpac. He soon joined PC Week Australia and rose to be deputy editor. After a short stint in England, he joined Text 100 as head of media relations and editorial before successfully going freelance in 2003.
He quickly became regarded as one of Australia's top technology journalists, writing for most major IT publications and doing corporate work for many vendors. He was the founding editor of TechTarget Australia New Zealand.
"TechTarget was a big turning point for me," he says. "It pitched me into technically-literate data center journalism. Australian IT journalism has become less and less about the tech and more and more about business and government. I'm not enough of a geek to do pure tech. But by writing about tech, I found a niche."
He subsequently became the founding editor of Government Technology Review, chairing many of its conferences and becoming well known to senior public-sector CIOs. In 2012 he joined leading international technology website The Register as head of its Australian bureau. He chaired the site's editorial board and became one of the few Australian IT journalists to have a significant international profile.
Simon is justifiably proud of the fact that he has broken a number of major global IT stories. "I was number one on Reddit with my story on Microsoft running its Azure cloud network on Linux rather than its own software, and I was first with Cisco killing its cloud after spending $5 billion over two years, and IBM firing all contractors worldwide."
DAVID BRAUE 2017
David Braue is one of Australia's most prolific and awarded technology journalists. It is a measure of his abilities that he has been successful as a freelancer in a crowded and sometimes difficult market for over 20 years. During that time he has written for most of Australia's major computer and business publications. He has also acted as editor for various magazines, including Government Technology Review and Wheels For The Mind. He was also the online editor for Macworld Australia.
He started his technology writing career in 1995 on PC Week, while also completing a degree in criminology. His thesis was on the legislative response to the emerging field of computer crimes. When PC Week closed in 1997 he intended to return to studying law, but "was thrust into the world of freelancing and intended to do it for a few months until I could find a real job. But the ability to work at the library or in my pyjamas (or both, if I wanted) grew on me and I was soon busier than I could have imagined."
And so he has remained. He has won 19 separate awards for his writing including the Kester. He continues to write for a range of publications and does a large amount of corporate writing, including blog posts, ghostwriting, case studies and white papers.
"I have been continually learning about tech and had the pleasure to work with some fantastic, very smart and like-minded tech-and-writing types. On the whole, it has been a fantastic run and I'm still loving it. I did get into law school a second time but decided I preferred writing in pyjamas to pin-striped suits."
STAN BEER 2016
Stan Beer has been writing about the Australian technology and communications industry since 1986. He is best known as the co-founder of iTWire, one of Australia's first exclusively online technology publications.
His first job in IT journalism was as Melbourne correspondent for Computerworld Australia. He soon moved to Peter Isaacson publications where he became features editor of Pacific Computer Weekly and editor of Professional Computing, the official magazine of the Australian Computer Society. After a brief stint in PR for HP Australia and as a freelance operator he was senior Melbourne IT writer for first The Australian and then the Australian Financial Review.
In 2004 he started iTWire, which quickly established itself as a leading source of daily news and opinion for the Australian and international IT and telecommunications industry. He also launched CommsWire, a widely read daily communications newsletter.
"iTWire it is easily my biggest achievement," he says. "We publish more stories than any other Australian IT news outlet and we have been successful during a turbulent period when many other publications have gone to the wall. And we've done it all from Melbourne, while most of the IT press and industry is based in Sydney."
Almost 15 years since its genesis iTWire remains a success, with several millions of visitors each year. Stan still writes for iTWire publications and has largely assumed the role of editor and site director, managing a large team of writers and contributors.
MERRI MACK 2013
Merri Mack started writing about the computer industry for IDG in 1985. She is one of the best-known IT journalists in Australia, not just because of her abilities and longevity in the industry but because of her bubbly personality and infectious enthusiasm. But it hides a steely determination. Perhaps it comes from her running (she is a competition marathoner) – she never gives up. It seems she's always there.
After starting out in nursing ("it wasn't for me") she moved into computer operations before she started as a features editor for Computerworld Australia. She had more news stories published in her first year than any of the journalists who were supposed to be covering that beat. She was headhunted to Digital Equipment Corporation (DEC) as Public Relations Manager in 1986 until 1990, then did the same job at Fujitsu Australia until 1995.
As Manager of the IT consultancy for PR firm Macro Communications she was in charge of Bill Gates' first media trip to Australia in 1997. She then returned to journalism, and to her old job of features editor of Computerworld, moving to PC Week in 2001 before freelancing after that publication closed down. She is best known in recent years as the long time editor of Voice & Data magazine (2004-2012). She is now a freelance writer and editor, and a contributing editor to Computer Daily News.
STUART KENNEDY 2011
Stuart Kennedy is one of Australia's best known and experienced IT journalists. He became IT editor of The Australian in 2003, and is now its longest serving editor. The Tuesday IT section in The Australian was for many years the largest IT supplement in any newspaper in the world. It was also the first.
Before coming to IT journalism Stuart was a bus driver, hippy, university dropout and motorcyclist. His eclectic experiences qualified him as a journalist for Computing Australia, a weekly that was launched in 1985 and which totally transformed IT journalism in Australia by publishing real news and exposes. As part of the launch team, Stuart's investigative journalism and the colourful writing style was an integral part of its appeal.
Stuart then worked for The Bulletin, then Australia's leading news magazine. His cover story "Why the Banks are Bastards" was one of the most talked-about pieces it ever published, and still reverberates today. He then worked on a number of leading IT publications, including Strategic Publishing's MIS and CFO magazines (now owned by Fairfax), David Frith's Computer Daily News, and David Richards' IT News. He was also a test rider and contributor to Two Wheels magazine, indulging his passion for motor bikes.
The IT industry needs writers, and characters, like Stuart Kennedy.
STUART CORNER 2010
Stuart Corner is one of Australia's most experienced writers and commentators on telecommunications. He started his career in journalism in 1984 with IDG working on Computerworld Australia and in 1986 co-founded C&C News Pty Ltd which launched Australia's first weekly newsletter on telecommunications and Australian Communications as a full colour monthly magazine.
In 1989 he started the weekly subscription telecoms newsletter, Exchange which is still going after 22 years, now a compilation of ExchangeDaily, and both published by iTWire. He is presently the telecommunications editor of and a director of iTWire.com a news web site dedicated to IT and telecomms news launched in September 2005.
He is also a speaker and broadcaster on telecommunications topics and has been awarded Telecommunications Journalist of The Year by the Australian Telecommunications Users Group (ATUG), twice and one by the Service Providers Industry Assocation (SPAN). Stuart's writing is underpinned by a solid technical background. He holds a Higher National Certificate in Electronic Engineering from Paddington Technical College (UK) and a Postgraduate Certificate in Education (technical) from the University of London.
Before migrating to Australia in 1979 he worked as an electronics engineer in the UK's offshore oil industry and as a technical college lecturer in electronics. Before joining IDG in 1984, he was a customer engineering instructor at Fujitsu Australia (then known as Facom Australia) where he taught technicians on the maintenance of IBM compatible mainframe computers and associated communications equipment.
GRAEME PHILIPSON 2005
Graeme Philipson has been writing about computers since 1983, when he started an Apple II magazine for Gareth Powell. After a stint with analyst company Yankee Group he became editor of Computerworld in 1987 and 1988, and was founding editor of IBM mainframe magazine True Blue in 1989. He was a columnist for Computing Australia for many years before founding Strategic Publishing Group with Alistair Gordon in 1992.
Strategic's best known title was MIS magazine, which within five years was being published in NZ, Singapore and India. The company was sold to John Fairfax in 1999, just before the tech crash. Graeme was founding editor of MIS, and editorial director of Strategic. He also started and ran Strategic's market research division, which was sold to Gartner in 1997 before being reacquired just in time to be sold to Fairfax. He joined Gartner for two years as part of the deal.
Graeme had a weekly column in The Australian's IT section from 1992 to 1997, and has had one in The Sydney Morning Herald and Melbourne Age since 1999. He writes extensively for UK analyst company the Butler Group, and has monthly columns about IT in Campus Review and Print21, the magazine of the Printing Industry Association. He is in demand as a conference speaker, and is writing a book on the history of software. This year he began a new market research company, Connection Research, concentrating on the Digital Home space.
BEVERLEY HEAD 2004
The 2004 Kester Cranswick lifetime achievement award goes very deservedly to Beverly Head, who has been writing about IT in Australia for longer than most of us (and she) cares to remember. Bev has always been a true professional, cutting her teeth on Fleet Street in the early 1980s before moving to Computerword Australia in 1986.
She has worked for many of the industry's leading publications, and was for ten years the IT editor of the Australian Financial Review, where she was instrumental in turning that publication's IT pages into the enormously respected section it is today. The IT section went daily while she was editor, and when she left in 1997 she was Features Editor for the entire publication.
In recent years Bev has worked on a freelance basis, allowing her more time to devote to her family. She continues to contribute to the AFR and other Fairfax publications, and was for some years a columnist in BRW. Rumours that she was the junket queen in the IT boom years of the mid 1990s are only partially true she did go on those trips, but she worked very hard and always wrote the best stuff afterwards.
Graeme Philipson on behalf of the judging panel
HELEN DANCER 2003
This award celebrates the life and career of a very special person in information technology journalism, one who made a tremendous impact on all who met and knew her.
Helen Dancer began writing about technology long before it became a field for the trendy. She knew the issues and wrote about them — and the people involved in them — with flair, passion, clarity and great understanding, for a wide range of titles, publishing houses and audiences.
She was always a true professional. Nobody did it better. Her words always fitted and were delivered spot on time, as many an editor will attest.
But she was much more than a proficient and gifted technological writer. She had warmth and wit and a canny commonsense that was universally engaging. She was a wonderful mentor to the many young journalists entering the trade. And she faced life with enormous courage, never allowing a long and debilitating illness to get between her and her work or her and her many friends.
All of us who knew, respected and loved Helen miss her deeply. It is most fitting that this award should be her memorial.
David Frith on behalf of the judging panel.