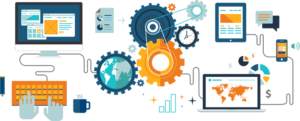 ROBOTICS & PROCESS AUTOMATION
Now a days RPA is seen as the key tool to drive improvements in business process efficiency and cost reduction.
Lorgan's point of view on what exactly is RPA?
RPA is all about the "robots" who are invisible, sitting inside your soft premises, navigating between various systems by feeding in, monitoring, controlling and processing at an incomparable speed with humans.
Provided it is implemented by specialist teams who understands this space very well, RPA software can lead to immediate benefits by:
• improving process efficiencies
• improving accuracy of task completion
• adhering to various compliance checks
• the time taken to complete a task and
• removing human errors
Based on our experience, the results vary from organisation to organisation and for different areas within the same organisation, however RPA typically delivers 30-45% of cost savings. Pay back periods are often measured in weeks, instead of the months and years required for software development projects.
Who are the best candidates for RPA?
RPA is best suited for repetitive, frequent, large volume, manually intensive and error-prone processes.
Lorgan believes best candidates for RPA are processes which intake structured data and transfer it across multiple systems – as well as time-consuming – for e.g., Human Resources on-boarding process.
Our RPA recommendation
We believe in recommending our customers to "Start small" in this journey.
This needs a bit of time to be spent to conduct technology proof of values on selective processes, to mature and make right decisions in the downstream to realise the benefits.